The Bachelorette's Riley Christian Has Revealed Why He Keeps His Birth Name A Secret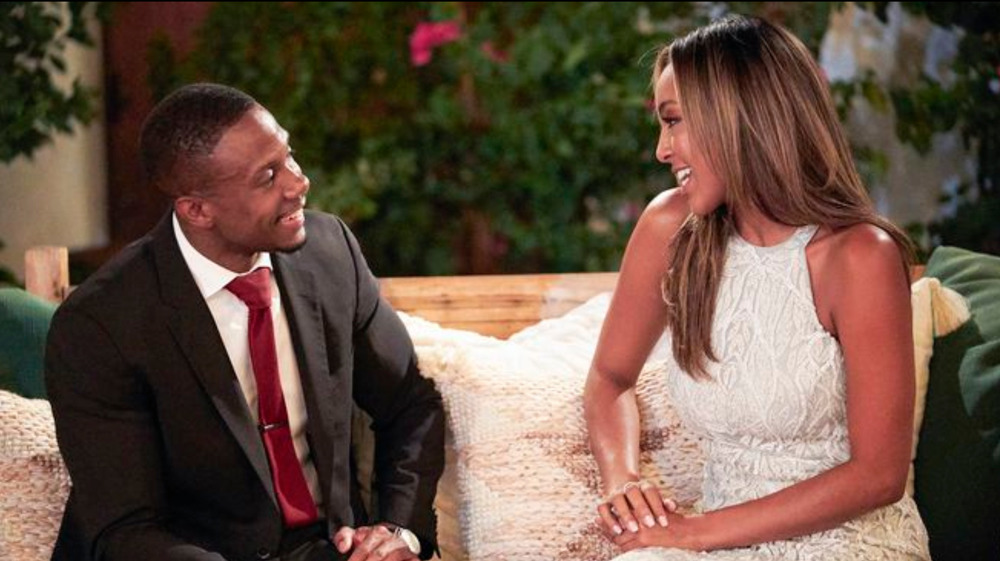 ABC
Lie detector tests are a classic drama-generator on reality television, but season 16 of the The Bachelorette took it to a whole other level with the revelation that one of the contestants wasn't even using his real name. Alongside exposing Noah's feelings on his mustache, that Zac cheated on someone, and how Brendan is nervous about proposing the test, which was conducted by Tayshia and Bachelorette alum JoJo Fletcher, the test also highlighted the fact that Riley Christian had changed his name.
The reality star was hesitant about taking part in the challenge, confessing he doesn't use lie detector tests as an attorney, because "they're not always accurate" (via YouTube). However, he was stopped in his tracks once asked to confirm his name with the red buzzer immediately going off, shocking JoJo and Tayshia, who asked him, "That's not your name?" before admitting to producers that she was "very confused." As it turns out, Riley has an understandable explanation for concealing his true identity.
Riley Christian was concealing years of pain and emotional hardship
As Syracuse.com advises, Riley later admitted his birth name is Dwayne Henderson Jr., after his father, but he legally changed it at age 22 when the two fell out. The attorney didn't go into detail about what happened between the two of them, confessing to producers that being vulnerable is something he struggles with. "I ask myself, 'Is today the day I finally talk about it? Is today the day I finally let myself go?'" Riley revealed. The Detroit native broke down with Tayshia later, telling her he loved his dad but found out he "took some things" from his mom and he "missed so much time" with her as a result.
Elite Daily notes Riley's father had sole custody of him throughout his childhood and they were close for years. However, as Riley got older, he realized his father wasn't who he thought he was and therefore didn't feel comfortable sharing his name anymore. His mother stood by him as Riley legally changed it, and he now goes by his middle name. Tayshia was very impressed with Riley's honesty, telling him, "You're stronger than hell. I feel extremely honored and grateful that you just opened up with me. You're an incredible man, and you've been through a lot."