The Real Reason Behind Chef Rachel's Explosive Below Deck Exit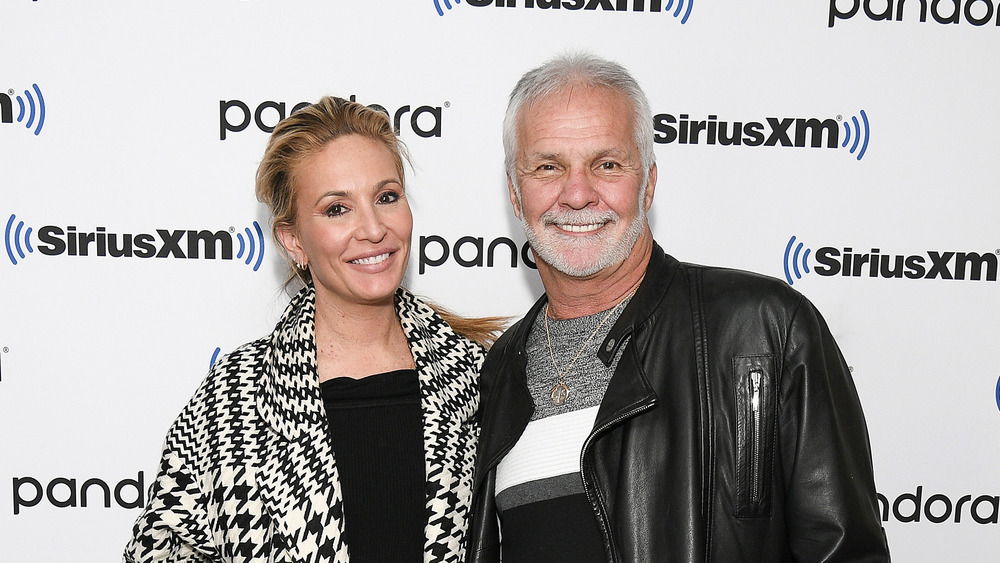 Dia Dipasupil/Getty Images
Fans of the Bravo series Below Deck are no strangers to drama, which is probably why they tune in every week to watch the drama unfold before them. Well, last night's episode was an especially explosive one, and it has fans talking. While it might have seemed like the crew had lost enough members this season — after Captain Lee Rosbach fired deckhand Shane Coopersmith — Chef Rachel Hargrove decided that she'd had enough. That's right: She quit.
It's clear that Hargrove has been struggling a lot as of late, from the sadness of missing her boyfriend to getting gassed by a crew member, which might explain why she was so quick to getting upset and quitting. In the episode, the crew had received a particularly demanding preference sheet from some upcoming guests. The demands included incredibly specific food requests, extravagant breakfasts, and multiple themed parties, just to name a few. A reality TV journalist posted photos of the preference sheets to Twitter, with a caption that read, "BTW, this was the preference sheet that inspired Chef Rachel's exit." Some of the specific requests included white glove services and bowties, a Mardi Graw-themed party, and an "extremely formal English high tea, fit for royalty." Now we can see why the chef quit.
Hargrove abandoned her crew without a chef to get by
After reading the preference sheet, Hargrove couldn't help but say, "Eat my c**ter." She said the only way she would do work to that degree would be if she was working as a personal private chef, which would be a much bulkier paycheck. This would be in contrast to her current position, which is more of a general role as a yacht chef (via Distractify). "Until then, I don't play that game. So no," she said. When Captain Rosbach asked her what was going on, she responded, "I'm sorry, but the ostentatious bullsh*t, and then they f*cking tack that onto one chef. Suck my d*ck." Rosbach replied that she should talk to the guests first, and Hargrove responded, "Go f*ck yourself ... I respect you guys. But that bullsh*t? I'm out" (via Vulture). Explosive indeed.
As she packed her stuff, Rosbach pleaded for her to stay or at least stay on long enough for him to find a new chef, but she stuck to her guns and left the boat.
This wouldn't be the first time that a crew member from Below Deck walked off — but will Chef Rachel come back?
A former coworker says she isn't at all surprised that Hargrove reacted this way
In a teaser for the next episode, we can see Rosbach scrambling to find a new chef only four hours before charter (via Bravo). "We're in high season in Antigua, so any chef that's worth a damn is already working," Rosbach explains in the video. "We've got very demanding guests arriving within a couple of hours. I need a charter chef that's capable of everything on this guy's preference sheet. We're screwed."
On December 14's episode of Watch What Happens Live, Andy Cohen chatted with former Below Deck chief stew Kate Chastain, in which she dished about having worked with Hargrove in the past. She said that she wasn't at all surprised that Hargrove quit. "When we worked together, years and years ago, I think she quit at least three times but came back the next day" (via Twitter).
Twitter's response to the chef's outburst is pretty mixed. The consensus seems to be that while people understand Rachel's anger toward the guests, they found it selfish of her to leave the crew without a chef. One Twitter user wrote, "Oh, Rachel, Rachel, Rachel. You have fallen so far so fast. You were kicking ass and now you are giving up? I am so disappointed." Another fan tweeted, "That's such BS... you don't just abandon your teammates like that."