The Heartbreaking Anniversary Joe Biden Just Marked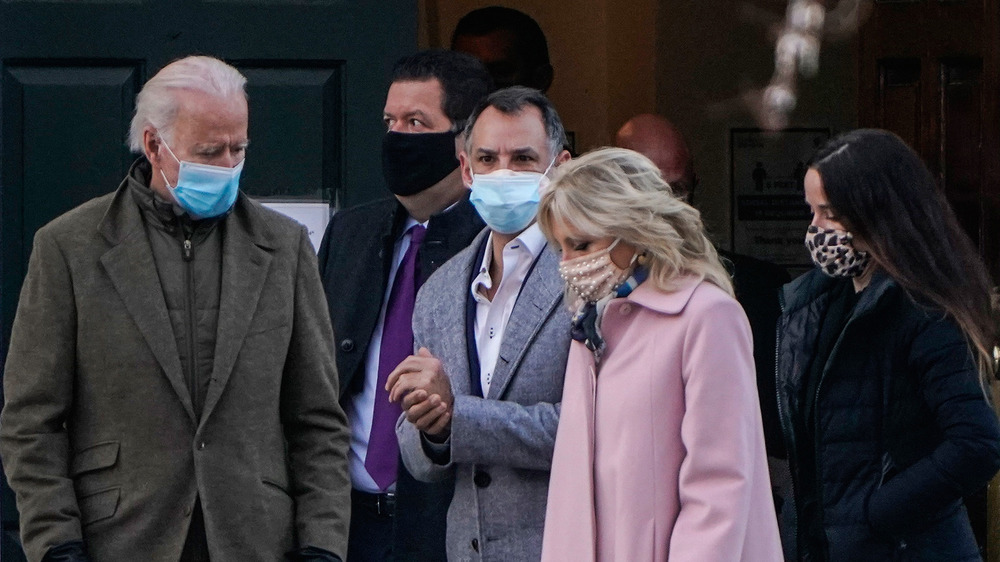 Joshua Roberts/Getty Images
President-elect Joe Biden may be happily married to first lady-to-be Jill Biden, but one day a year he is reminded of an event that changed his life forever — the car crash that took his first wife Neilia Hunter and his daughter Naomi, and which also left sons Beau and Hunter, who were 4 and 2 at the time, badly injured. On Dec. 18, 2020, he marked the 48th anniversary of the passing of his first wife and daughter with a visit to their graves, accompanied by Dr. Jill Biden, their daughter Ashley and her husband, Howard Krein (via CBS).
The incident took place in 1972, a month after Joe Biden won the election for a seat in the U.S. senate representing Delaware, when a tractor-trailer rammed into their car. Neilia and Naomi died when they reached the hospital; Beau had a broken leg, and Hunter, a skull fracture (via USA Today). During his brother Beau's funeral in 2015, Hunter shared, "The first memory I have is of lying in a hospital bed next to my brother. I was almost 3 years old. I remember my brother, who was one year and one day older than me, holding my hand, staring into my eyes, saying, 'I love you, I love you, I love you' over and over and over again" (via ET Online). The accident took place just a mile from the family home.
Neilia Hunter Biden is credited for getting Joe Biden into politics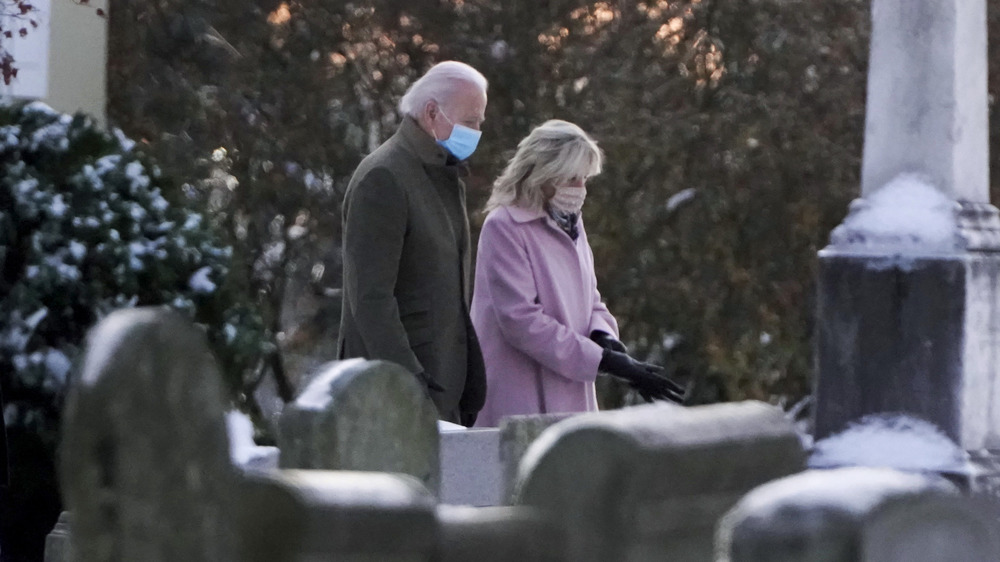 Joshua Roberts/Getty Images
Neilia Hunter Biden is remembered as the brains behind the President-elect's entry into politics. "She was just a dynamo. She was bubbly, enthusiastic. She could get you to do anything on the campaign. You could never say no to Neilia. She was the energy behind his campaign. She and Valerie, Joe's sister, were the glue of the campaign. Valerie was the strategist and Neilia was like the head cheerleader. She was rah, rah, rah. She was magnetic,"  former Delaware State Senator Karen Peterson, who was a part of Biden's first Senate campaign and knew Neilia, said (via USA Today).
During the 1972 funeral service for his wife and daughter, Biden talked about his "two girls," and described Neilia as someone "had a principle — she treated everyone the same and that worked both ways. Those who were poor, Black, minority, affluent or socially esteemed, she made no distinction among them." He continued, "I was probably one of those phony liberals... the kind that go out of their way to be nice to a minority and she made me realize I was making a distinction. But in dealing with minorities, she made no subtle, condescending gestures, she made no distinctions I'm going to be that way. I'm going to try and follow her example," he said.
The graves of Neilia Hunter Biden, daughter Naomi, son Beau, and other senior members of the Biden family, including the President-elect's father and mother, are also at the Catholic church where the Bidens now worship.