A BTS Singer Just Got The Most Touching Birthday Gift From Fans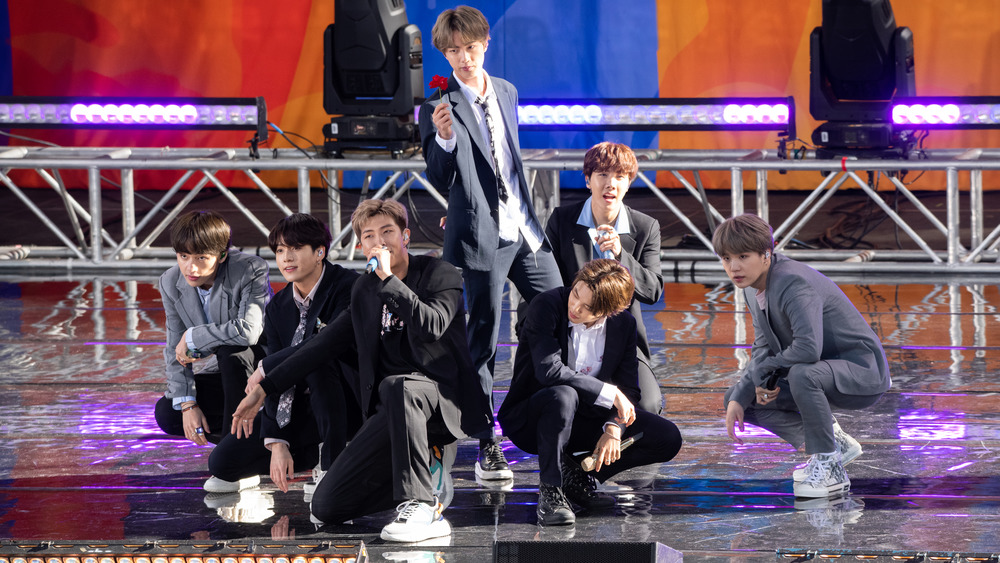 Noam Galai/Getty Images
The BTS ARMY might just be the most powerful and committed group of fans in the world. Their influence was most keenly felt earlier this year, when they hijacked a Trump rally by registering for thousands of seats with no intention of actually showing up, as reported by CNN. As CedarBough Saeji, a visiting assistant professor in Asian Languages and Cultures at Indiana University, Bloomington, explained, there's actually a well-established tradition of K-pop fans committed to social justice causes.
The relationship between the ARMY and the group isn't one-sided either, with leader RM telling GQ, "We and our ARMY are always charging each other's batteries. When we feel exhausted, when we hear the news all over the world, the tutoring programs, and donations, and every good thing, we feel responsible for all of this." Both groups inspire the other to be better, with BTS acknowledging they would be nothing without their fans. To that end, one member of the band was made to feel very special indeed by the ARMY on his birthday.
The BTS ARMY is committed to bettering communities
As Pinkvilla reports, singer V, AKA Kim Taehyung, has a birthday coming up at the end of the month and fans are rushing to show their appreciation for their fave, not with gifts, but by supporting various charitable causes. Fans donated books and raised money for a shelter in Vietnam, and now some Chinese BTS fans have gone one step further by establishing a music school under V's name. To mark the singer's 26th birthday, fan site VisionOfLOve_95 created an academy in Guangxi Zhuang Autonomous, China, in his honor. The intention to do so was first shared on Twitter.
Fans set up the school so aspiring musicians and singers have a space to hone their burgeoning talents. A music teacher is pictured teaching students how to play African drums. V reportedly doesn't have plans to celebrate his 26th, admitting all he wants is to see the fans again. Like most bands, BTS found their plans to tour this year scuppered by the COVID-19 pandemic. The ARMY remains utterly committed to BTS, and vice versa, however with RM telling GQ, "Our love life — twenty-four hours, seven days a week — is with all the ARMYs all over the world."