The Truth About Tom Holland's Friendship With Chris Hemsworth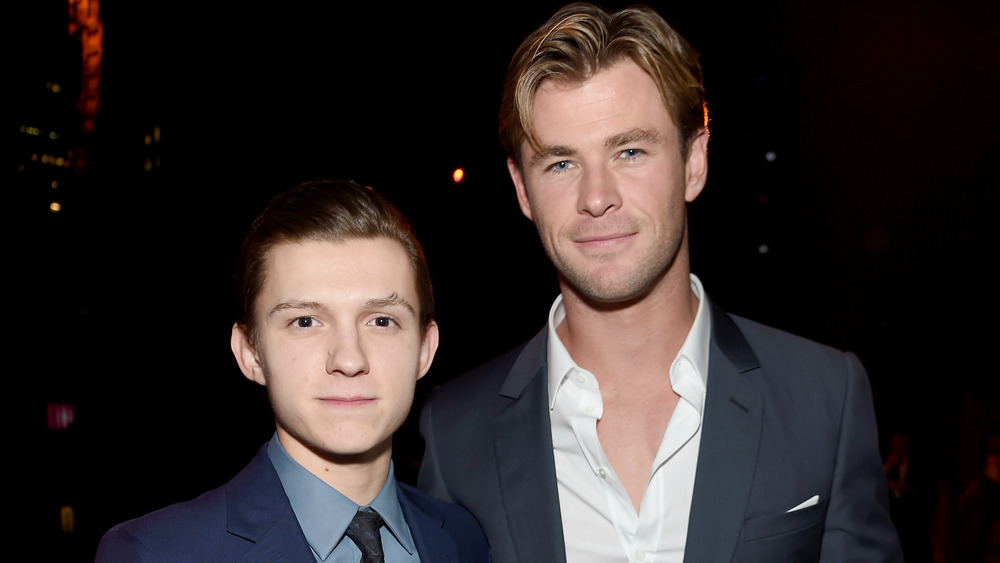 Jamie Mccarthy/Getty Images
It seems we have Chris Hemsworth to thank for Tom Holland landing the role of Spider-Man. According to People, Hemsworth did what he could when they were casting the next iteration of the superhero and "made a call." The two actors had previously worked together on the movie In the Heart of the Sea in 2015, and that's when their friendship began. When Hemsworth knew Holland was up for the role, he did what he could, saying Holland was "one of the most talented people [he'd] worked with." It definitely helps to have Thor in your corner, and as you know, the rest is history. 
With all the Marvel movies that have been released since Holland first donned the spidey suit in 2016, these two have only appeared in two Avengers movies together — Infinity War and Endgame. Though, according to We Got This Covered, Holland really wants to see Spider-Man and Thor team up together. Of course, 2017's Thor: Ragnarok proved that Hemsworth had great chemistry when partnering with Mark Ruffalo's Hulk, so we can only imagine how adorable it would be to see Spider-Man and Thor hanging out together for an MCU film. 
Tom Holland and Chris Hemsworth have hilarious chemistry together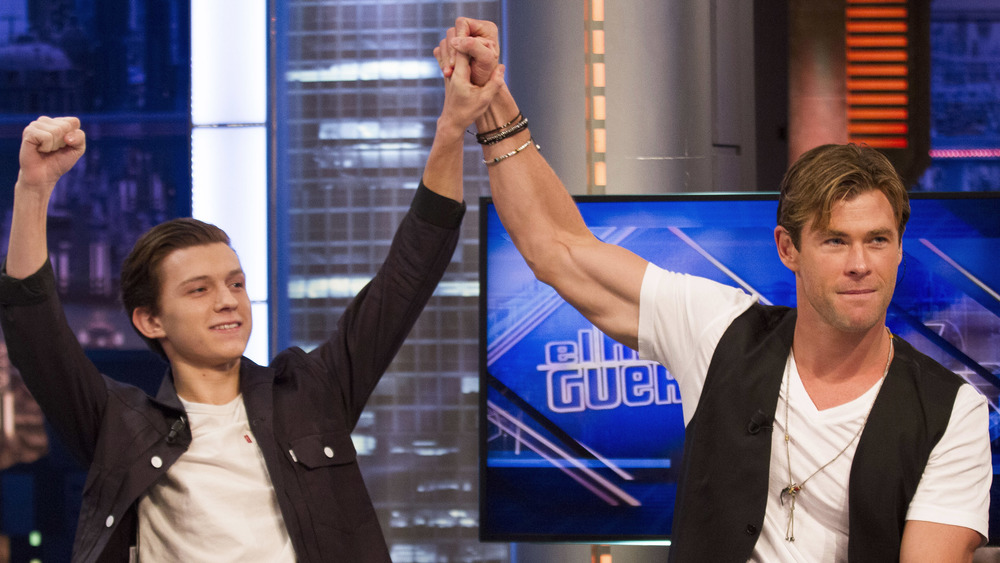 Alberto Alcocer/Getty Images
In fact, the dynamic duo already proved they would be a barrel of laughs during a 2019 interview together. At the time, Hemsworth was promoting Men in Black: International, while Holland was gearing up for the release of Spider-Man: Far From Home (via Insider). While interviewing each other, the actors did not holding back, doling out a few friendly jabs. A video posted to Holland's Instagram shows Hemsworth calling the Spider-Man actor "Tom Hiddleston" and, in return, when he asked who his favorite actor was, Holland named every other Hemsworth brother except Chris. 
Just from that one interview, you can tell that these two would be hilarious on-screen together. They do not even need to star in another Marvel movie — just give them a buddy comedy! However, a new movie might have to wait, as both actors are currently on set of their respective superhero franchises. Holland recently posted a Spider-Man 3 set photo to his Instagram, according to IGN, and Hemsworth is back in Australia shooting Thor: Love and Thunder (via People). 
Despite not working together right now, these two friends are a part of the same superhero fantasy league with other popular celebrities, like Ryan Reynolds and Chris Evans (via People). Knowing how fun this crew is, you can just imagine the group text and how LOL-worthy it must be.