Here's Why Billie Eilish Is Losing Thousands Of Instagram Followers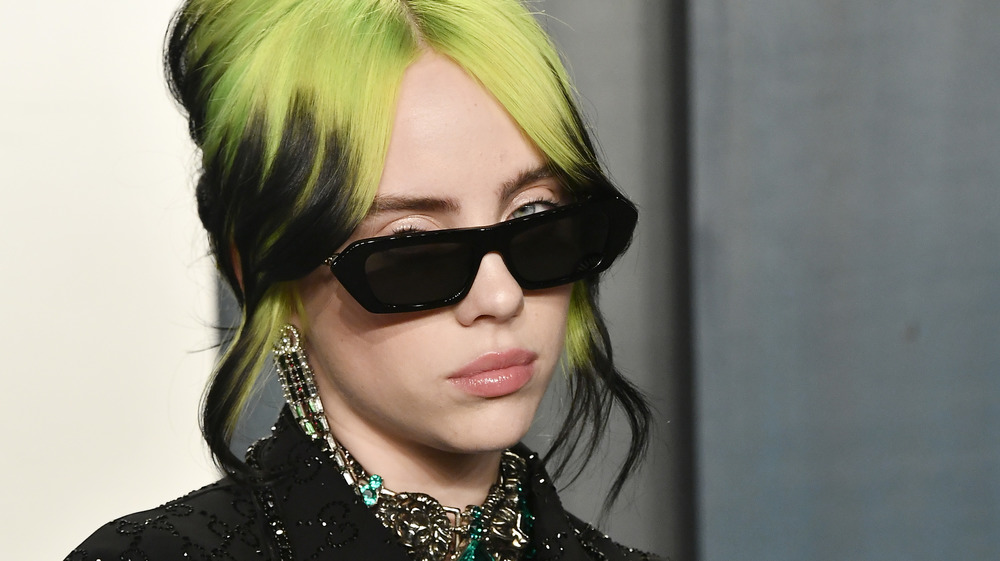 Frazer Harrison/Getty Images
When it comes to celebrities on social media, there's no such thing as pleasing everyone. Even the most innocuous comments or photos will inevitably irritate someone when you're dealing with tens of millions of followers. Post something even slightly racy and all bets are off. That's exactly what happened to Billie Eilish earlier this week. In what the New York Post has hilariously dubbed "#breastgate," the "Therefore I Am" singer seemingly lost about 100,000 followers on Instagram in the span of one hour early Tuesday morning after posting sketches she had done of the naked female form to her Stories.
According to E!, the incident occurred late Monday night after Eilish took part in a viral "post a picture" challenge on Instagram that had a fan asking her to post a photo of "a drawing you're really proud of." The 19-year-old shared several pencil sketches of a naked woman with large breasts, and one featuring a snake that wraps itself around the naked form. She also posted a photo of her phone background which features two naked women embracing. She captioned the Story with "these probably lol i love boobs."
While most people wouldn't bat an eye at Eilish's artwork, fans on Twitter were quick to notice that the "Bad Guy" singer had gone from 73 million to 72.9 million followers after the Story went live.
Billie Eilish is not bothered by the incident and thinks anyone offended is acting like a baby
At about 1:30 on Tuesday morning, Twitter user @sneezeandpepsi took a screenshot of Billie Eilish's follower count aghast at the sudden change commenting, "BYE NOT HER LOSING 100K CUZ OF BOOBS."
When Eilish became aware of the buzz on Twitter she reposted the screenshot taken by @sneezeandpepsi and posted it to her Stories with the caption, "LMFAOOO y'all babies smh" followed by two skull head emojis. It's obvious the talented artist isn't bothered by #breastgate and she had no real reason to be. According to The New York Post, her Instagram follower count was back up to 73 million as of Wednesday morning.
With a public so focused on seeing the young songstress in more form-fitting clothing, while simultaneously critiquing her choice to hide her body, and then shaming her if she wears a tank top while running errands, it's no wonder Billie Eilish is shaking her head at the absurdity of the incident.