The Truth About Ivanka Trump And Chelsea Clinton's Friendship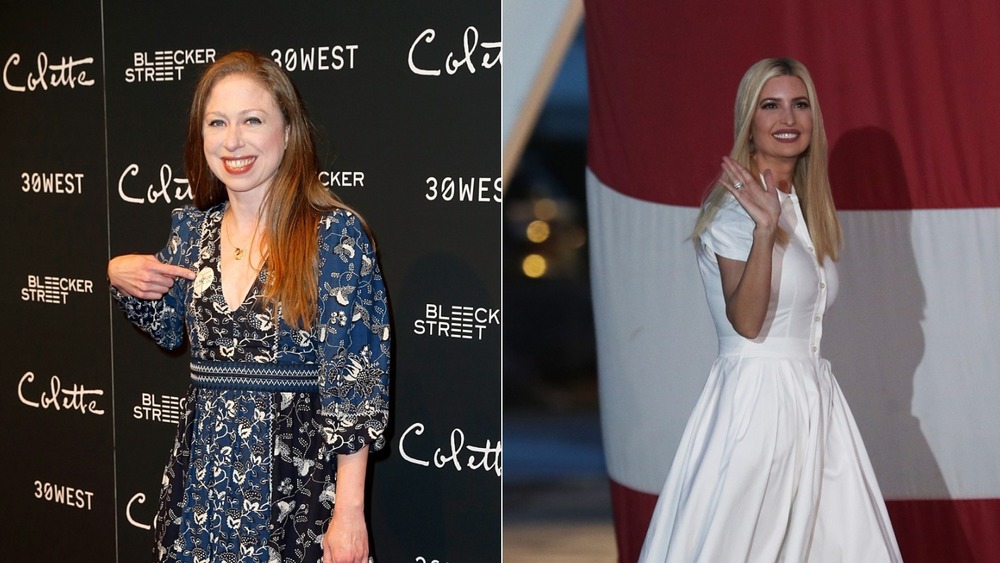 Dominik Bindl, Joe Raedle/Getty Images
In 2015, as their parents fired pre-election insults at each other, Ivanka Trump and Chelsea Clinton were close. "Ivanka and I talk about everything," Clinton admitted to ET. However in early 2016, the Daily News reported that despite a News Years call, the two had gone "underground" with their friendship. "I still consider her a very close friend, and she considers me as well," Donald Trump's daughter told Harper's Bazaar in August 2016, letting on that she'd sent "a cute gift" to Clinton after the birth of her baby. "We have a great relationship."
But you may remember that things between them soon took a sour note. Post the 2016 election, Ivanka Trump and Chelsea Clinton called it quits, even though (if you believe the Daily News), they'd been preliminary planning a "play date" with their babies after the election. In fairness, there was that one time that the media gasped when Trump and Clinton united in Malia Obama's defense in 2017 (after Obama was caught smooching), and that time in 2018 when they made small talk at George H.W. Bush's funeral (via Refinery 29). 
However, Chelsea made her feelings towards Ivanka clear on Watch What Happens Live with Andy Cohen in 2020, when she said, "I have no interest in being friends with someone who is not only complicit but actively taking part in this administration's every day collision of cruelty and incompetence."
What we know about Chelsea Clinton and Ivanka Trump's friendship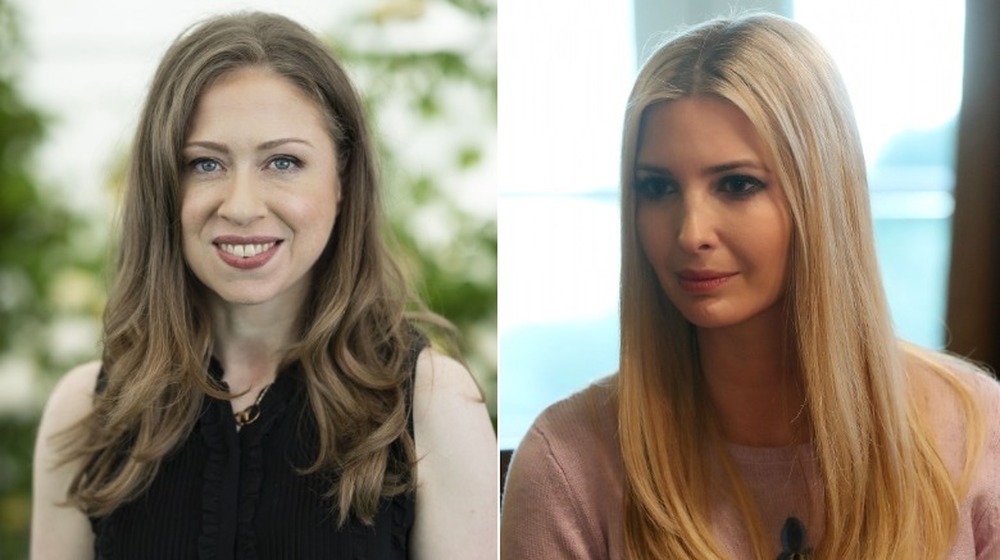 David Levenson, Mark Wilson/Getty Images
Baby gifts aside, Trump and Clinton were close once upon a time. The two got to know each other at least well enough for Chelsea to feel comfortable comparing Ivanka to her father, Bill Clinton: "She's always aware of everyone around her and ensuring that everyone is enjoying the moment," Clinton told Vogue. "It's an awareness that in some ways reminds me of my dad, and his ability to increase the joy of the room. There's nothing skin-deep about Ivanka." 
Beyond just giggling together at social events, per Elle, they also moved in each other's inner circles. According to the Los Angeles Times, they once ate together in New York City's East Village, at Narcissa. They used to double date with their husbands, Jared Kushner and Marc Mezvinsky, whispered CNN. And while People thinks that the women's bond began with Kushner and Mezvinsky's friendship, Ivanka and Chelsea probably brushed shoulders beforehand. Remember the time that Chelsea's mother, Hillary, went to Ivanka's father, Donald's, wedding to Melania? Their families used to be friends.
It seems that Trump and Clinton remained close, despite political differences, by not talking about politics, per Cosmopolitan. Until not talking about politics wasn't glue enough to hold the two together.
Why Ivanka Trump and Chelsea Clinton's friendship tanked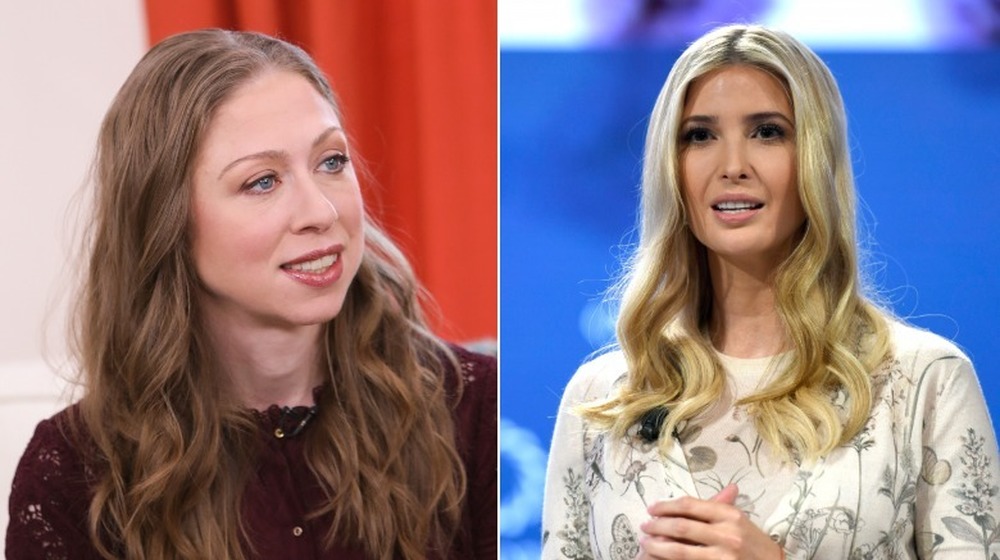 Paul Archuleta, Riccardo Savi/Getty Images
Before Clinton confirmed the end of her friendship with Trump in 2020, there were signs. In 2018 Chelsea Clinton told CBS This Morning that she hoped that Ivanka Trumps' kids were doing well (via Harper's Bazaar). Notice that she didn't include Ivanka in her well-wishes? Us too. Or remember when Malia Obama came under scrutiny for her "girls-only weekend" in 2019? Like in 2017, Clinton rushed to her defense. Unlike 2017, Trump did not (via The Guardian).
Similar to Chelsea, Ivanka once insisted to People that politics never defined the pair's friendship. However, it certainly seemed to defined its end. When The Guardian journalist, Decca Aitkenhead, interviewed Clinton in 2018, she asked whether Chelsea felt "sympathy" for Ivanka or whether she considered Ivanka "complicit." Clinton responded, "She's an adult. She can make the choices for herself. I mean, she's 36."
While the two women publicly insisted their friendship would survive the 2016 campaign, it lasted only through its first months. "We were in touch at the beginning of the campaign," Clinton explained to Cohen in 2020, "But it's just really hard when there's someone who's actively embracing their candidate, whether it's their father or not, who is trafficking in racism and sexism and anti-Semitism and Islamophobia and homophobia and transphobia and conspiracy theories and lies and is so fundamentally corrupt." 
Ivanka Trump has yet to publicly respond to Chelsea Clinton's criticism.