Dr. Dre Had A Scary Thing Happen While He Was Hospitalized
Albert L. Ortega/Getty Images
Rapper and mogul Dr. Dre gave fans a scare on Monday, January 4, when he reportedly checked into Cedars-Sinai Medical Center in Los Angeles after suffering a brain aneurysm (via Page Six).
But while Dr. Dre (formally known as Andre Young) was tending to his health, there were some who were looking to take advantage of Dre's precarious situation. On Tuesday night, police reportedly arrested four suspects during an attempted break-in to Dre's Brentwood home (via ABC 7). The would-be burglars were caught during a surveillance operation of the neighborhood — one of Los Angeles's ritziest and home to other stars like former California Governor Arnold Schwarzenegger, Gwyneth Paltrow, and LeBron James (via Fancy Pants Homes).
While Dr. Dre hasn't publicly addressed the would-be Bling Ring, on Tuesday night he did share a statement on Instagram providing a status update on his health and thanking fans for their support. "Thanks to my family, friends and fans for their interest and well wishes. I'm doing great and getting excellent care from my medical team. I will be out of the hospital and back home soon. Shout out to all the great medical professionals at Cedars. One Love!!"
A bumpy start to 2021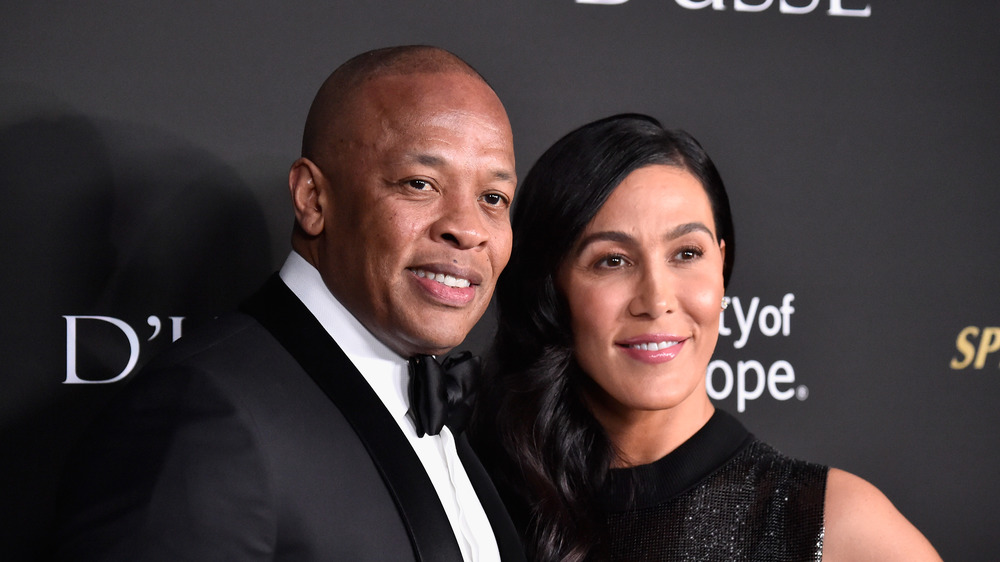 Frazer Harrison/Getty Images
According to sources, Dr. Dre was taken in for numerous testing while at Cedars-Sinai, but it was not clear what the aneurysm was caused by (via Page Six). And while Dre's health might no longer be of pressing concern, this is far from the only issue plaguing the Beats by Dre founder. Dr. Dre is currently in the midst of an acrimonious divorce from his wife of 24 years, Nicole Young.
When filing for divorce, Young cited "irreconcilable differences" and is seeking spousal support from the multihyphenate (via Billboard). And per legal documents unearthed by TMZ, Dre can more than afford to pay it: He allegedly possesses $262 million in cash and Apple stocks. Young is seeking $2 million per month, which, according to these documents, is much less than the $245 million the couple spent between 2017 and 2019 (during which time their cash still increased by a cool $26 million).
However, Dre and his lawyer, Hollywood powerhouse divorce lawyer Laura Wasser (yes, on whom Laura Dern's character in Marriage Story is supposedly based), counter that approximately $300,000 a month is enough for Young's expenses (via TMZ). So, while 2021 has just started, the year might end sooner than Dre and Young's divorce proceedings.