Who Is Betsy DeVos?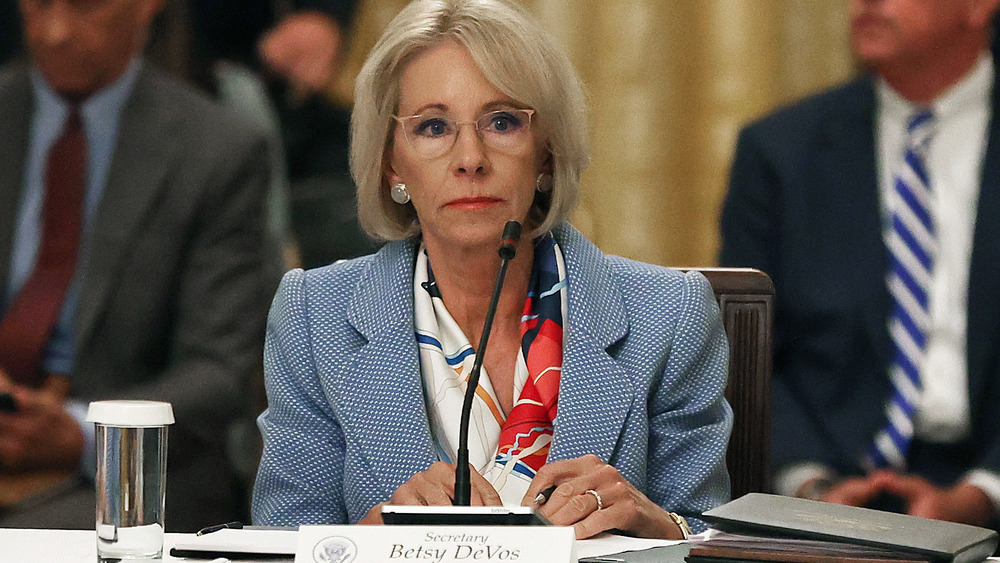 Chip Somodevilla/Getty Images
On Thursday, January 7, 2021, Betsy DeVos resigned from her position as Education secretary in the Donald Trump administration. Her resignation followed on the heels of the resignations of a number of administration officials including Transportation secretary Elaine Chao, special envoy to North Ireland and Trump's former acting chief of staff Mick Mulvaney, deputy national security advisor Matthew Pottinger, and Melania Trump's chief of staff Stephanie Grisham, as reported by The New York Times.
The mass exodus occurs less than two weeks before President-elect Joe Biden and Vice President-elect Kamala Harris will be sworn in on January 20. Like the others on the list of resignees, DeVos cited the role Trump's rhetoric played in Wednesday's deadly attack on the United States Capitol. "There is no mistaking the impact your rhetoric had on the situation, and it is the inflection point for me," DeVos wrote in her resignation letter to the president, according to the Times. Amidst four years of chaos and extraordinarily high turnover among White House cabinet members and officials (via Brookings), DeVos has been one of the president's most loyal secretaries.
DeVos was narrowly confirmed as Education secretary in February 2017, with the tie-breaking vote cast by Vice President Mike Pence (via NBC News). She was widely criticized as being unqualified for the position because she has no experience with the public school system. In fact, DeVos never even attended a public school. Here's what else you should know about Betsy DeVos.
Betsy DeVos had a memorable confirmation hearing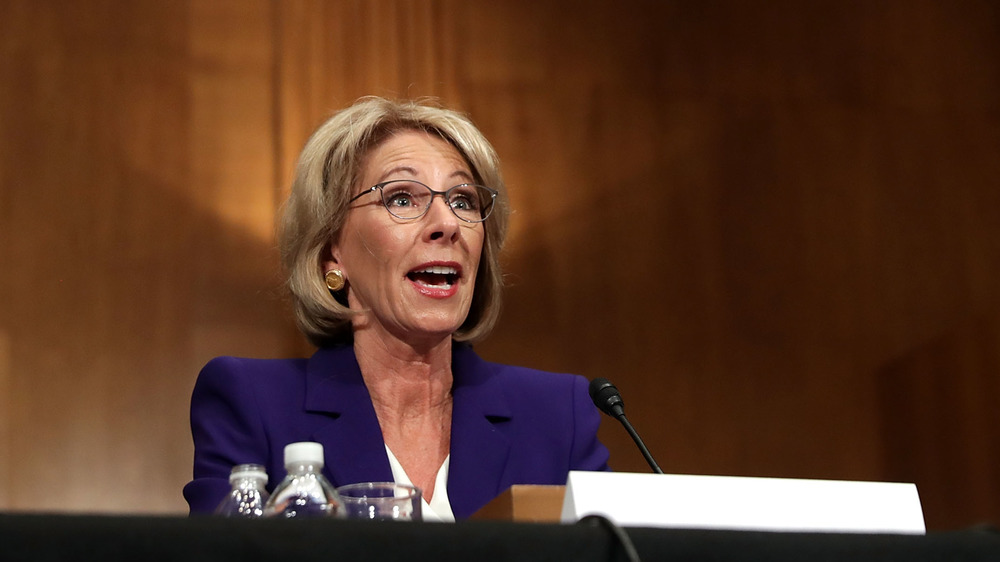 Chip Somodevilla/Getty Images
According to a 2016 list published by Forbes, Betsy Devos' family is worth an estimated $5.4 billion, making them the 88th richest family in the country. She grew up in Michigan where she attended a private Christian high school (per The New Yorker) and went on to attend Calvin College, which is also private. In addition to never attending public school, NBC News noted that DeVos had never worked or volunteered for a public school.
Her confirmation hearing had some jaw-dropping moments. Senator Chris Murphy, who represents Newtown, Connecticut, where 20 first-graders and six educators were killed in the 2012 mass shooting at Sandy Hook Elementary School, questioned DeVos on whether "guns have any place in or around schools" (via Elle). She responded that the issue should be left up to states, adding that perhaps a gun would be needed at a school in Wyoming to protect students and educators from "potential grizzlies." (Yes, that's a direct quote.) Republican Sens. Susan Collins and Lisa Murkowski voted against DeVos' confirmation, leaving Pence to break the tie.
Like the other eleventh-hour resignees, DeVos' decision has been criticized as an empty gesture — and The American Federation of Teachers made clear they're happy to see her go. AFT president Randi Weingarten released a succinct press release that read: "Good Riddance." Becky Pringle, president of the National Education Association, tweeted, "Her complicity, cowardice, and complete incompetence will be her legacy."