Victoria Larson's Bachelor Dress Is Raising Eyebrows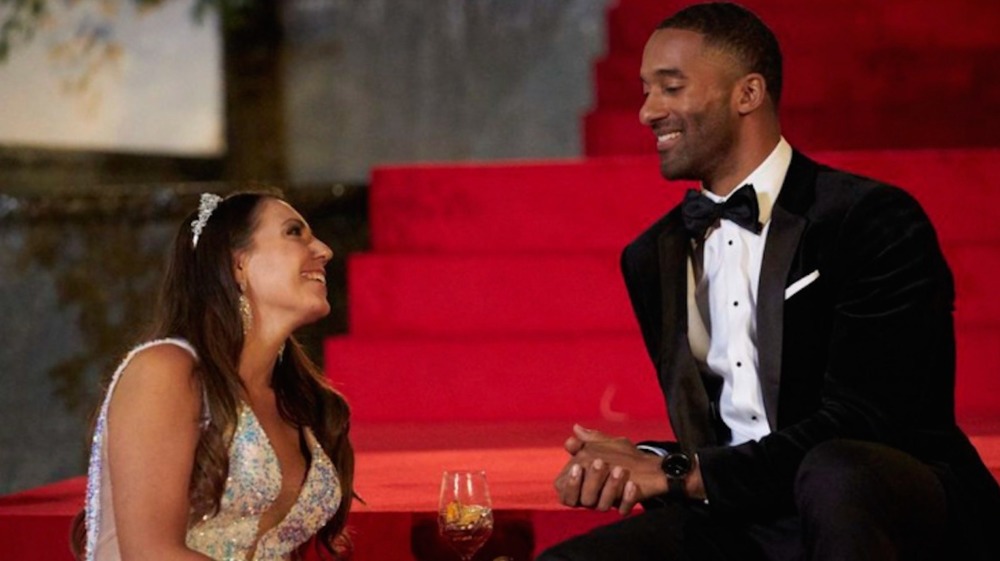 ABC
After "Queen" Victoria Larson viciously established herself as The Bachelor season 25 villain, it comes as no surprise that none of her fellow suitors suggested she wear something else to the cocktail party and rose ceremony that took place during the Jan. 11 episode. Her garment of choice — a pink, floral, puffy sleeved mini dress — stirred quite the online reaction, both for its general off-putting look and uh, the fact that her bra was exposed the entire time.
"This dress is all I needed to know about Victoria," one person wrote on Twitter. "Congrats to Victoria for having the ugliest dress in bachelor history," another added. "Victoria's grandma gotta be so proud seeing her wear her couch cushion covers to the cocktail party and rose ceremony," another wrote. As we've learned from past Bachelor contestants, the women tend to put a lot of time and thought into their wardrobes for the show, so how Larson made it all the way to the rose ceremony wearing that big of a fashion faux pas — in more ways than one — just doesn't make sense.
Victoria's look caused just as much drama as she did
By the end of the cocktail party, most of the contestants felt defeated because Victoria monopolized the night with her roommate drama (via Page Six). She and her bunkmate Marylynn Sienna haven't gotten along since day one, and of course, she had to tell Matt James about it. That led to Matt stopping the party to pull Marylynn aside and confront her about her alleged "toxicity," per Victoria.
While the group dealt with that situation, viewers at home were more focused on the fact that Victoria was wearing the complete wrong bra for her dress. In fact, according to Trend on TV, the number of tweets using the word bra spiked as the episode progressed. One viewer caught a frame of Victoria walking away from the camera, and posted a screen grab on Twitter, the back of her black bra in plain sight. "Victoria. Girl," the user wrote. "This ain't it."
"I can forgive Victoria for stirring up drama,but I CANNOT forgive her for that black bra that shows under every dress," another added. Hopefully she makes better fashion choices next week.