What Does Bachelor Matt James Do For A Living?
Bachelor star Matt James is making history as the first Black Bachelor in the franchise's history. He's also the first series lead since season 13 that hasn't appeared on the franchise previously. James' season is gearing up to be totally drama-filled, with a plethora of impressively diverse women to choose from, filming taking place in a COVID-appropriate bubble, and plenty of surprises slated to pop up along the way. Because he's a reality TV newcomer, James is something of a (gorgeous) question mark. 
We know he's good friends with several members of Bachelor Nation, including Tyler Cameron and Hannah Brown, and that he's a proud doggie daddy, family man and dedicated Christian. Regardless of whether he finds true love on The Bachelor, the show is guaranteed to catapult James into the stratosphere. Before his career kicks off proper, what is the North Carolina native doing to make money these days? 
The history-making reality star is very accomplished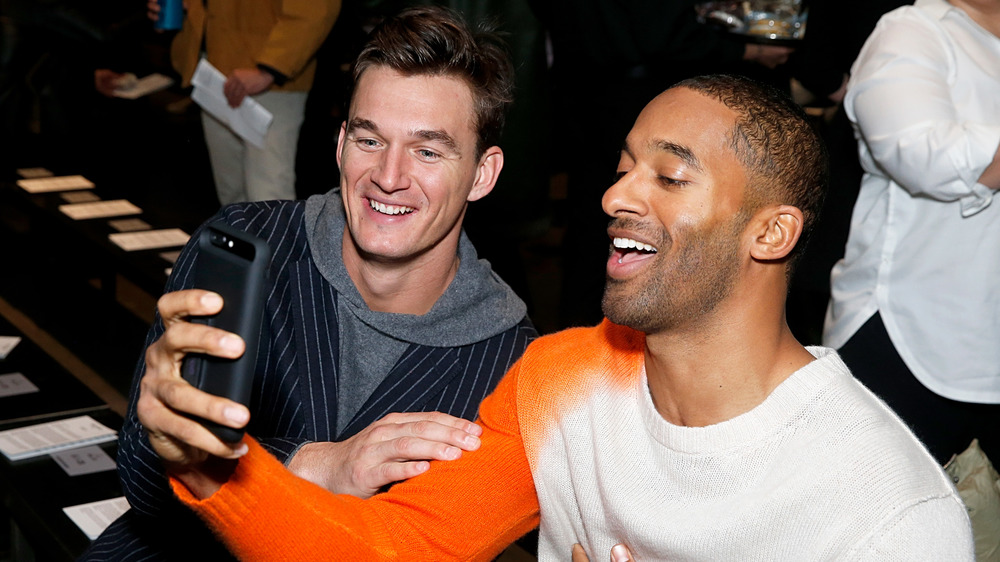 Dominik Bindl/Getty Images
Life and Style magazine notes James majored in economics at Winston-Salem, North Carolina, graduating with a Bachelor's degree in 2015. He played college football, with his 6'5" frame making him a key wide receiver for the Wake Forest Demon Deacons, as per their official site. James even took a year out after finishing college in an attempt to go pro. However, he was turned down by the Carolina Panthers and the New Orleans Saints following trials with each. 
He still stays super fit, judging by Instagram. The Bachelor star's first job after school was in Pittsburgh, as a banking analyst for PNC Bank. After moving to NYC, the buff reality star found work as a research analyst for commercial real estate firm CBRE. His bio on their site notes, "Matthew James provides brokerage and transaction management services to a wide range of companies, from New York-based clients to global multimarket accounts."
Matt James is passionate about community outreach
James is also committed to giving back, running non-profit ABC Food Tours with Cameron, whom he met while playing college football. They predominantly take kids from underprivileged elementary schools out to eat in local restaurants. Cameron explained to Wake Forest Magazine gushed, "Each tour includes a donation of socks for a homeless family and revelations for the children that many of the restaurant owners overcame disadvantaged beginnings to reach success." 
, "For the most part we pay for everything, and a lot of it is funded by the donations that people give on our website and then independently by Tyler and myself." 
Local principal Sunny Ramos noted, of James, "I don't have the words for what he has done for our community and for my family — because this school is my family. He's amazing. He's a positive role model. He's sweet. He's charismatic. He has a way of getting the children to listen to him." ABC Tours has since expanded to the West Coast, too. With any luck, James's Bachelor fame will bring even more attention to this wonderful cause.