Alexandria Ocasio-Cortez Shares Scary Details About The Capitol Violence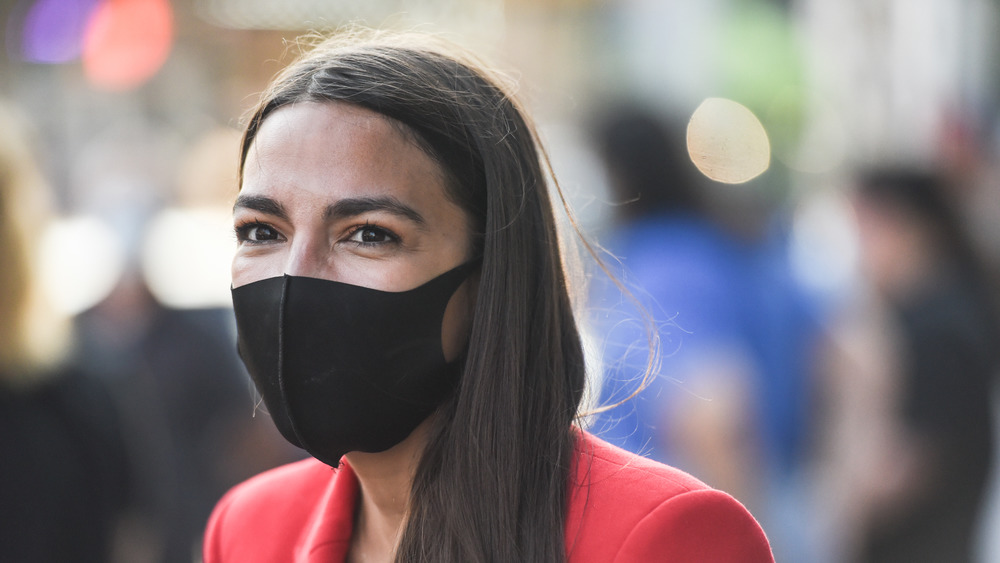 Stephanie Keith/Getty Images
Representative Alexandria Ocasio-Cortez is speaking about the violence in the U.S. Capitol that she witnessed last Wednesday, an event that she called "incredibly violent" and "traumatizing." In an hour-long Instagram Live on Tuesday, Ocasio-Cortez spoke about what the experience was like, and the events that led her to believing that she was "going to die." She opens up the space to allow her followers to ask questions about the Wednesday attack, as well as ask about what the future will look like (via People).
"I'll start by just lightly describing a little bit of what I went through on Wednesday and what all of us went through," Ocasio-Cortez began. She didn't beat around the bush when she almost instantly explained that the events that took place have led her to believe that impeachment is justified.
She also expressed anger later in the address towards certain members of Congress that she believes "don't care about being a damn legislature to serve the U.S." She added that Senator Ted Cruz and Senator Josh Hawley should "get out" of Congress, noting that Hawley was seen fist-pumping to the rioters.
Ocasio-Cortez says that she experienced a trauma that she isn't allowed to speak about
She confidently asserted that it is "not an exaggeration" to say that many members of the House were "nearly assassinated." She believes that certain decisions that were made within "minutes" were what could have been the difference between life and death.
"Many, many, many members of Congress were almost murdered," she strongly stated. "Many congressional staffers were almost killed. Many children of members of Congress were there."
While she couldn't give many details, Ocasio-Cortez mentioned a specific event that happened to her that led her to genuinely seeing her life flash before her eyes. "As for myself," she explained, "I had a pretty traumatizing event happen to me and I do not know if I can even disclose the full details of the event due to security concerns. But I can tell you that I had a very close encounter that I thought I was going to die."
She used the opportunity to speak openly about the importance of addressing trauma, and said that one positive element in the aftermath of the attack was that councilors made themselves readily available to those who needed it. She believes that all victims of trauma, whether victims of the Capitol attacks or otherwise, should receive counseling in order to "stop vicious cycles" of trauma.