Bindi Irwin's Newest Baby-Bump Pic Is A Tribute To Her Parents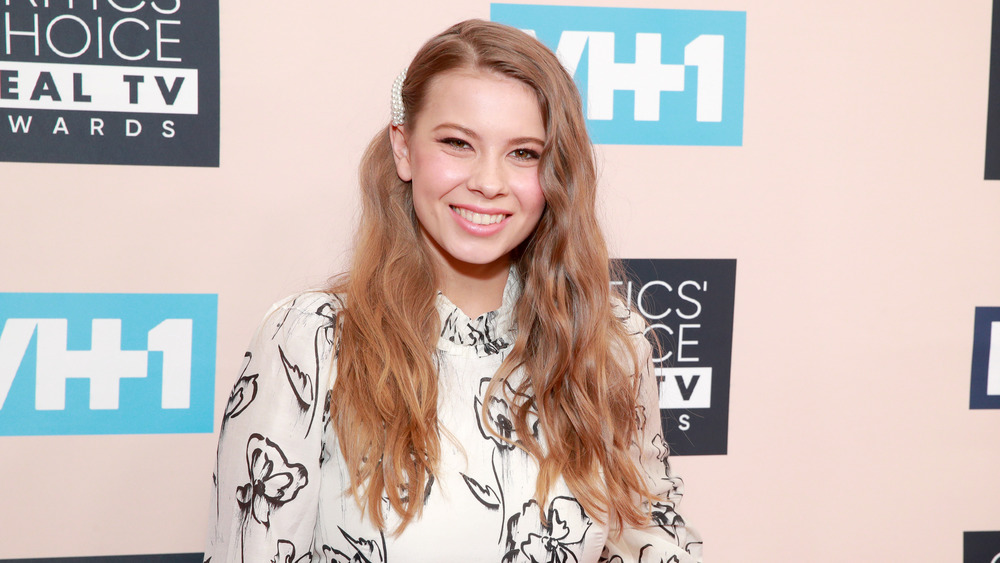 Rich Fury/Getty Images
Handling snakes, crocs, kangaroos, and rhinos is all well and good, but Bindi Irwin is about to embark on her most exciting adventure to date: motherhood. The star of Animal Planet's Crikey! It's the Irwins is well along into her first pregnancy (it's a girl!) with her husband, Chandler Powell; although she hasn't cited her exact due date, Irwin did tweet on December 22 that she was at the 26-week mark, meaning their daughter should be arriving sometime around the very end of March or early April. 
The news is thrilling fans who've followed Irwin from her appearances on The Crocodile Hunter to her acting stints in films like My Babysitter's a Vampire and Return to Nim's Island, and of course her winning moment on Dancing With the Stars. But no one is more thrilled than the parents-to-be themselves, not to mention younger bro Robert, who told the Australian news station 7News that being an uncle "is going to be awesome" and joked that he'll be giving his niece treats and letting her jump off high places, catch snakes and ride motorbikes. Bindi and Robert's mom, Terri, is delighted to be a grandma; she recently tweeted, "You are so very beautiful, @BindiIrwin."
It's clear that Bindi feels the same way about her mom — and she showed it with her latest heartwarming Instagram post.
Bindi Irwin recreated her mom and dad's baby bump pic
In the two-slide post, Bindi shared a photograph of Powell kissing her bared baby bump, captioning it, "Recreating a very special moment. Third trimester love." That "very special moment" is revealed in the second slide, a throwback photo in which Bindi and dad Steve are kissing Terri's own exposed bump when she was heavily pregnant with Robert. The tribute photo even has Bindi wearing a black shirt and khaki cargo pants similar to the ones her mom wore, while Chandler, like his late father-in-law, is wearing the Australia Zoo uniform: a khaki polo top and shorts. 
The poignancy of the pictures isn't lost on fans who know that Bindi lost her father when she was just seven years old — two short years after the happy Irwin family photo was taken. The famed "Crocodile Hunter," whose exuberant personality and passion for wildlife raised awareness of animal conservation, died after being stung by a stingray while filming a documentary (via Britannica). 
While it remains to be seen whether Baby Girl Powell will become a cliff jumper or motor-biker, there's no question that she'll grow up with a deep love and respect for animals — and for her grandparents.