Who Is RuPaul's Drag Race's Kahmora Hall?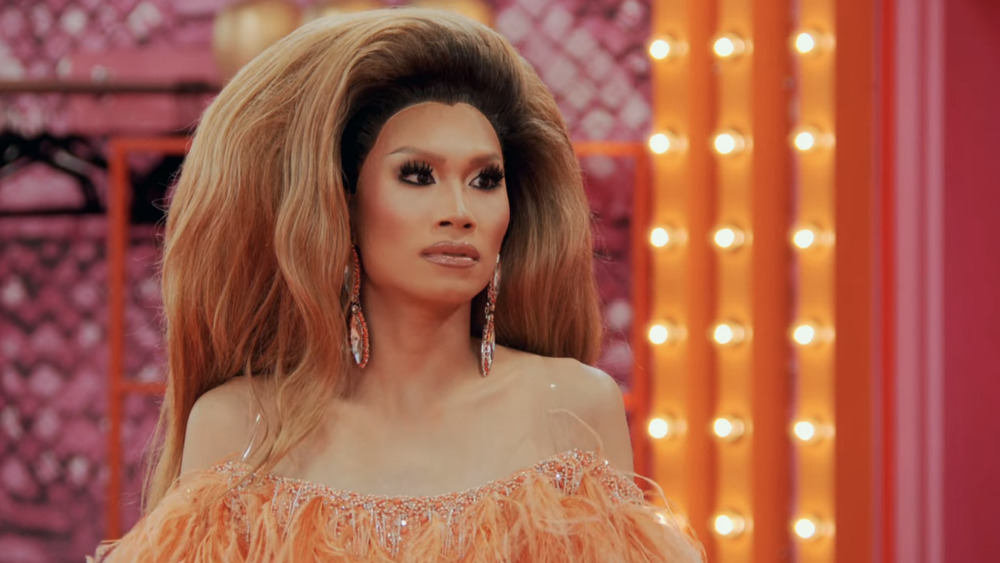 VH1
The number 13 is proving incredibly lucky for RuPaul's Drag Race, with the season premiere garnering more viewers than any other episode in the show's "herstory," (via Deadline). The cast is loaded with attention-grabbing performers, from the lovably loudmouthed Kandy Muse to comedian Tina Burner. When it comes to beauty, however, nobody compares to the stunning Kahmora Hall. As Screen Rant notes, her looks got Hall into trouble during the third episode when she took too long getting ready for the fashion show. 
Although Hall pulled it together just in time to strut alongside her sisters, fans were concerned the Chicago native may have sent herself home. "Kahmora going to get eliminate[d] for not participating in her first real challenge. HURRY UP!" wrote one Drag Race fan on Twitter, while another complained about this crop of queens giving them high blood pressure. Love her or hate her, there's only one Kahmora Hall.
The season 13 star is Drag Race royalty
Kahmora Hall isn't the only Chicago contestant this season, as ice-skating champ Denali also hails from the Windy City. However, she is the only drag queen who counts season 12 winner Jaida Essence Hall as a sister. Speaking to EW during a joint cast interview, Hall noted the duo "had a really great drag mother," who taught them "to be sweet and humble to everybody you meet." 
Hall noted, "I've been doing drag for nine years now, and that's the thing I try to do at every gig. Kindness takes you everywhere!" Tajma Hall is mother to both of these talented ladies, as well as season 8's Naysha Lopez and season 4's Dida Ritz. As for Kahmora herself, however, she's a drag mother in her own right, to Soju, who was eliminated first in season 11. Jaida, meanwhile, has a drag daughter named Becky Essence Hall, as per Out.
Kahmora Hall is always ready for the runway
Hall is clearly the fashion queen of season 13, thanks to the jaw-dropping Bob Mackie dress she wore that left Queer Eye alum Carson Kressley gobsmacked. The Drag Race star described her character in an interview with The Cut as "a fabulous, luxurious woman, someone who looks like they're dripping in money. But in reality, she's dripping in student debt." Kahmora Hall even confessed to searching online for new clothes first thing in the morning before doing any work in her day job. 
As she explained to EW, "I make sure my drag is always the glitz and glam, the razzle dazzle, because shine and sparkle never go out of style." Hall even used to steal her mother's heels and strut around the house in them as a child. The Drag Race star advised, "I'm not the type of queen to be doing kicks and splits and death drops. ...I don't need to do all that. ...It's called stage presence, honey. You've got to be born with it!"