Why Melania Trump's Final Task For Her Assistant Is Turning Heads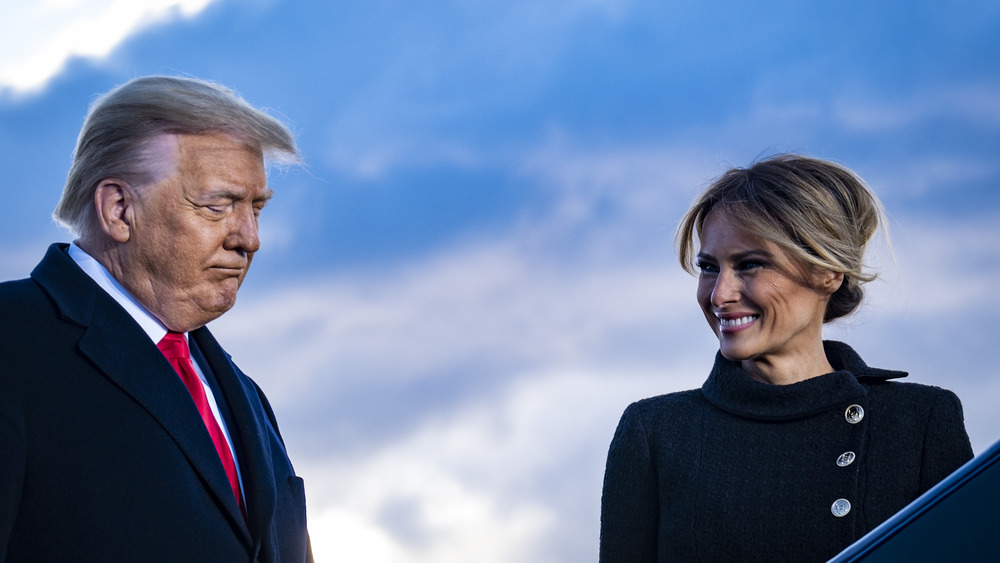 Pool/Getty Images
Former first lady Melania Trump has been showing signs of being somewhat checked out of politics for quite a while now, with reports citing that she has been noticeably absent from many events as of late.
There have been quite a few red flags that have really shown Trump's true colors regarding her perceived desire to leave the White House. In a recent interview with the new first daughter, Ashley Biden was asked if her mother, Jill, had received any correspondence from Melania Trump regarding the traditional protocols between transitioning first ladies. "No," Biden said. "I don't think they're doing the traditional protocol ... which is unfortunate" (via Today). In addition, the start of the 2020 holiday season for Trump wasn't especially merry and bright. Secretly recorded audio from an interview heard Trump talking badly about the tradition of the first lady's job at Christmas, saying "Who gives a f*** about Christmas stuff and decorations?" (via W Magazine).
Indeed, Trump seems to be in quite an ambivalent state. According to the Irish Times, a source recently told Vanity Fair, "She just isn't in a place mentally or emotionally any more where she wants to get involved." But now she appears to be so checked out that she's allegedly asking her assistants and other staff members to complete some of her first lady duties for her, making a peaceful transition of power a little less pleasant.
Melania Trump refused to write thank-you notes to her staff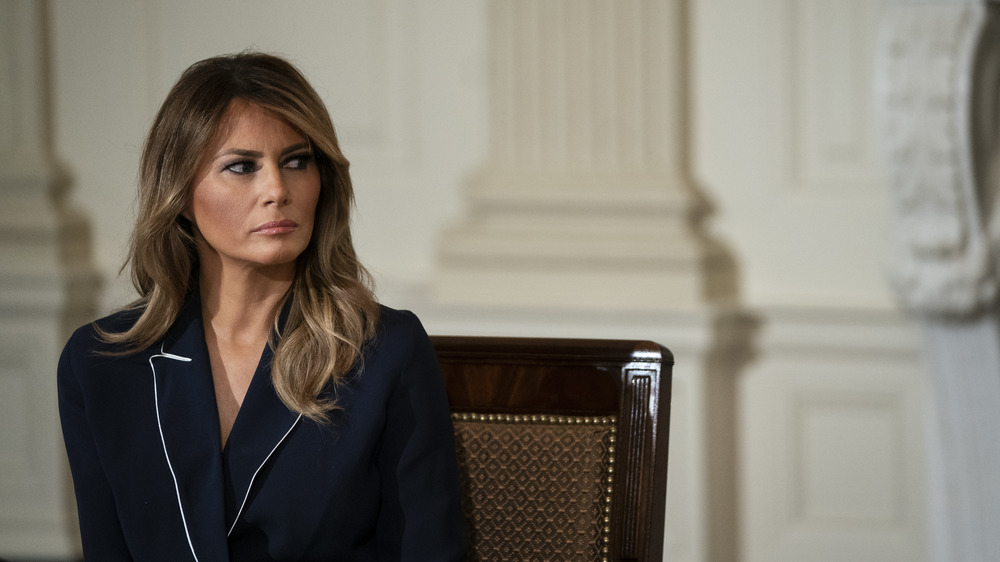 Drew Angerer/Getty Images
A pivotal duty of the first lady before she leaves the White House is addressing and thanking her staff for their four years of work — but it would appear that Trump wasn't interested in participating in this special tradition. According to a recent report by CNN, she refused to write thank-you notes to her White House staff, who have cared for her and her family all throughout Donald Trump's four years as president. Roughly 80 staff members were given typed notes, which were composed by Trump's lower-level East Wing assistant "in her voice" and signed by the first lady. 
The staff allegedly had genuinely believed Trump wrote the letters, until learning otherwise. It's very customary for presidents and first ladies leaving the White House to address their staff and write thank-you notes to butlers, cooks, housekeepers, maintenance workers, but Trump decided to put the responsibility on other people who worked for them (via Business Insider). The thank-you notes traditionally detail sentimental moments, personal anecdotes, and special memories between White House staff and family living there. One can only speculate as to why Trump wasn't keen on writing these notes. Behaviors such as this, however, may be a reason why Trump has the lowest approval rating of any first lady, sitting at just 47 percent as she leaves the White House for good (via Hollywood Life).
According to CNN, Trump allegedly "just wants to go home," and is "not sad to be leaving" the White House, despite her recent farewell address in which she claims the past four years have been "unforgettable" (via The Guardian).
Melania Trump may have lost interest in her role as first lady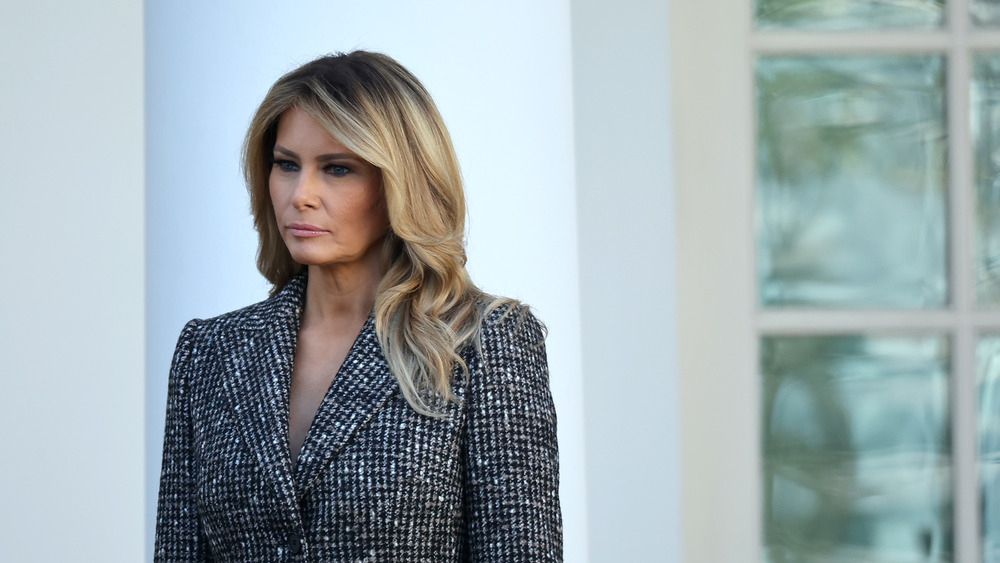 Chip Somodevilla/Getty Images
While Trump has always been a relatively quiet first lady, in the months since the November election in which her husband was not re-elected, she has been especially absent. Since November, she has only been present for a handful of events, including the turkey pardoning, the arrival of the White House Christmas trees, the annual Toys for Tots event, a story-reading at the nearby Children's Hospital, and a December rally in Georgia for GOP Senate candidate Kelly Loeffler (via Hollywood Life). But her absence from events certainly didn't stop the first lady from joining her husband in perpetuating the conspiracy theory that he has won the election instead of Joe Biden, who was sworn in today. But sources say that once the likelihood of Donald being re-elected began to dissipate, Trump found herself in a "state of shock," and she pivoted her attention to life post-White House (via The New York Times).
Perhaps this state of mind is why Trump refused to give the new first lady Jill Biden a tour of the White House, more than 100 year-old tradition between the transitioning of first ladies. Sources say that the Bidens will instead be greeted by a White House appointed usher, per the Independent. But if what Ashley Biden said about Trump's cold-shoulder greeting is true, we can only assume the entire Biden clan is "all okay with it" (via People).