Why The Internet Is Having A Field Day With Kamala Harris, Michelle Obama, And Jill Biden's Outfits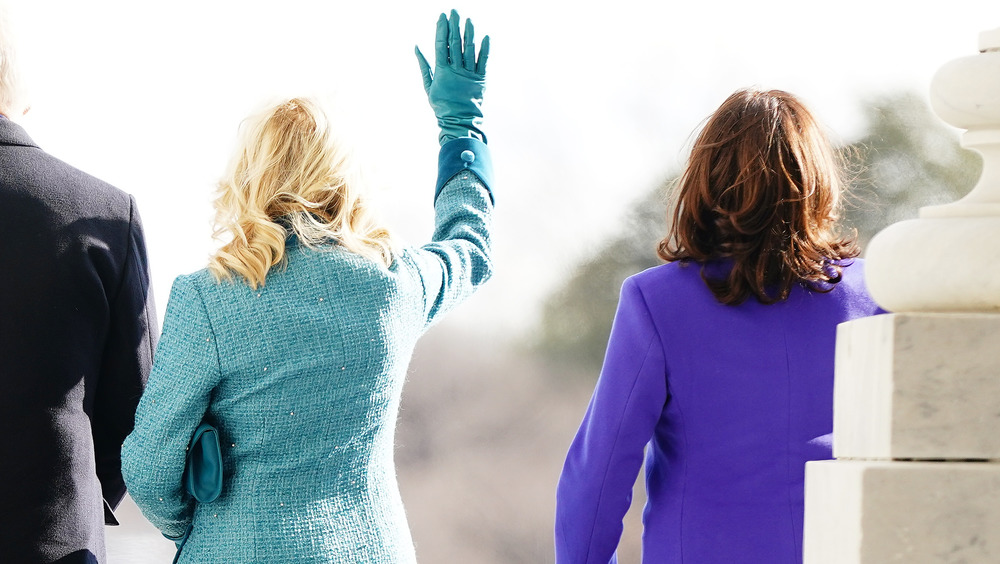 Pool/Getty Images
On this day of celebration, the internet appears to be finding all sorts of ways to enjoy Inauguration Day. The keyword of the day, as was captured in President Biden's speech: unity. And in the case of Kamala Harris, Jill Biden, and Michelle Obama, the internet noticed that these three women seemed to be forming a kind of unit: a powerful trio that put one in mind of Destiny's Child, or as one Twitter user called them, "Democracy's Child."
Vice President Harris stepped out in purple for this historic day: a single-breasted coat from Christopher John Rodgers, paired with a Sergio Hudson dress of the same shade. As fashion expert and TV personality Cindy Conroy told The List, the veep "wore thoughtfully designed pieces by Black fashion designers." Dr. Jill Biden, meanwhile, chose a Markarian tweed coat and matching dress in ocean blue for her first day as first lady of the United States. As for the 44th first lady, Michelle Obama sported a burgundy trouser-turtleneck ensemble, pulled together by a coat, also by Sergio Hudson (via the Evening Standard). Obama's bold, gold belt buckle also definitely made a statement, as Glamour reported.
Purple, ocean blue, burgundy. These three colors certainly complement each other very well, and it didn't take long for the internet to see just how, remarking that the three ladies looked quite perfect, as if they had coordinated their looks when stood side by side.
Hillary Clinton could have made it a quartet
In response to an edit of Vice President Harris, Dr. Jill Biden, and Michelle Obama in their inauguration outfits, one Twitter user declared, "If I had kids.... I would tell them this was 'Destiny's Child'" while another user replied that the trio actually more resembled Charlie's Angels, or rather "Democracy's Angels." User @DannyPlaysGamez got in on the fun, sharing a drawing of the three women walking as if coming out a tunnel. Michelle Obama is seen mid-strut, flanked by Harris and Biden, who are waving to the nation.
Interestingly, Destiny's Child's No. 1 hit single "Independent Women, Pt. 1" was made for the 2000 film adaptation of Charlie's Angels. So, it's easy to see that connection made by netizens (especially with a reboot released in 2019). And as said, all of this is in good fun. The internet seems to be in a good mood.
Because Destiny's Child and Charlie's Angels have only three members though, that may explain why Secretary Clinton wasn't included, as she and her grape Ralph Lauren pantsuit would fit in perfectly, too. As for the color purple, it dominated Inauguration Day (per The New York Times), and as a mix of blue and red, is a fitting representation of the unity that the president and the nation is calling for.