Kamala Harris' Great-Nieces' Inauguration Coats Had A Secret Meaning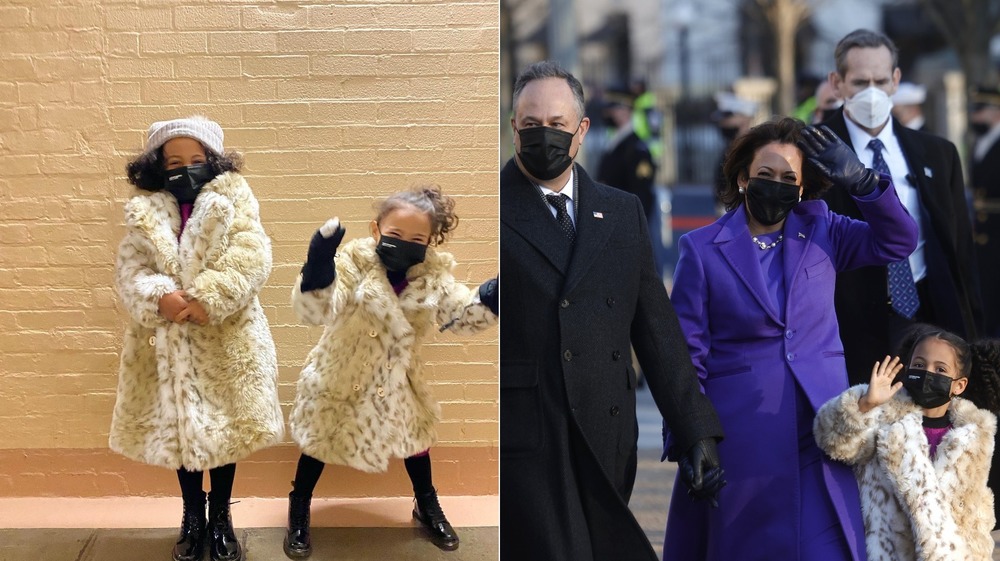 Justin Sullivan/Getty Images
To hand the mic to the great Miuccia Prada, "fashion enthralls everyone, from the taxi driver to the mega-intellectual ... fashion is instant language" (via The Wall Street Journal). Kamala Harris' inauguration, as the first woman vice president, first Black woman vice president, and first woman vice president of Asian heritage was (momentous, historic, earthshaking, pick your adjective). So, too, were the clothes worn to commemorate the occasion.
The New York Times reported that nearly half a million women across the United States dawned pearls in celebration. Some bought pearls for the first time to do so. As expected, Kamala Harris wore pearls, too, in honor of her college sorority. She also dawned a gorgeous purple-blue coat, by the Black designer Christopher John Rogers. Symone Sanders, Harris' senior advisor and chief spokesperson, told The Washington Post that the color paid tribute to the colors preferred by Shirley Chisholm, the first Black woman to run for office. It was also a nod towards bipartisan unity. Because, you know, blue and red.
Meanwhile, Harris' great-nieces, Amara and Leela, wore breathtakingly significant coats of their own, as they cheered on their aunt in her (epoch-making, earth-shattering) moment.
Why Harris' great-nieces wore leopard print
Amara and Leela's mother (Kamala Harris' niece) first broke the story with a tweet. "Special coats to look just like Auntie's," Meena Harris captioned two pictures — one of her daughters and one of her aunt as a kid, all wearing gorgeous, faux fur leopard coats.
People writes that Amala and Leela's coats were the initiative of sketches drawn up from I Love Plum. It's a female-founded kids clothing company that "spent the past weekend sewing [the inauguration coats] from hand," after getting Meena Harris' go-ahead, according to a press release. Soon, the company plans on releasing similar "Kamala" coats, presumably meant for all little ones who aspire to break glass ceilings the way Harris just did.
As for us? We tend to agree with NBC News correspondent, Stephanie Ruhle, when she says, that after starting to "question my lifelong commitment to leopard print," Amala and Leela's coats "are giving me life!!"