Gal Gadot And Lynda Carter Are Even More Similar Than You Think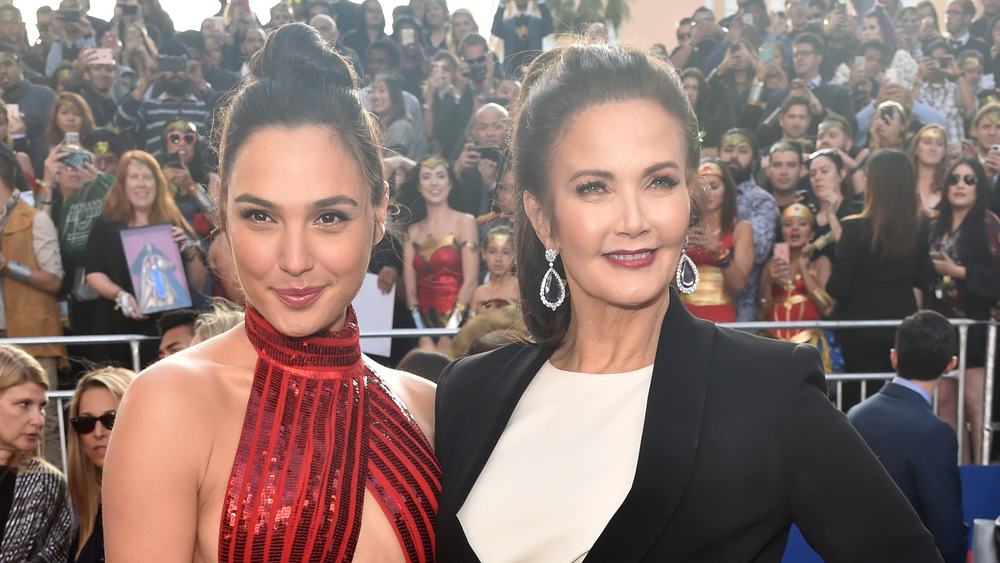 Alberto E. Rodriguez/Getty Images
Wonder Woman fans, rejoice! Following the beloved TV show's remake on the big screen, the DC Comics fan base has exploded like never before. In the 1970s, Lynda Carter graced the screen and donned the iconic outfit, and now, Gal Gadot has taken on the roll in style. While on screen, their similarities revolve around their hair colors and jaw-dropping hero skills, in real life, the two share a few other connections.
Both Carter and Gadot were pageant queens before they got started in acting. IMDb reports that Carter received the title of Miss World USA in 1972 after representing her home state of Arizona. Later, she told The New York Times of the experience and her reluctance to compete, "You have to visualize the time. Women's lib! Burn the bra! Gloria Steinem! And I had some guy telling me I needed a chaperone and had to go cut a ribbon somewhere. It wasn't me," she said. While Carter may not have been thrilled to relive that portion of her life, her Wonder Woman successor came from similar beginnings.
Gadot, who is originally from Israel, won the country's beauty competition in 2004. Aside from their pageant backgrounds, the two have also lent their acting skills to various Disney films. The outlet notes that Gadot's voice appeared in Ralph Breaks the Internet while Carter took the role of Principal Powers in 2005's Sky High.
Lynda Carter had input on the Wonder Woman films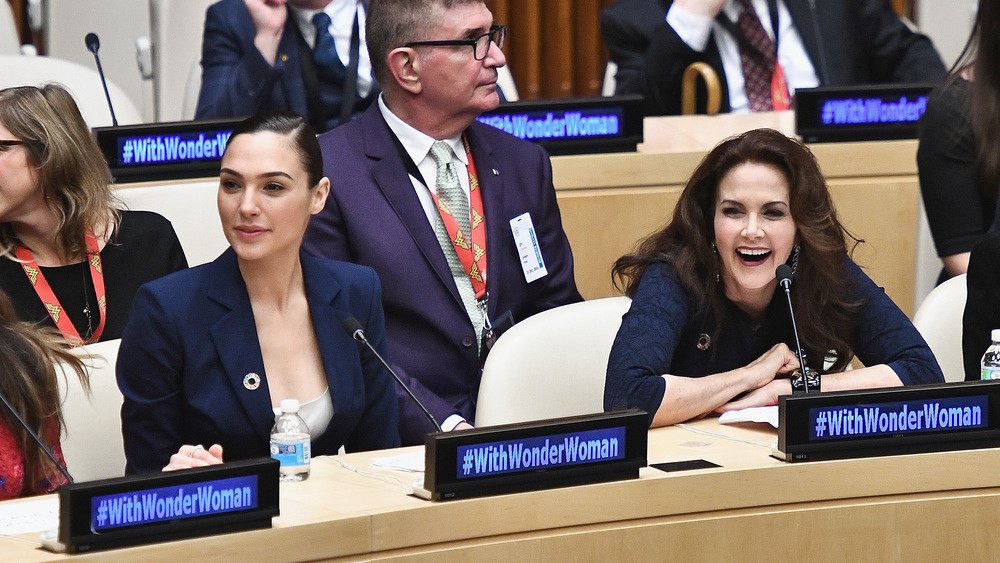 Dimitrios Kambouris/Getty Images
As for their current careers, the two Wonder Women have crossed paths in more ways than one. During an airing of Good Morning America, director Patty Jenkins revealed that she had a group chat running with both Gal Gadot and Lynda Carter throughout their time filming 2017's Wonder Woman and the most recent Wonder Woman 1984. The director explained, "Lynda is one of the first people I contacted when I started doing these movies, and she and I have become super good friends" (via People).
As the original Wonder Woman, Carter's input has proved invaluable for both Jenkins and Gadot. It appears that the two consulted Carter for both of the Wonder Woman films. "In the last few years we've started a group text that we're all three on, literally we all talked probably four times yesterday," Jenkins explained. "So we text each other all the time, we talk about what's going on, we talk about the movie release."
Carter later revealed that Jenkins offered her a cameo role in the first Wonder Woman film, but she was busy performing on the road with her band, according to the Times. In addition to her support of Gadot, Carter explained that, when it came to the second film, "I will back Patty on whatever decision she makes." An incredible example of the power of female support, Gal Gadot and Lynda Carter's relationship proves just how impactful this type of partnership can be.