Inside Andy Reid's Relationship With His Wife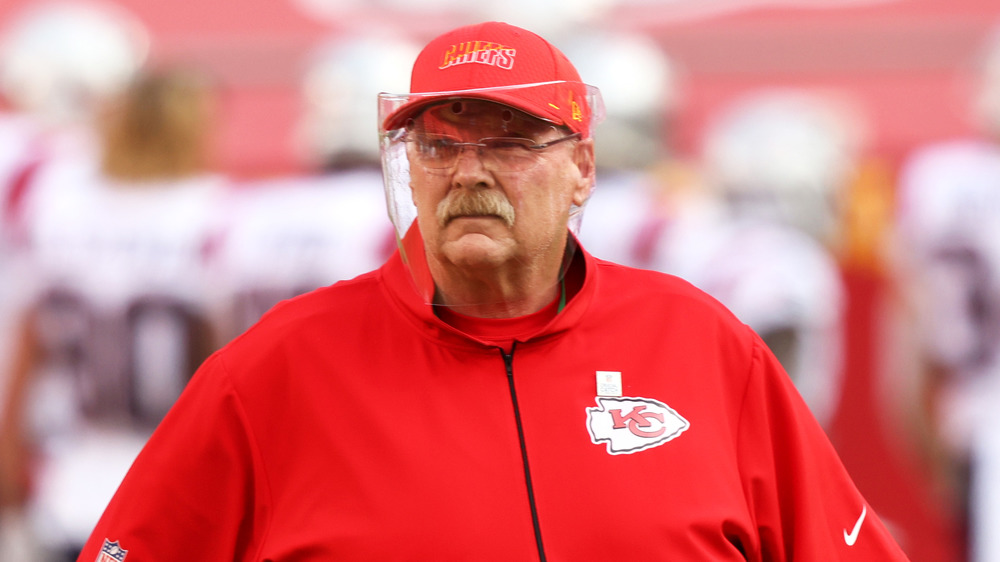 Jamie Squire/Getty Images
Andy Reid has been the head coach of the Kansas City Chiefs for eight years — he was the man that led the team to their Super Bowl win in 2020. He has also been married to his wife, Tammy Reid, for over 38 years, and the pair had five children together: Garrett, Britt, Spencer, Crosby, and Drew Ann. Sadly, their son Garrett died from a drug overdose in 2012.
Reid has often praised his wife in the media; following his team's big win in 2020, he told the Philadelphia Inquirer that his wife is the real trophy in his life. "I didn't really sleep last night, but I didn't spend it with the trophy. Well, I did — I spent it with my trophy wife, how's that?"
Andy and Tammy Reid met when they were both attending Brigham Young University in Utah, and he says they've been together from that moment. "I've been... with her for about 40 years now," he said (via Philadelphia Inquirer). "Every day is a special day, I'm telling ya. I call her my girlfriend for that reason. You never lose interest if you do that, right, you guys out there? Call them your girlfriend and you always do special things for them."
Andy Reid became Mormon for Tammy Reid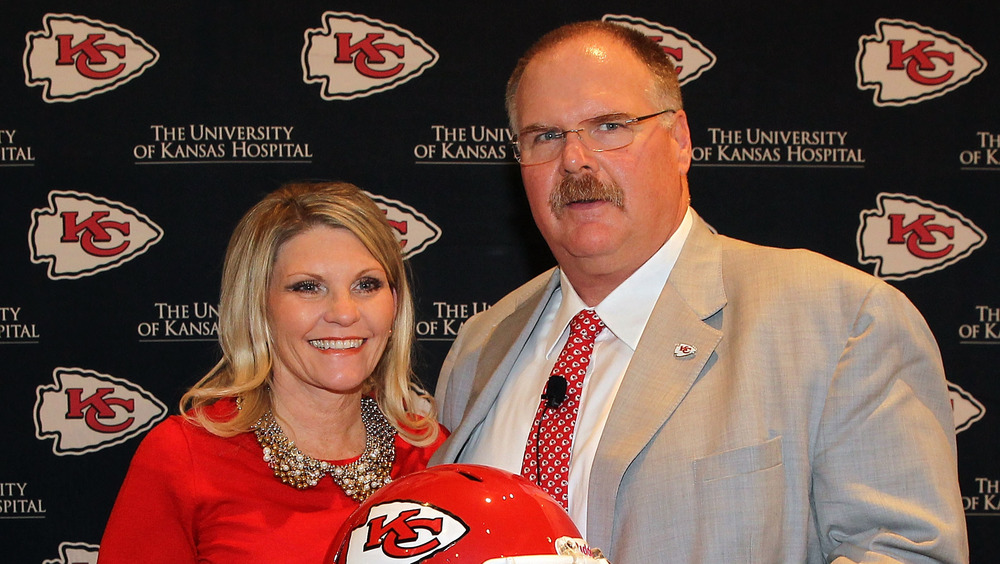 Jamie Squire/Getty Images
Andy Reid even converted to the Church of Jesus Christ of Latter-day Saints for Tammy. According to Pennsylvania's Patch, Reid "grew up a not-very-observant Lutheran, joining the Mormon church while playing football for Brigham Young University."
Like many couples, the Reids have been through a lot together. Two of their children, Britt and Garrett, struggled with addiction throughout their youth. In 2007, Tammy opened up to Philly Magazine about raising children who wrestled with addiction. "You're thinking, let's try one more time because that's what you do as a parent," she said. "You think, okay, it didn't work the last couple of times, but there's still hope."
Tammy continued, "We raised these boys. We taught them to pray, taught them to ride their bikes — you see this potential in him, and you're just not going to give up. And that's the one great thing from all the letters we've gotten, they all say, stay with them, always tell them you love them, show them you love them, do what you can, but know that they've got to do it themselves. Are we going to be there for them all the time? Yes, no matter what happens."
Garrett passed away from an overdose while attending an Eagles training camp (via New York Times), but Britt now works for the Chiefs alongside his dad.
If you or someone you know is struggling with substance abuse and mental health, please contact SAMHSA's 24-hour National Helpline at 1-800-662-HELP (4357).