Inside Jazmine Sullivan's Relationship With Her Boyfriend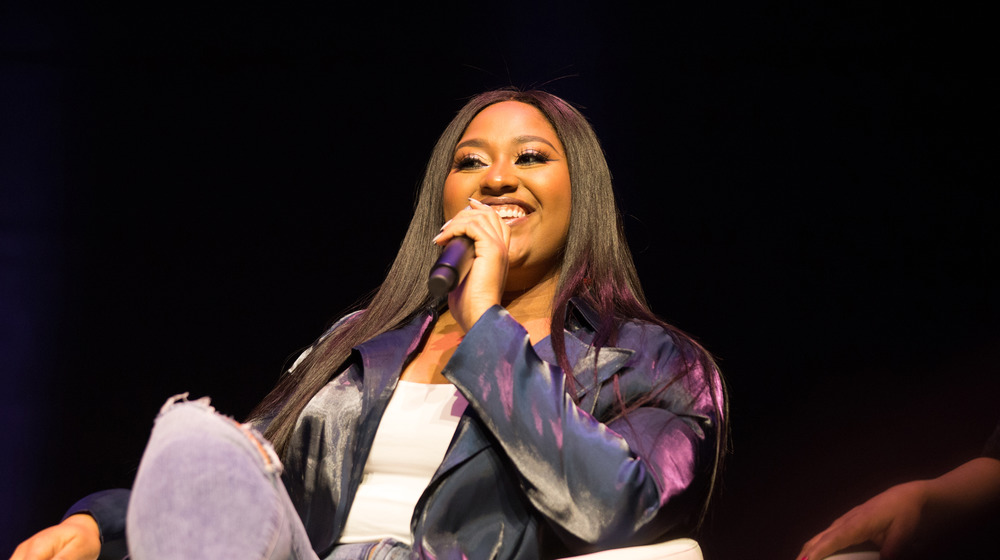 Brian Stukes/Getty Images
Singer-songwriter Jazmine Sullivan is having a bit of a moment in 2021. Sullivan released her first EP in several years, Heaux Tales, to rave reviews in January 2021, and now she's preparing to sing the national anthem at the 2021 Super Bowl. 
Jazmine Sullivan told the Los Angeles Times that her newest album is "about understanding that we all have a story, and that story is important, and it's okay for you to tell it exactly the way it is." The first single, "Lost One," is about a woman who regrets the end of a relationship and who believes she is to blame for its demise. Sullivan explained that the song is also about being honest with yourself and where you are. "You don't have to make up a way to present yourself. Whatever valleys and dips that you've gone through in life, you deserve to have grace."
Jazmine Sullivan actually recorded "Lost One" with her boyfriend of several years, Dave Watson. Here's what we know about their relationship!
Jazmine Sullivan loves Dave Watson with 'all [her] heart'
Jazmine Sullivan has always been pretty private when it comes to her personal life, so many people were surprised when she wrote a gushy Instagram post celebrating Dave Watson's birthday in 2017. She ended up deleting the post from her Instagram altogether, but ESSENCE captured and shared the text.
"Haven't been able to separate since our first date. We didn't know what 'this' was, but we knew we didn't wanna let it go! Then U took this beat-up ... heart and made it feel brand new again...So thank u! Thank u for being u! For loving and respecting me daily," she shared. "U ain't always rt, but ur just rt for ME! So Hbd.. can't wait to spend all of them looking at u the same way! Love u with all my heart baby!"
Since then, Sullivan hasn't mentioned Dave Watson by name. However, a quick peek at his own Instagram account reveals the two are doing better than ever, as he often shares photos and videos of them. The Los Angeles Times reports that Watson is also a musician, so it makes sense that these two connected and that they enjoy each other.