The Surprise Stars Of The Super Bowl Uber Eats Commercial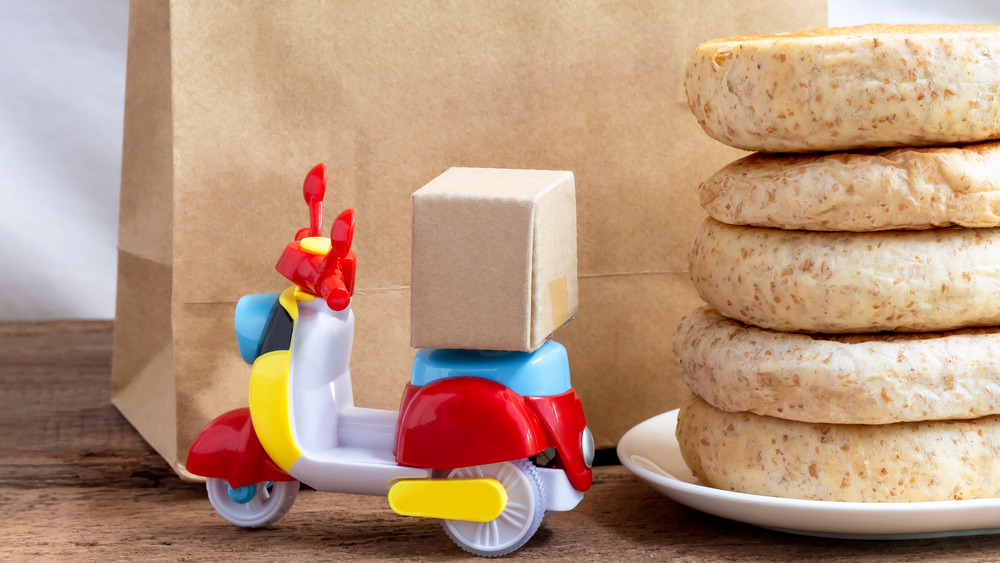 Shutterstock
You don't have to know about the point spread or fill out a square in the office football pool to enjoy Super Bowl Sunday — not when there are so many great commercials to watch after every play and time-out. Even though major advertisers like Budweiser won't air Super Bowl ads in view of the COVID-19 pandemic, other sponsors are whetting our appetite for their Feb. 7 spots. Already, we know to expect some fun guest-star appearances, such as Schitt's Creek star Dan Levy in the M&Ms ad and the Doritos campaign with Matthew McConaughey. Now Uber Eats has given us a teaser for their 2021 ad, and we couldn't be more excited.
The food-delivery app has already scored major points with viewers for their recent ads featuring Olympic gymnast Simone Biles and Queer Eye's Jonathan Van Ness, and the hilarious face-offs between Mark Hamill and Patrick Stewart ("that's Sir Patrick!"). It might seem impossible to top pairings like that, but it seems they might just have. On Saturday's SNL, Uber Eats aired a teaser featuring a famous couple that had us shrieking, "Excellent!"
The Wayne's World stars are reuniting for the Super Bowl
Reprising their beloved roles as Wayne and Garth, Mike Myers and Dana Carvey slipped back into their wigs, flannels, and teen-speak as they revealed they would make an appearance during Super Bowl LV (via People). Myers started it off by joking, "2020, man, that was a great year ... not!" The two then riffed on the NFL's restrictions on publicly stating the name of the championship game: "We'll see you on the Big Bowl," said Carvey. "The Gigantic Bowl," added Myers. The camera did a quick cut to an Uber Eats bag as the off-screen doorbell rang. 
The former castmates haven't played their signature roles since 2015, when they appeared on SNL's 40th anniversary special (via Rolling Stone). They also appeared sans makeup for a Zoom session with Aerosmith on Josh Gad's Reunited Apart series on YouTube. Now fans are wondering whether this totally awesome reunion will have them head-banging to "Bohemian Rhapsody" or "schwing"-ing over the women of Bridgerton. Maybe there'll be a surprise third guest who will have the slacker teens fawning, "We are not worthy!" No matter; whatever happens in the ad, we'll all be ready to party on with Aurora, Illinois' favorite cable hosts.