The Cameo In Uber Eats' Wayne's World Commercial Nobody Saw Coming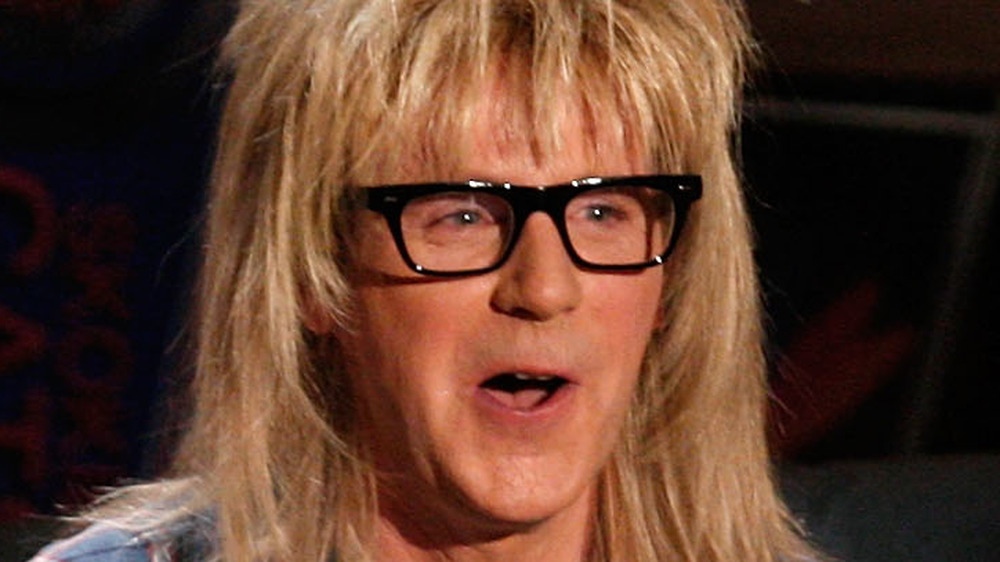 Kevin Winter/Getty Images
There's nothing like a bit of nostalgia, is there? And when that nostalgia takes the form of the head-banging Wayne's World cast during the commercial breaks of the 2021 Super Bowl, nothing could be better. 
Mike Myers and Dana Carvey reprised their roles as Wayne and Garth in an ad for Uber Eats encouraging people to "eat local" amid the coronavirus pandemic, promising they're not using shameless ads to do so. But as if the nostalgia factor wasn't enough, the ad includes an extremely unexpected celebrity guest: Cardi B. 
In the ad, Myers jokes, "We'd never shamelessly rely on a celebrity cameo," after which a camera pan reveals that the incredible Cardi B is sitting on the Wayne's World couch with them. "Yeah!" she says. "Eat local!" Despite an incredibly unexpected appearance, Cardi B manages to seamlessly turn this iconic duo into a trio we never knew we needed.
Myers and Carvey said this of working with the new honorary Wayne's World member
Chatting with ET Online about the Uber Eats Super Bowl ad, Myers shared that he couldn't have been more excited to work with Cardi B. "She was lovely and so funny and so beautiful, and [she] came to play," Myers said. "I loved working with her." Carvey echoed these sentiments, saying, "[Cardi B] had such a funny, quirky vibe about her, and she made me laugh a lot. It was like a past and the present, and this whole culture clash — it was interesting. I asked her how many Instagram followers she had, and she showed me her phone and it said 81 million. I said, 'Oh, alright. Okay.'"
Fans seemed to love the hip mix of new and old featured in the Wayne's World Uber Eats spot, with one Twitter user gushing, "So far, the Wayne's World commercial is by far the highlight of my evening! #Waynesworld #partytime #excellent." Another fan of the ad tweeted, "The @iamcardib #waynesworld cameo is hands down my favorite part of the #SuperBowl."
Others, on the other hand, were just sad to see epic Wayne and Garth getting older.