Here Are The Most Bizarre Super Bowl Bets Being Made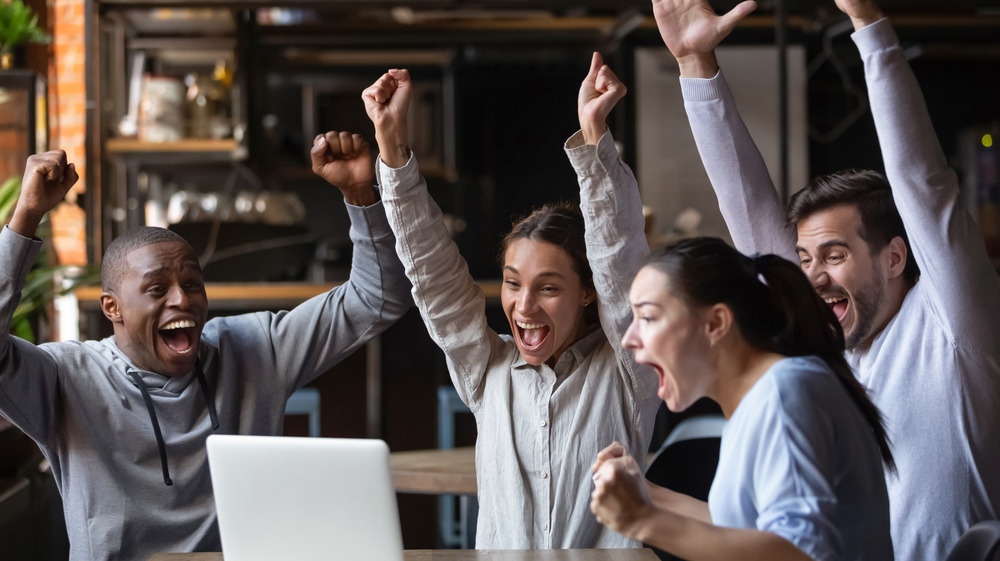 Shutterstock
Marking a square in a grid? Puh-leeze. Get with the times: If you're into Super Bowl wagering, the way to go today is to place your money on one of the weird and wonderful Super Bowl prop bets being offered for Super Bowl LV. 
For those of you whose gambling is limited to the occasional scratch-off ticket, a proposition or "prop" bet is "a wager on an individual player or specific event," according to The Lines. For instance, you could place money on the outcome of the opening coin toss, or whether or not you think Kansas City's QB Patrick Mahomes will score a rushing touchdown during the game. Online betting sites, or "sportsbooks," offer zillions of props for individual teams and championship games in football, basketball, and other major sports. 
Don't know a tight end from a tightrope and couldn't care less? You can still make prop bets on events that don't require you to know anything about the game, such as how long it will take Jazmine Sullivan and Eric Church to sing the national anthem before kickoff (per The Lines, the over/under is 1 minute and 59 seconds). And that's tame in comparison to some of the other events sportsbooks are listing. Read on for some of the weirdest wagering ever!
You can bet on dogs, Biden, and Gatorade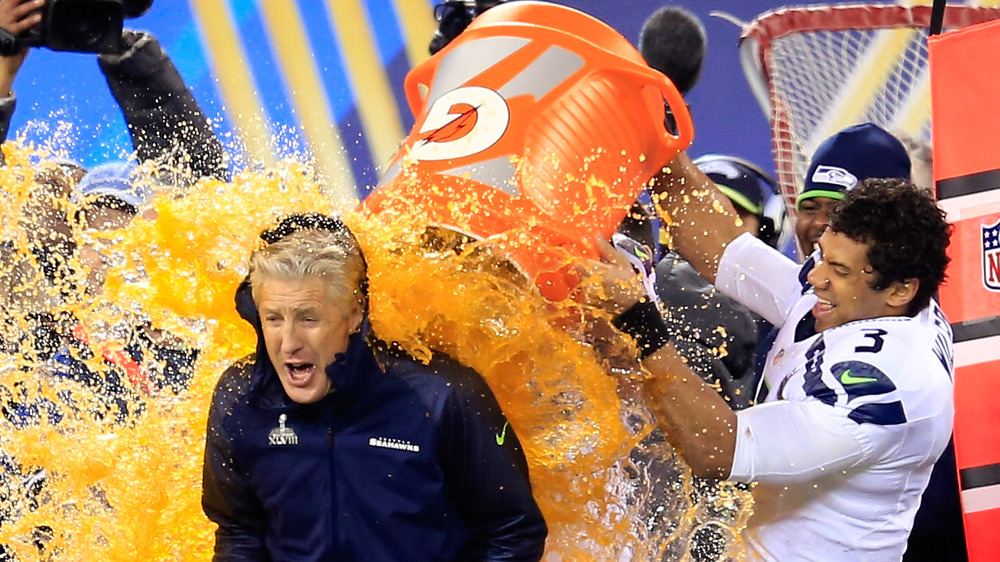 Rob Carr/Getty Images
Sports-betting site BetOnline.ag has a comprehensive list of Super Bowl LV props and the current odds for each one. Many are game-related, such as which player will record the first reception and how many rushing attempts the Bucs' Tom Brady will make. Others, known as "specials" or "exotic," include how many times President Biden will tweet during the game. You can bet on a lot of things about the color commentary, like the number of times they'll use the words "kindergarten" or "Trump." Which will they say first: "COVID" or "pandemic"? "Mask" or "coronavirus"? "Hamstring" or "groin"? 
Bettors can predict whether announcers Jim Nantz and Tony Romo will mention Patrick Mahomes' upcoming wedding first, or the baby he's expecting. When they speak of Tom Brady, you can bet on whether they'll mention his age or the fact that this is his 10th Super Bowl. Whoever the MVP is, you can bet on what you think he'll mention first in his victory speech. (Smart money is on his teammates or God, but some might want to go with the long-shot bet of the team owner.)
Not bizarre enough? Oddsmakers will let you bet on which coach will "have his nostrils seen first" (e.g., take off his mask), or what color Gatorade will be poured on the winning coach (orange is favored). But if you'd rather take your chances with a different type of game, you can always wager on whether Team Ruff or Team Fluff will win the Puppy Bowl.