Inside Tom Brady's Friendship With Patrick Mahomes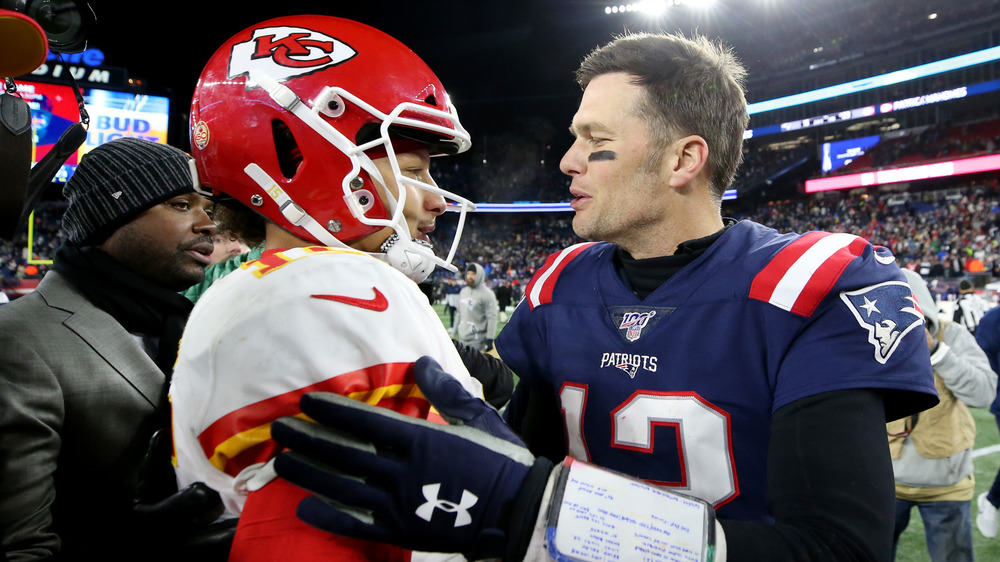 Maddie Meyer/Getty Images
When watching them on the football field, Patrick Mahomes and Tom Brady display tons of similarities, from their agility to their leadership skills. But, now that the youngest MVP ever is facing off against the argued GOAT, many are wondering how close the two legends are in real life. Following a record-setting season, Mahomes has the chance to be one of only two quarterbacks who has won two Super Bowls in their first four years in the NFL. The other player who has done this is none other than his next opponent, Tom Brady (per The Ringer).
In an interview leading up to the game, Mahomes joked with reporters, saying, "Yeah I mean, the Super Bowl is the Super Bowl. Being able to go up against one of the greatest, if not the greatest quarterback of all time in his 150th Super Bowl." But, ultimately Mahomes knows that this matchup is one for the books. "I mean it's going to be a great experience for me. To go out there and get to have a chance to repeat and get to do it against the best, I mean it's something special and I'm excited for the opportunity" (via Chiefs Wire).
Brady seems to have taken his opportunity to mentor the prodigal Chief's quarterback as well. According to the Tampa Bay Times, Brady asked for a private audience with Mahomes following their AFC title game two years ago.
Tom Brady has mentored Patrick Mahomes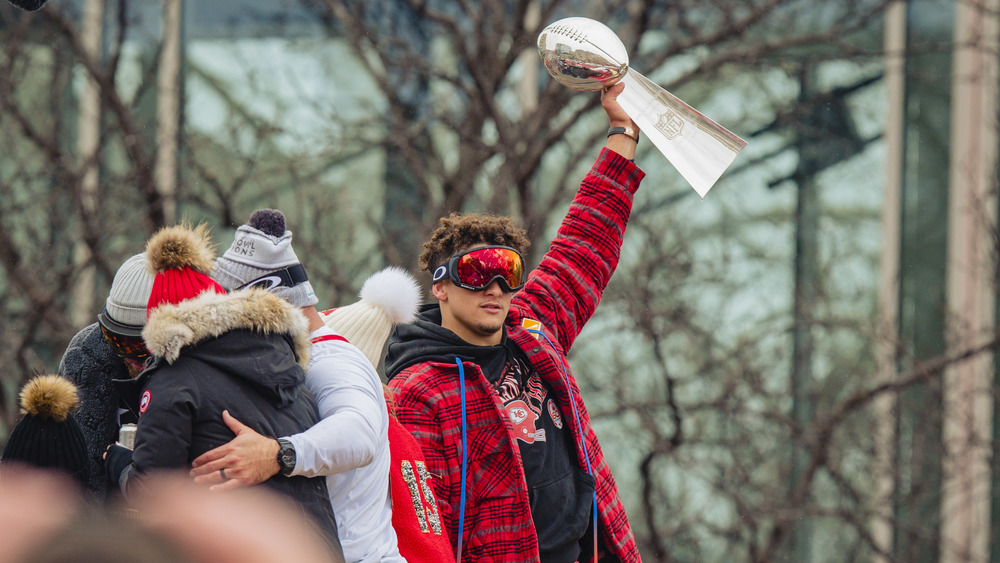 Kyle Rivas/Getty Images
Over the past three seasons, Tom Brady and Patrick Homes have formed a bond. The 18-year age difference may have something to do with Brady's desire to help Mahomes as his career continues to take off, as CBS Sports notes. "First of all, I'm thankful that Tom talked to Patrick when Patrick was young and gave him the words of encouragement that he did after the [2019] championship game there," Chiefs coach Andy Reid told the Tampa Bay Times. "I'm grateful to him for that. To a young guy, that means a lot."
Gaining the attention and alone-time with one of the greatest football players of all time was certainly not lost on the young QB. Plus, he received some great advice. Reid said, "It was just a respect thing and I just really thought that was great. That was a tough game, and he [Brady] just said, 'Hey, you just keep being you and things are going to work out.'"
While Brady would go on to capture his sixth Super Bowl that year versus the Los Angeles Rams, things would "work out" for Mahomes the following year when he won his first championship at age 24. Fast-forward to 2021 and now Brady and Mahomes' off-the-field friendliness and mentor relationship will be put to the test once more, as the two battle for the ultimate title — Super Bowl LV winner.