Donald Trump Jr. Has A Message About Tom Brady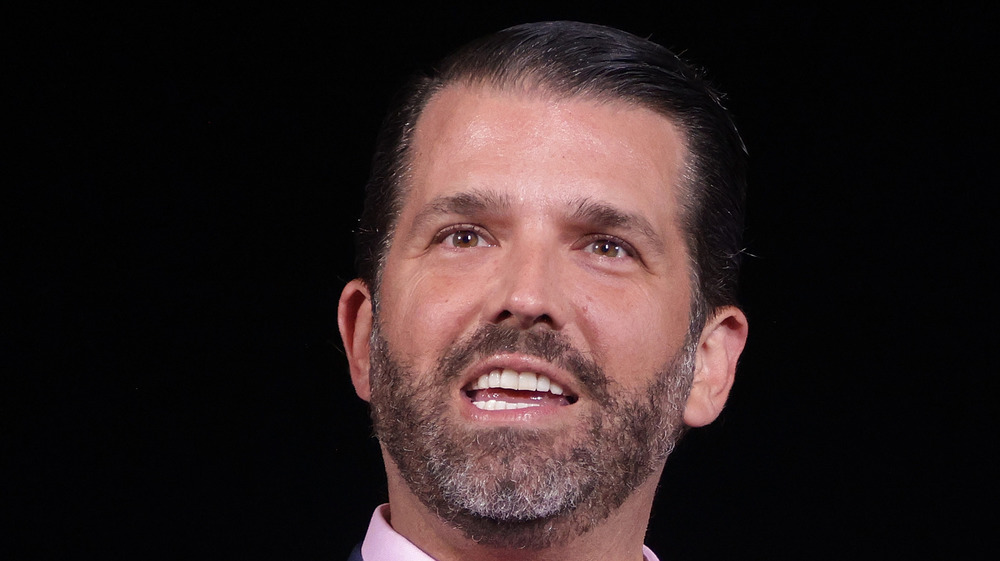 Alex Wong/Getty Images
The Tampa Bay Buccaneers didn't seem like they had much of a chance to win the Super Bowl back in January 2021, even if it had superstar quarterback Tom Brady in their squad (via NBC Sports). Because, for starters, Kansas City Chiefs has Patrick Mahomes. And, also, The Tampa Bay Buccaneers haven't won a Super Bowl since 2002 (via Buccaneers). So it's not surprising that the hashtag #GOAT (greatest of all time) began trending on social media after the team won their first title, and Brady won his seventh — the same year he officially became the oldest man to win the Super Bowl. Even everybody's favorite astrophysicist, Neil deGrasse Tyson, was inspired. "Tom Brady was the 199th pick in the 2000 NFL draft. Which tells me that occasionally, if not often, people assessing your future potential based on past performance don't know s*** about anything," he reminded his followers.
Not to be left out, Donald Trump Jr. decided to weigh in with his thoughts about the game on Twitter too. He sent a social media shoutout to the quarterback, saying: "There is no question anymore as to who the GOAT is. It wasn't coaching it was Brady and it always was. That argument was settled tonight when he took a team no one thought could win anything to the #SuperBowl and won at 43 years of age. Amazing. Well done Tom. #Brady."
While it seems like a positive message on first read, here's why it didn't sit so well with Twitter.
Donald Trump Jr. takes on 'wokeness' during Super Bowl LV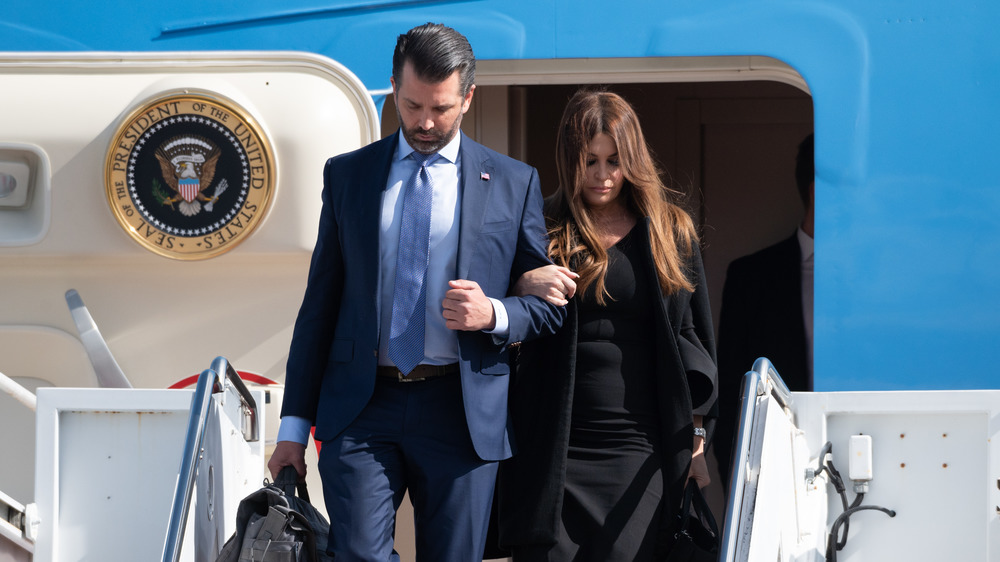 Noam Galai/Getty Images
Where was Donald Trump Jr. during the Super Bowl? Here's what we know. Donald Trump Jr. and Kimberly Guilfoyle are looking to relocate to the conservative Admirals Cove gated community in Jupiter, Florida, despite disgruntled future neighbors (via Palm Beach Post). Is it possible, then, that Trump Jr. and Guilfoyle were enjoying Super Bowl LV from Mar-A-Lago? In any case, ahead of the game, Don Jr. posted his Super Bowl predictions to Facebook, against a backdrop looking suspiciously like a hunting lodge, trophies on full display. (Remember that time that Donald Trump's son's hunting obsession led to a trip that cost US tax payers $75,000? The BBC does). "I've watched exactly zero football this year," Trump Jr. warned watchers of his video. He went on to praise both Tom Brady and Patrick Mahomes for being "everything that Colin Kaepernick isn't with the excessive wokeness and all that B.S. ... [they're ] not just being overly woke for the sake of being woke, they're also winners, there's a difference."
Don Jr. didn't limit his critique of "wokeness" within the football industry to its players. Early in the broadcast, his Tweet criticizing 2021 Super Bowl commercials for being "woketopia" provoked the majority of the Twitterverse to cry out: "Turn it off then, nobody is making you watch it." Donald Trump Jr. didn't turn off the TV. Instead, he watched Tom Brady lead his team to victory. Incredibly, his Tweet celebrating the accomplishments garnered a more vicious backlash, still.
Social media was unhappy with Don Jr.'s Brady callout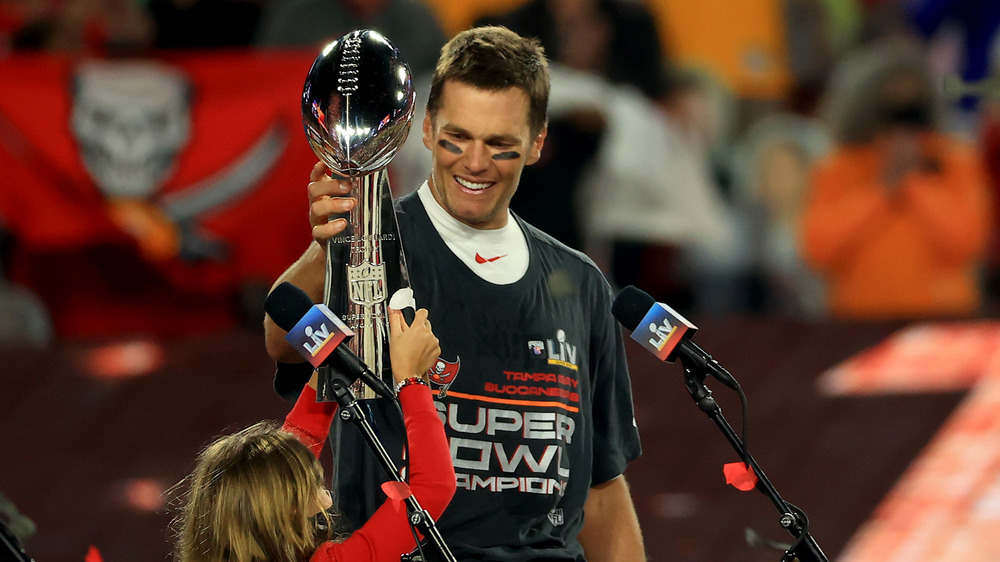 Mike Ehrmann/Getty Images
Social media took Donald Trump Jr. to task for the tweet about Tom Brady; one Twitter user pointed out that the Buccaneers' victory was result of several factors, saying, "Actually it's a combination of Brady and the coaching and teamwork. And I am pretty sure he'd say the same." (In fact, Brady did say something similar: "I'm so proud of all of these guys out here, of everything that we've accomplished," he told a reporter post-game)
Another tweeter reminded Don Jr. that Brady's former New England Patriots coach Bill Belichick had history with his father Donald Trump, writing, "Dude...you said this because Bill Belichick turned down your Dad's bribe of the Presidential Medal of Freedom last year – not saying you're analysis is wrong here, but your bitterness is transparent."
A third reminded Don Jr. that "During an interview with Howard Stern, TB12 said his friendship with your father was "uncomfortable" and that they haven't talked in awhile. Brady doesn't want anything to do with you or your dad or your family."
Most social media users also took the opportunity to troll Donald Jr., saying that it might be too early to congratulate the Bucs because their win was "premature," and that the Chiefs had every reason to believe they could challenge the results. It appears even sports escape political reality these days. In any case, Trump Jr. has since retracted his tweet, calling Brady, "a distant second greatest of all time."