The Truth About Tom Brady And Donald Trump's Relationship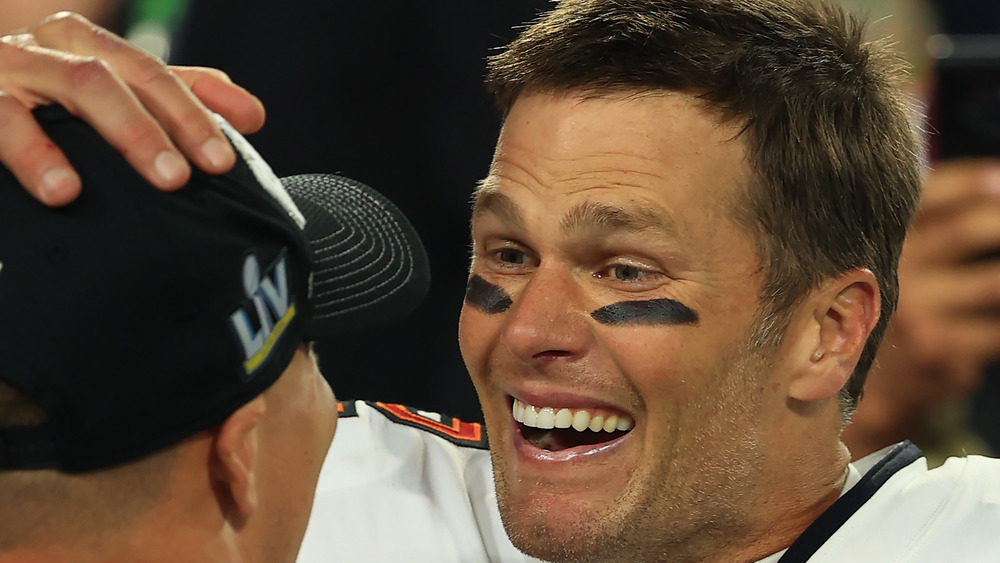 Mike Ehrmann/Getty Images
Tom Brady just won his 7th Super Bowl; what is he going to do next? Maybe call his friend, Donald Trump. Super Bowl LV was a whole new way to experience the sport of football thanks to the worldwide pandemic (via CBS). But instead of chatting about the Weeknd's halftime show or how the 43-year-old continues to dominate in such a contact sport, the topic of Brady's contentious friendship with Trump decided to resurface after Sporting News reported that the quarterback sidestepped questions about him on Monday.
The Buccaneers star quickly pushed a reporter's question to the side after he was asked if he had been let off easy for his support of Trump just because he was a white athlete. The outlet also reported that Brady had kept a MAGA hat in his locker and was a staunch supporter of the former president's 2016 campaign. The only response that the father of three did give was, "I'm not sure how to respond to a hypothetical like that. I hope everyone can — we're in this position like I am too, again, try to be the best I can be every day as an athlete, as a player, as a person in my community, for my team, and so forth, so yeah, I'm not sure what else." The statement left the sporting world shook since the veteran athlete's answer was so vague.
How did Trump and Brady's friendship start?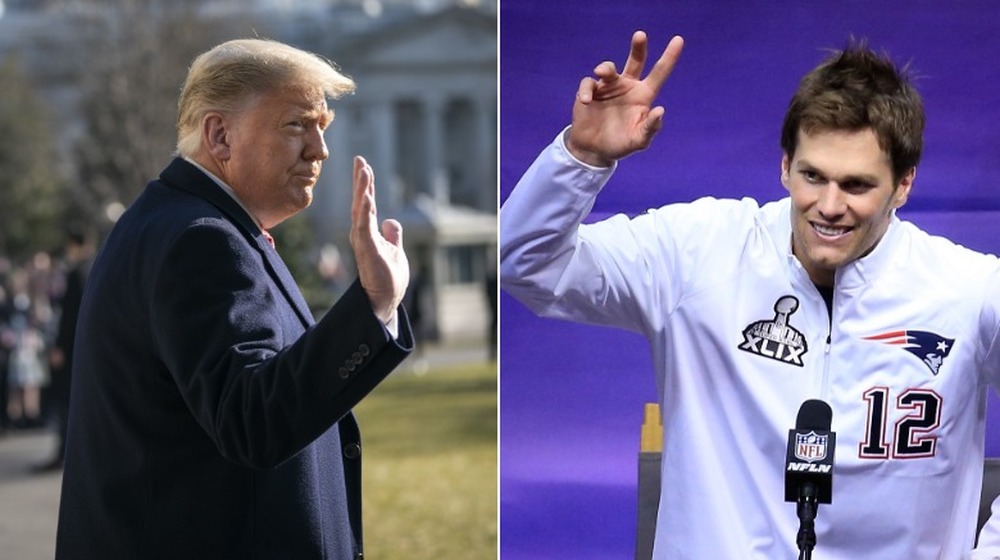 Drew Angerer, Rob Carr/Getty Images
According to Express, Brady's relationship with Trump began back in 2002 when Brady was asked to judge the Miss USA pageant. The disgraced politician also has ties to New England Patriots owner Robert Kraft and head coach Bill Belichick (via The Undefeated). In 2015 Brady spoke to Boston radio station, WEEI where he revealed that he and Trump were longtime friends who, after the beauty competition, bonded on the golf course, saying he had known the reality TV star for "a long time." Brady also said that commenting the pageant was "One of the very first things that I did that I thought was really cool that came along with winning the Super Bowl." 
For a very long time, the friendship remained hidden in the shadows, per Sporting News. It only revealed itself in September of 2015, when Trump congratulated Brady on his four-game suspension being lifted after a scandal related to deflated footballs. The heartfelt words were tweeted from Trump's since-deleted account. In 2017, Brady confirmed that he had called Trump to congratulate him on his White House win. There were even rumors that Trump had tried to set his friend up with his daughter, Ivanka, to make a power couple. During an interview on The Howard Stern Show, Stern claimed that Trump had dreamed that Brady would marry his daughter, but the football champion quickly snuffed out any hearsay to the rumor.
Where does the friendship stand now?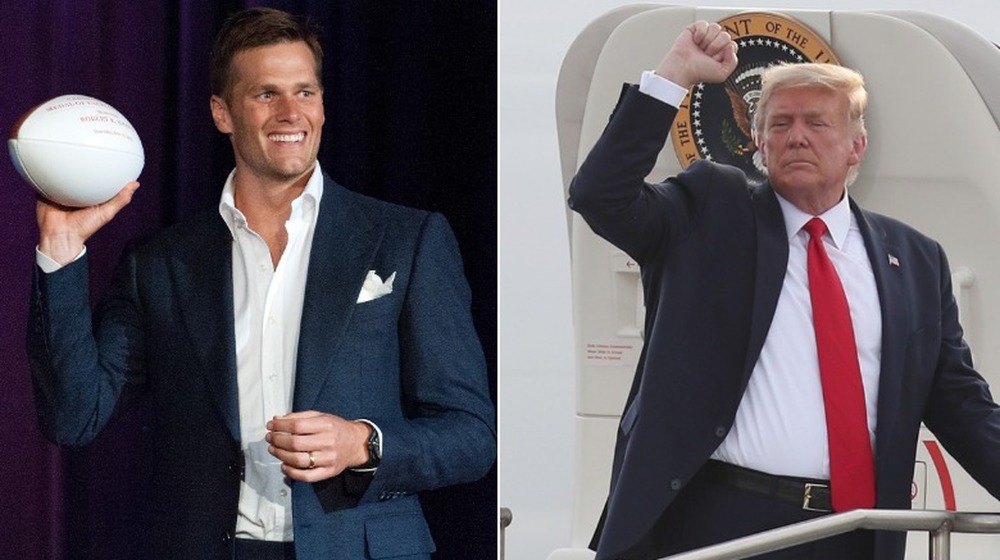 D Dipasupil, Joe Raedle/Getty Images
As a guest on The Howard Stern Show, Brady divulged that it was not always easy being Trump's ally telling the shock jock, "It was uncomfortable for me ... You can't undo things, not that I would undo a friendship, but the political support is totally different than the support of a friend" (via Express).
There have been moments when the two disagreed, and none was as crucial as their stance on NFL players kneeling during the National Anthem. The interview with WEEI revealed that Brady did not side with Trump's feelings that players who knelt should be fired at all and stated, "I thought it was just divisive. I just want to support my teammates. I am never one to say, 'Oh, that is wrong. That is right.' I do believe in what I believe in. I believe in bringing people together and respect and love and trust. Those are the values that my parents instilled in me" (via Jacksonville.com).
Whether the duo had a falling out is still unknown, but Brady seems to want to distance himself from the relationship and concentrate on a possible 8th Super Bowl win next year (via Sports Illustrated).