The Truth About The Drama Between Tom Brady And Tyrann Mathieu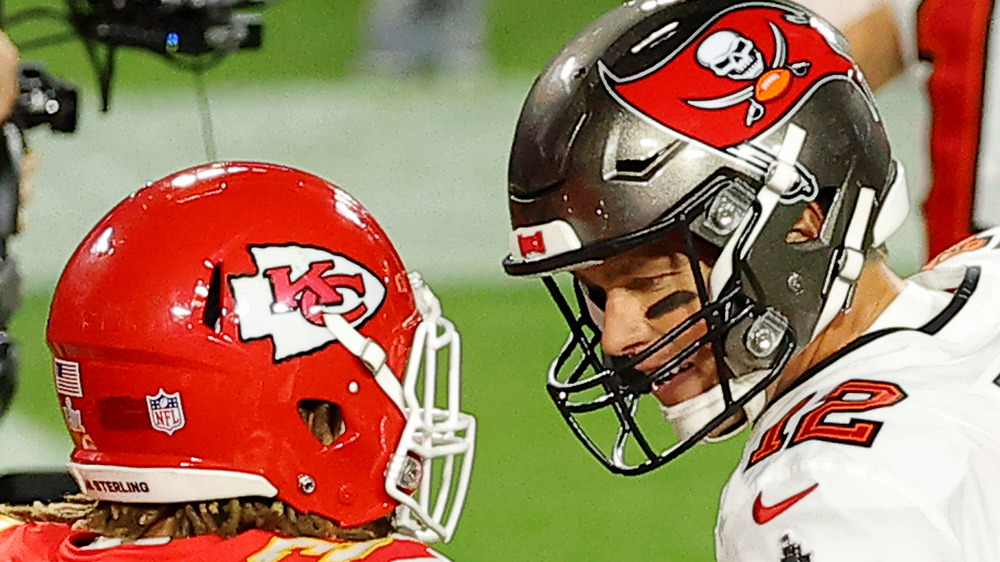 Kevin C. Cox/Getty Images
Tampa Bay Buccaneer Tom Brady and Kansas City Chief Tyrann Mathieu exchanged some words on the field during Super Bowl LV, and a tweet from Mathieu hinted that they may have been not-so-nice words. "He called me something I won't repeat, but yeah I'll let all the media throw me under the bus as if I did something or said something to him ... Go back to my previous games against TB12 I showed him nothing but respect. Look at my interviews about him ... I show grace." The tweet has since been deleted, as reported by Just Jared.
During Sunday's game, Mathieu pointed his finger at Brady and received a penalty. The K.C. safety got in Brady's face, and afterwards, Brady passed to Antonio Brown, who ran past Mathieu for yet another touchdown. Brady then ran over to Mathieu and got in his face, though no penalty was called (via Boston.com). The final score was 31-9.
Tyrann Mathieu shared his thoughts on Tom Brady after the Super Bowl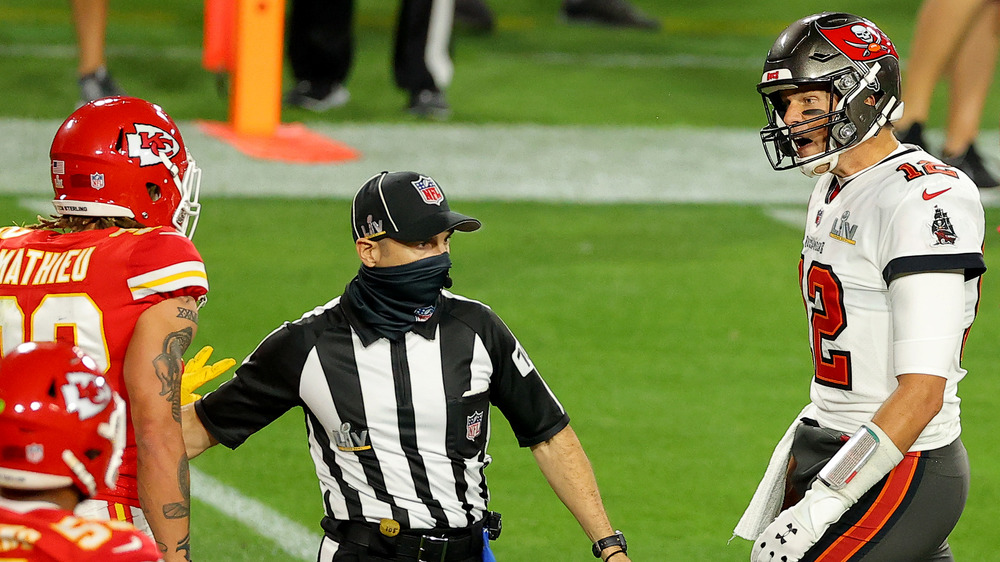 Kevin C. Cox/Getty Images
Tyrann Mathieu seemed surprised by Brady's actions, according to Radio.com. "Listen, Tom Brady's a great quarterback. I never really saw that side of Tom Brady, to be honest. But whatever. No comment. It's over with. I'm done with it," he said. Buccaneers wide receiver Mike Evans, on the other hand, seemed to enjoy it: "We love that sh*t. When [Brady] does that, he has a lot of guys to back him up" (via The Spun).
So what was really said? Well, usually Brady has a microphone on him during games (via Just Jared), so the audio could soon be released, revealing whether or not he called Mathieu something inappropriate.
During this year's Super Bowl, the 43-year-old quarterback did break his own records by securing a seventh Super Bowl win and being named the Super Bowl MVP for the fifth time (via NFL.com), and after the game, he celebrated with his wife, Gisele Bündchen, and his three kids.