Tom Brady's Heartwarming Celebration With His Family Has Everyone Talking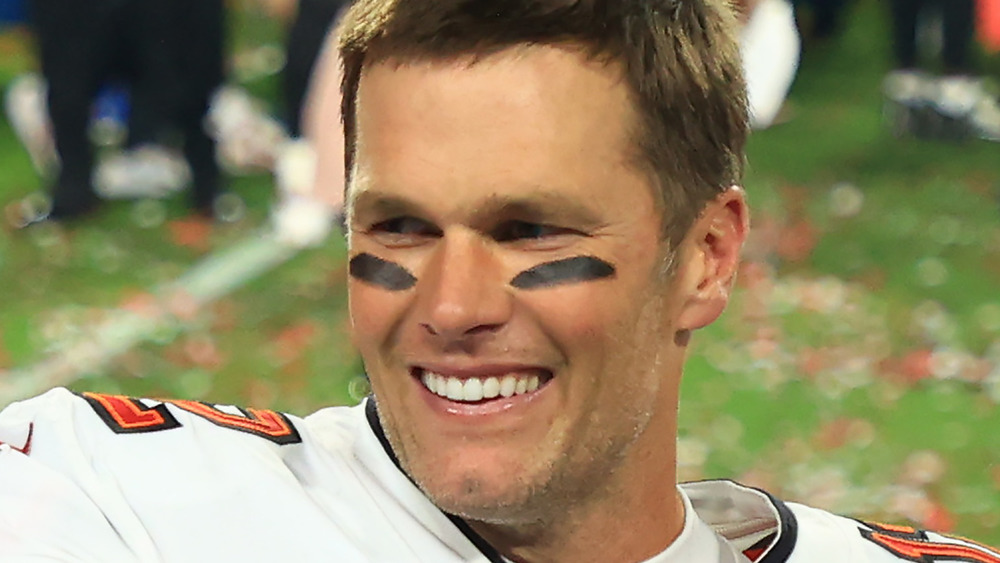 Mike Ehrmann/Getty Images
When the Tampa Bay Buccaneers defeated the Kansas City Chiefs in Super Bowl LV, Tom Brady celebrated with his family. A heartwarming video on Twitter, which prompted reactions from users like, "Family Always Family" and "The best! Awesome!" shows the 43-year-old quarterback hugging his three children and his wife midfield after the 31-9 win.
Super Bowl LV took place on Feb. 7, 2021, at Raymond James Stadium in Tampa, Florida. Brady broke his own records with the big game, as this was his seventh Super Bowl win and fifth time to be named the Super Bowl MVP (via NFL.com). It is also Brady's first season with the Buccaneers, as he previously played for the New England Patriots.
Brady's Super Bowl celebration Sunday brought to mind his celebration after the NFC title game against the Green Bay Packers on Jan. 24, when the QB also went straight to hug his son. He was mic'd up then, and the conversation was published on Boston.com, as Brady asked if he could say "hi" to his son. The two exchanged "I love yous," and when Brady said, "We're going to go to the Super Bowl, baby! What do you think?" his oldest son responded, "Let's go!"
Tom Brady is a father to three children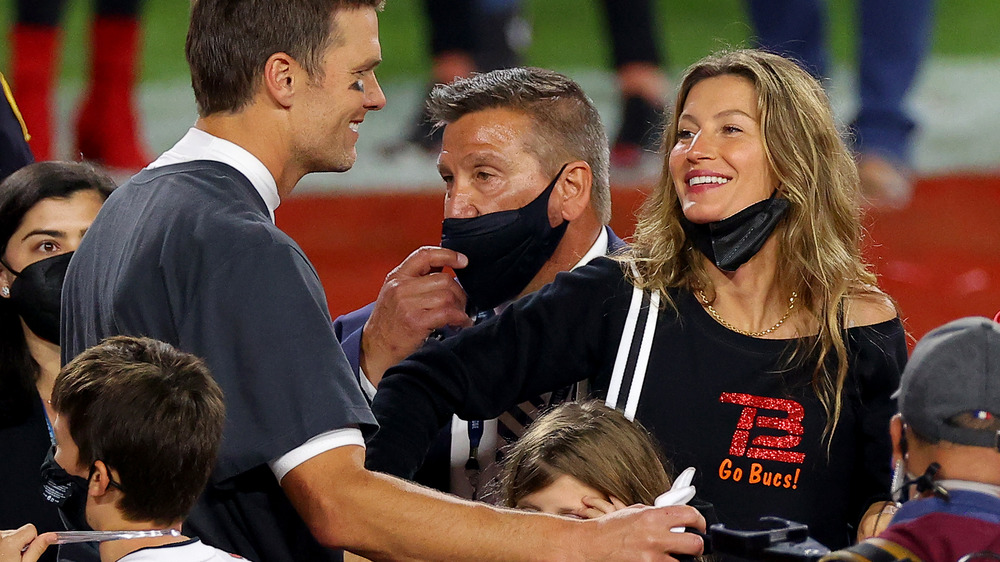 Kevin C. Cox/Getty Images
Tom Brady and Gisele Bündchen started dating in 2006, after going on a blind date that was arranged by one of their mutual friends. They tied the knot in 2009, and they have two children together: a son, Benjamin Rein, who was born in December 2009, and a daughter, Vivian Lake, born in December 2012. Brady also has a son from his previous relationship with actress Bridget Moynahan: John Edward Thomas Moynahan, who was born in August 2007 (via Good Housekeeping).
His kids joined him on the podium after the Bucs won Super Bowl LV Sunday, as he gave a small and celebratory speech. "I'm so proud of all these guys out here. We had a rough month of November ... We came together at the right time. I think we knew this was gonna happen tonight, didn't we? This team is world champions forever. You can't take it away from us" (via People).