Why Russell Wilson's Super Bowl Appearance Has Everyone Talking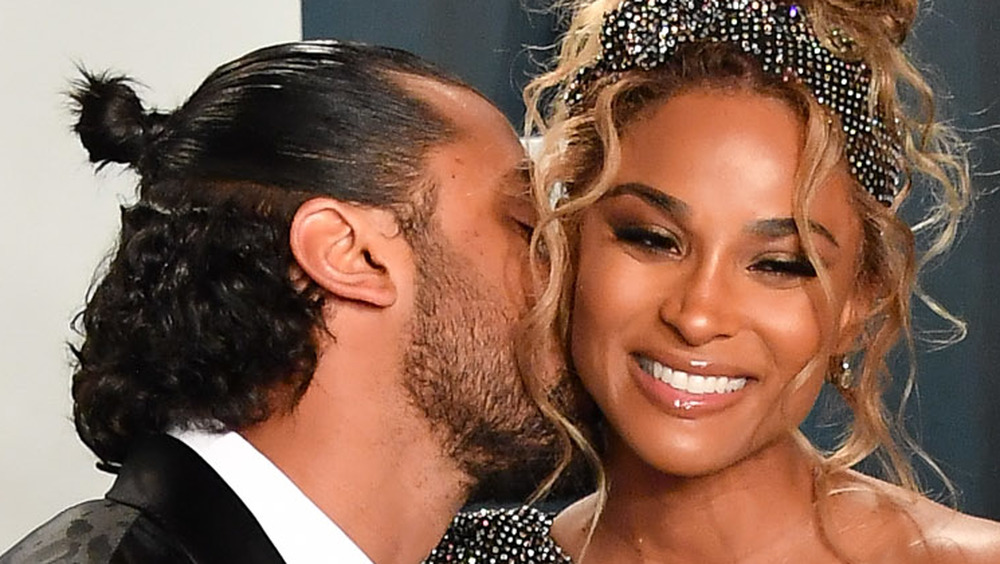 Allen Berezovsky/Getty Images
Beyond getting eliminated during the wild card game of the 2021 NFL playoffs, Seattle Seahawks quarterback Russell Wilson didn't appear to be enjoying himself at Super Bowl LV on Sunday night. The New York Post reports that, during the first half of football's biggest game, the camera showed Wilson next to his wife, Ciara, in a booth with NFL commissioner Roger Goodell. The former Super Bowl winner sat slumped while his wife conversed with Goodell, effectively talking over him, leaving the internet to run rampant with memes.
One Twitter user wrote, "'So Ciara, the third step, what happened? You just stopped at two?'" referring to the pop star's first hit, "One, Two Step." Another joked, "roger goodell: 'so, ciara, you have to tell me about this beat — it's both automatic AND supersonic? i've never heard that before'." "Russell Wilson looks so bummed to have to watch the Super Bowl with Goodell," another tweet read.
While the clip only spanned a matter of seconds, that was all it took for the internet to take over and share their thoughts on the Pro Bowler and his wife.
Russell Wilson gave back to front-line workers during the Super Bowl
Luckily, Russell Wilson had a chance to enjoy himself before the game after giving back to front-line workers who have been affected during the COVID-19 pandemic. According to NBC Sports, the quarterback teamed up with Bose to give 55 of the workers Super Bowl viewing kits — complete with a Bose TV speaker, limited-edition Super Bowl LV merchandise, and gift cards to restaurants in their areas. Plus, when they opened their gifts, they got a special message from Wilson and Justin Herbert of the Los Angeles Chargers. Plus, they even got to interact with the NFL superstars via Zoom.
Sunday night's game featured 7,500 healthcare workers in the stands, along with 17,500 others in attendance. Prior to his off-the-field work, Wilson won the Walter Payton Man of the Year Award, a designation that highlights a player's contributions to his team and his community, ESPN explains.
In response, Ciara shared her thoughts on Instagram, gushing, "You're the most selfless, loving, & caring person I know. Your heart, dedication, and commitment to taking care of others is truly what sets you apart. It's one of the most beautiful and attractive things about you! I'm so proud of you and to be a part of your great mission to impact others!" Even if Roger Goodell got in the way during the game, it's clear that these two are a match made in heaven.