The 'Offensive' Super Bowl Ad That Has Twitter Seeing Red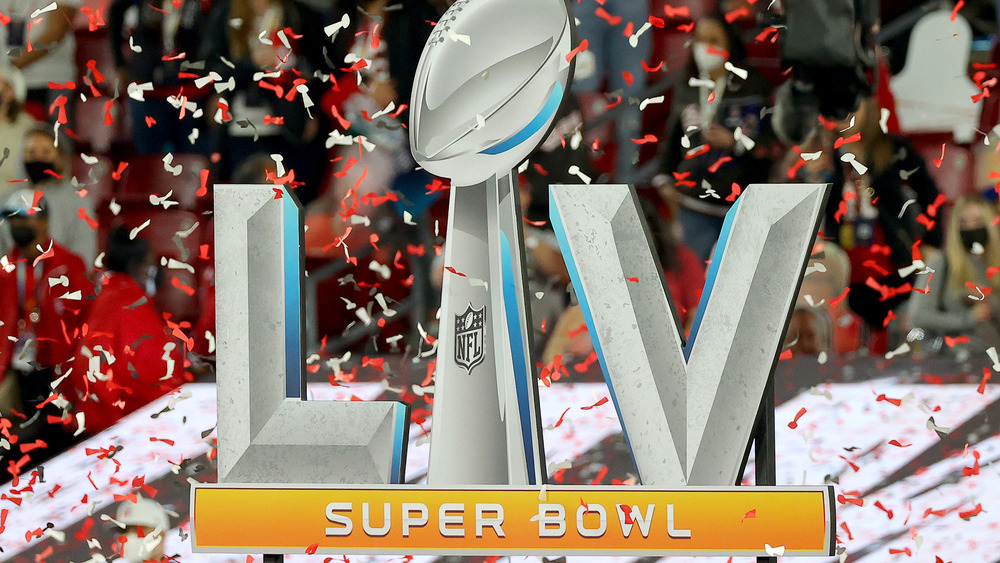 Kevin C. Cox/Getty Images
Let's face it. Many people only watch the Super Bowl for the commercials, and there are always standouts — both good and bad. Social media users quickly placed Cure Auto Insurance's "Whip It Out" in the bad category with some saying the commercial trivializes sexual harassment in the workplace.
The 30-second spot aired minutes before The Weeknd's halftime show and features a visibly upset female employee informing her boss, "Miss Davis, Tommy just brought me into his office and whipped out his opinion." Tommy quickly defends himself by saying, "I didn't just whip it out — she was into it. Plus, I have a pretty big opinion." The conversation escalates, using sexual harassment innuendo until the ad ends with a voice-over: "We can't protect your opinion — but we can protect your car." (via YouTube)
Journalist Ilana Keller took to Twitter not long after to write, "Yes, in 2021 I did want to spend the second half of the #SuperBowl writing about an ad called 'Whip It Out' because ... apparently some folks still find sexual harassment funny." Others agreed, including one who used the #MeToo hashtag: "I truly cannot believe that in 2021 this commercial was considered appropriate."
The ad was 'leaked' prior to the big game
Cure Auto Insurance is an auto insurance provider based out of New Jersey, and it "leaked" the ad on Twitter hours before the Super Bowl 2021 kicked off. Outraged comments quickly began. One person wrote, "This is terrible. You need to take this down and apologize at the very least and whoever approved this needs to be fired."
By Monday, several publications, including the New York Post and USA Today, had published articles about the ad, noting the largely unknown company paid a hefty amount for the spot. While the company's intentions for the ad are unclear, it left some social media users confused. One person tweeted, "It seems like they are only really available in New Jersey. A lot of ad spend for an irrelevant service... and something that will SURELY yield national ire for a joke that can be considered in poor taste."