This Super Bowl Ring Has The Biggest Price Tag Of All Time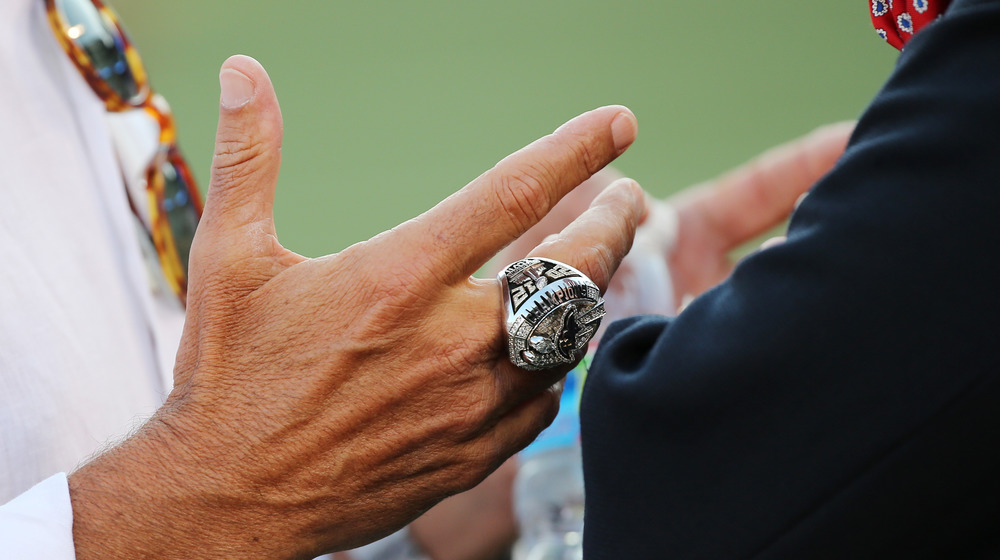 Rob Carr/Getty Images
The Tampa Bay Buccaneers won this year's Super Bowl, 31-9 over the Kansas City Chiefs. While there are a lot of fun things to learn about professional football, such as the grind of a season and the championship game, the rings that players and coaches are awarded as Super Bowl champs is definitely high on the did-you-know and fun-facts list. 
Super Bowl rings have always been a big deal; the rings symbolize that the winners have conquered the sport's greatest stage/turf. The rings are also expensive. Seattle's KIRO-TV reports that as winners of Super Bowl 50, the Denver Broncos received rings that cost an estimated $37,000 or about $500 more than the Patriots' rings the previous year. What's more, the customized jewelry pieces only become more valuable as they age.
The majority of Super Bowl rings have been created by Minnesota jeweler Jostens. Last year, the company told Fox Business that the winning team plays a huge role in designing the ring: "Our main objective in designing with the team is to capture the story of the season." For example, the ring created following the 2019 Super Bowl for the New England Patriots was the largest ring made to date, but surprisingly, it's not the one that is worth the most.
The most valuable Super Bowl ring is from the '90s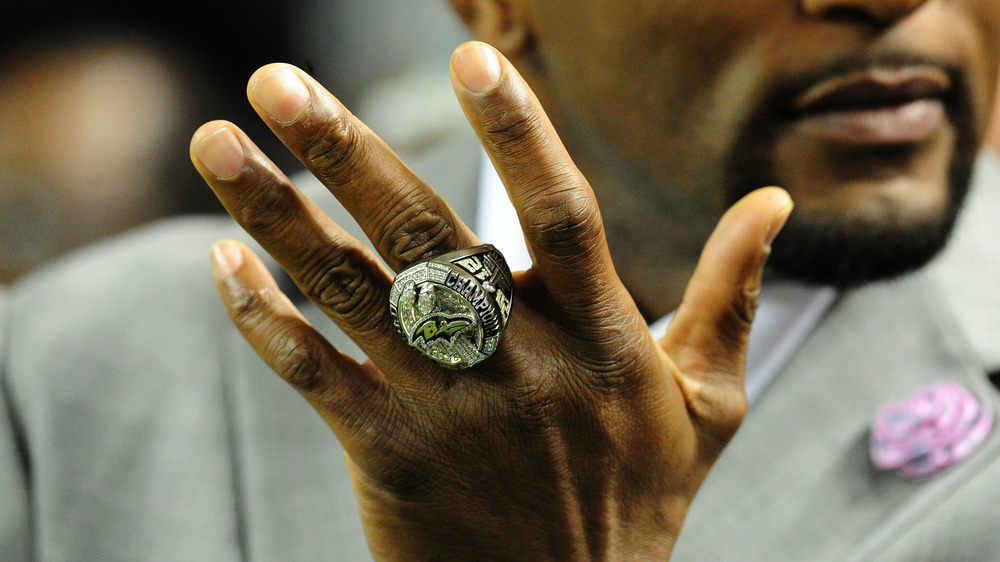 Scott Cunningham/Getty Images
If you thought that the largest ring had to be the one with the biggest price tag, you're in for a surprise. GoBankingRates reports the highest price ever paid for a Super Bowl ring (to date) is $230,401. That ring, sold in 2012, was from Super Bowl XXV (1991) and previously belonged to New York Giants linebacker Lawrence Taylor.
While there are no definite rules about who does and does not receive a Super Bowl ring, the NFL does put a cap on how many rings a team can request: 150. Sportscasting notes that typically, both active and inactive players receive rings after a Super Bowl win. Also, the NFL chips in $5,000 for every ring, with the rest of the cost covered by the team (via Bleacher Report).
Only time will tell what kind of design the Tampa Bay Buccaneers come up with to commemorate their 2021 win, but it's almost guaranteed to be an expensive one.