The Touching Detail You Didn't See In Princess Diana's Wedding Shoes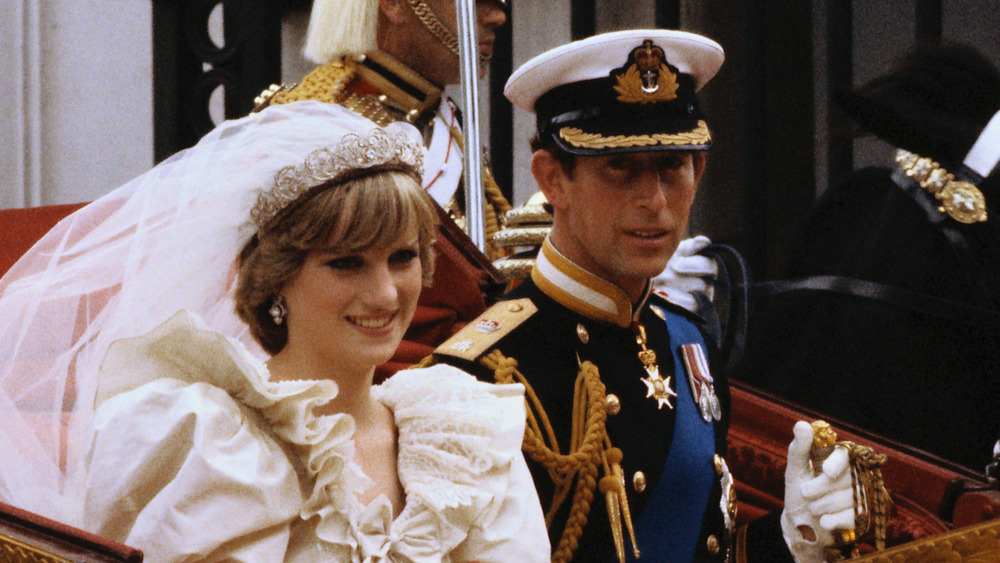 David Levenson/Getty Images
When Princess Diana and Prince Charles got married on July 29, 1981, a lot of attention was on the couple, their love, and, of course, that dress and veil. This makes sense, as everything about the dress was shrouded in secrecy until the actual day of the wedding. The gown, which was designed by husband and wife David and Elizabeth Emanuel, included a 25-foot-long train and over 10,000 sequins and pearls. 
David Emanuel recalled that the future Princess of Wales called up the shop and asked if they were available to design a dress for her (via Tatler). "Diana rang up like anybody else and made an appointment to try my dress designs – she initially had three or four gowns made for formal occasions. The first time the public saw her in one of my gowns they were quite shocked. As a kindergarten teacher, people were used to seeing her in pretty blouses and pleated skirts. Then she got out of the limousine in a taffeta Emanuel gown and that's when everybody said 'oh my goodness, she looks like a movie star."
In fact, so much attention was placed on Princess Diana's dress that quite a few other details went almost unnoticed.
Princess Diana's wedding shoes have a hidden element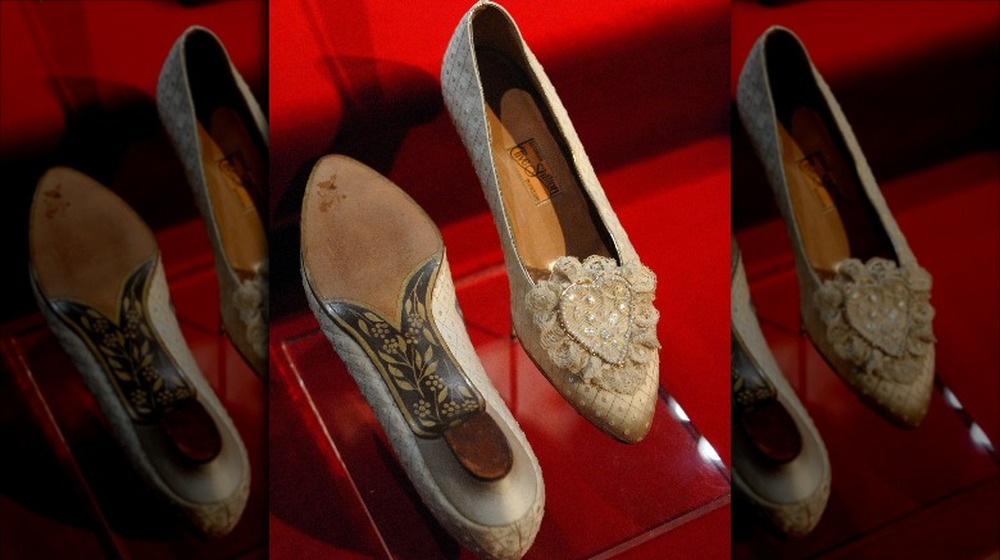 William Thomas Cain/Getty Images
Princess Diana made sure there were hidden messages and elements throughout her wedding attire, and this is especially true when it comes to her shoes. She chose to have the letters 'C' and 'D' painted under the heel on each shoe, even though no one else would see.
Shoemaker Clive Shilton said that designing and making the shoes took time (via Business Insider). "Her main concern was that she wouldn't appear taller than Prince Charles, and because she was very tall — 5'10" — the shoes would have to have a low heel. No one even saw the bottom of the shoes, but it was important to us that they looked fantastic. You would have seen much more of them if she'd tripped!"
Even with all these fairytale touches, the marriage between Charles and Diana still ended badly. She later confessed to author Andrew Morton, "The night before the wedding I was very, very calm, deathly calm. I felt I was a lamb to the slaughter. I knew it and couldn't do anything about it" (via The Daily Mail).