Inside Donald Trump's Relationship With Kevin McCarthy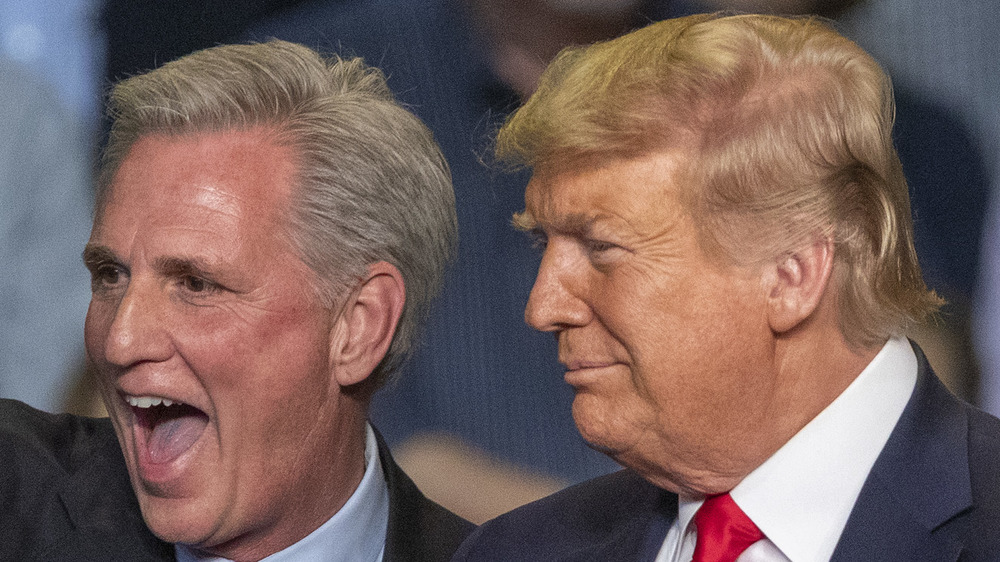 David Mcnew/Getty Images
While rioters were desecrating the US Capitol Building on January 6, 2021, former President Trump was in a screaming match with House Minority Leader Kevin McCarthy instead of addressing the rioters. CNN has reported that McCarthy directly told Trump that the rioters were his supporters and asked him to tell the rioters to stand down. Trump flatly refused, saying, "Well, Kevin, I guess these people are more upset about the election than you are."
The details of the call were shared by anonymous Republican lawmakers, one of which said, "He is not a blameless observer. He was rooting for them. On January 13, Kevin McCarthy said on the floor of the House that the President bears responsibility and he does."
McCarthy's anger at Trump surprised many, as the pair used to be so close that the former president simply referred to McCarthy as "my Kevin" (via Politico). In fact, other Republicans in the House noticed how uncommonly close they really were.
Donald Trump And Kevin McCarthy were once close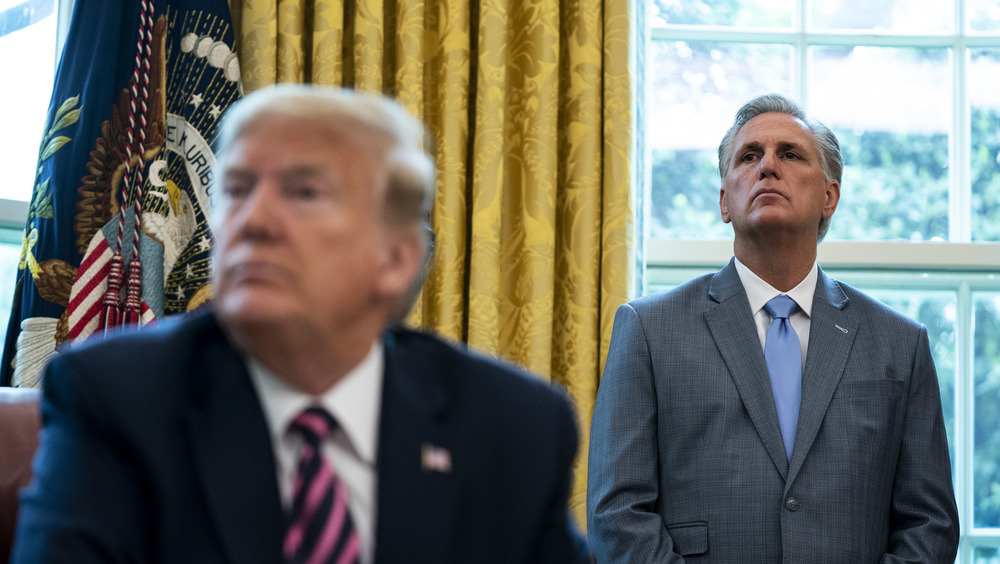 Pool/Getty Images
In 2017, North Carolina Republican representative Richard Hudson told Politico that Kevin McCarthy and then-President Donald Trump "have a good relationship: Trump trusts Kevin. Kevin reached out early on to have a dialogue ... and they just developed a trust over time." South Carolina Republican congressman Trey Gowdy echoed this: "The president himself has publicly said how much he likes Kevin, and that corroborates what we know to be true privately." 
While McCarthy was clearly angry at the former president for his conduct during the events of January 6, by January 22 he appeared to pull back from condemning Trump entirely. The Los Angeles Times reported (via Yahoo! News) that during a news conference, McCarthy explained his new position, "I don't believe he provoked it if you listen to what he said at the rally."
He continued, "The president bears responsibility for [the] attack on Congress by mob rioter. He should have immediately denounced the mob when he saw what was unfolding. These facts require immediate action by President Trump." The former president, who was impeached for the second time in his term for allegedly helping to incite an insurrection, was ultimately acquitted by the Senate (via ABC News).