The Truth About Trump's Letter Regarding Mitch McConnell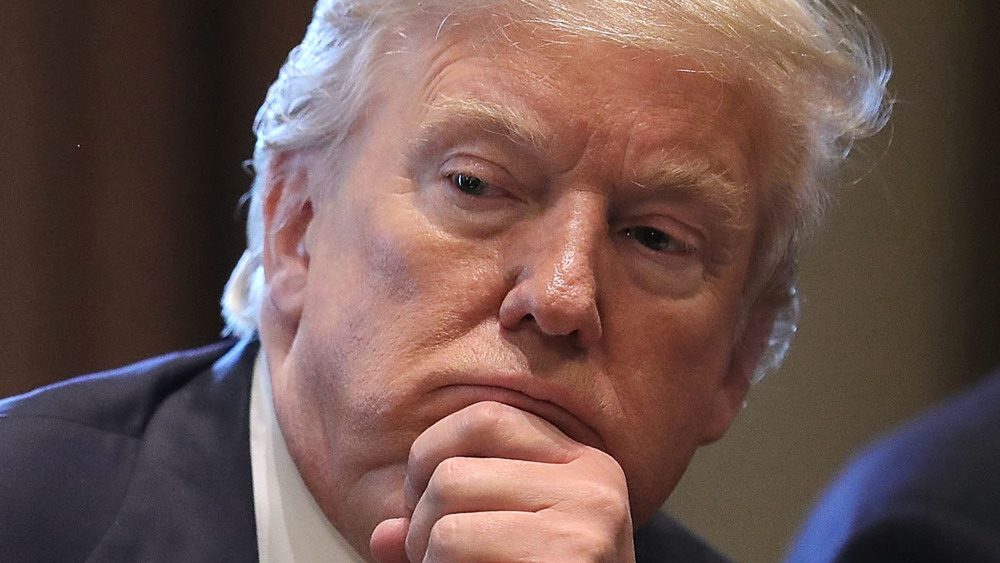 Chip Somodevilla/Getty Images
Donald Trump may not have a Twitter platform anymore, but his personal attacks against political rivals are still worming their way into national news. His latest target? Mitch McConnell. While McConnell voted to acquit the ex-president in both of his impeachment trials, the Senate minority leader nonetheless penned an op-ed in the Wall Street Journal accusing Trump of bearing "moral responsibility" for the Jan. 6 Capitol riots.
Trump has previously gone to bat for McConnell, calling him "Kentucky tough" and affirming that "We're fighting for the same thing" (via NPR and the Lexington Herald Leader). But his latest jab against the figure that political analysts have called the "de-facto leader" of the Republican party suggests two things. First, Trump is actively trying to stay politically relevant. Second, his future political aspirations may well splinter the Republican party.
Significantly, Trump's condemnation of McConnell was circulated the same day that Morning Consult announced the results of a poll which revealed that a staggering 59 percent of Republican voters think that Trump still should have a "major role" to play in Republican politics.
Trump attacks Mitch McConnell, aides prevent him from overdoing it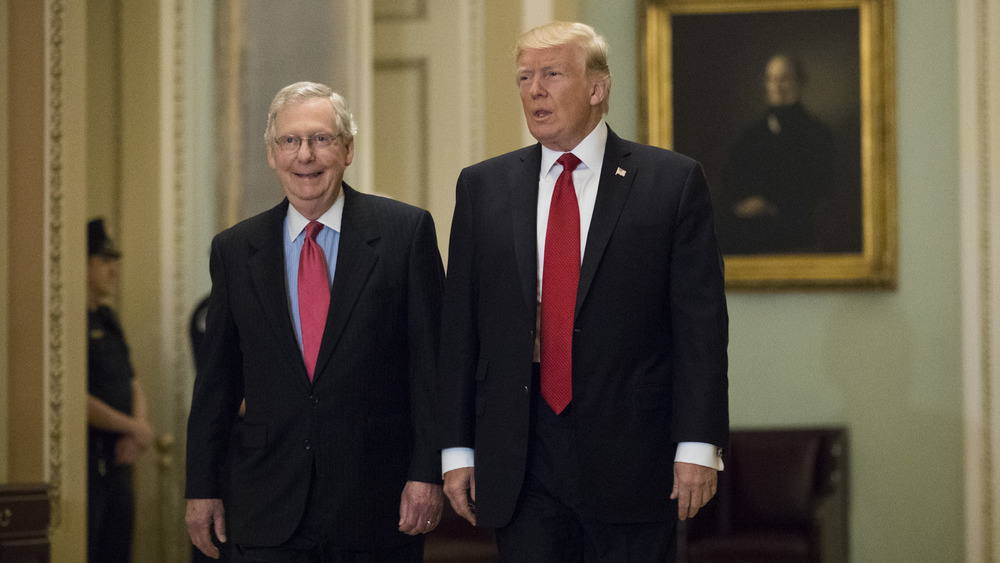 Drew Angerer/Getty Images
"The Democrats and Chuck Schumer play McConnell like a fiddle," Trump complained in a statement released by his PAC, Save America. In the lengthy letter, the former president also calls Mitch McConnell "one of the most unpopular politicians in the United States," attacks his character ("Mitch is a dour, sullen, and unsmiling political hack"), and vents that his former ally "doesn't have what it takes, never did, and never will." Sources have whispered to Politico that, had it been up to Trump, his attacks against the Senate minority leader would have been considerably longer and cruder. "There was also a lot of repetitive stuff and definitely something about him having too many chins but not enough smarts," the insider reported.
It was, allegedly, Trump adviser Jason Miller, who softened the statement. If Trump continues nurturing future political aspirations, it will likely be Miller who is in charge of tempering similar statements going forward. The political analyst has worked with Trump on and off since 2012 as per Politico. He is still, evidently, in Trump's employ, despite having sworn, to a judge in a child custody case that he'd be out of a job in December 2020 (via Salon). Politico will remind you that Miller almost became Trump's first White House communication director, but reports of an extra-marital affair (the same affair which led to the 2020 child custody case) forced him out.