Why Donald Trump's Tribute To Rush Limbaugh Is Raising Eyebrows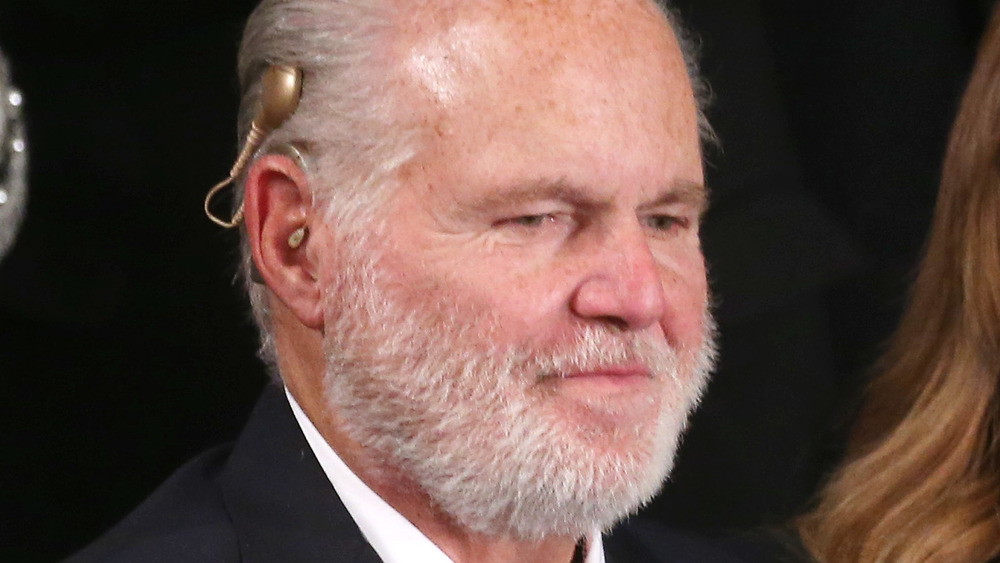 Mario Tama/Getty Images
Tributes and comments are flooding the internet following the death of Rush Limbaugh on February 17. The controversial — but never boring — veteran radio host died of lung cancer at age 70, as confirmed by his wife Kathryn. She broadcast a statement on her husband's show: "For over 32 years, Rush has cherished you, his loyal audience, and always looked forward to every single show," she said before announcing the news. "As so many of you know, losing a loved one is terribly difficult — even more so when that loved one is larger than life" (via People).
Among those who reacted publicly to Limbaugh's death were former president George W. Bush, Kellyanne Conway, Lou Dobbs, Senator Rand Paul, Candace Owens, and Donald Trump Jr. Donald Trump also paid tribute to his longtime friend, to whom he had given the Presidential Medal of Freedom the previous year. The former president, who had been golfing at Mar-a-Lago when he heard the news, gave a phone interview to Fox News in which he called Limbaugh "a legend" and "very, very brave." He added, "He was truly a man of the future, he loved this country so much, he loved the people of this country so much." (via The Sun). 
Then Trump proceeded to change the topic.
Donald Trump turned the tribute into an election rant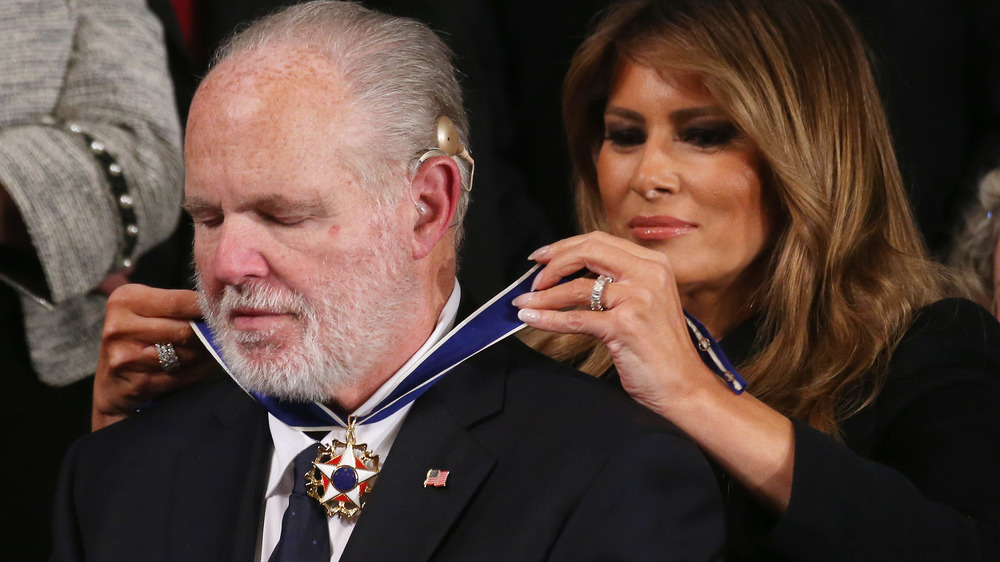 Mario Tama/Getty Images
Still unwilling to concede defeat after three months, the former president took the opportunity to rehash his take on the November election. He said that Limbaugh was determined to live to see the election outcome and disagreed with the ultimate results. "Rush thought we won, and so do I," he told the network (via Yahoo! News UK). He added that "a lot of people felt that way too. But Rush felt that way strongly."
Trump went back over now-familiar territory — claiming that the voting tabulation process was flawed and hinting at fraudulent activity that has yet to be proven in court — and asserting that Limbaugh shared his beliefs on the subject. At times, it was difficult to tell whether he was mourning the talk-show host or celebrating himself. Trump declared that Limbaugh "was with me right from the beginning" of his 2016 campaign. "He was so happy with what we did. We rebuilt the military. All things that we did. We cut taxes, we cut regulations. And he liked what I said, and he agreed with what I said, and he was just a great gentleman" (via the Daily Mail).
As of this writing, no funeral plans for Limbaugh have been announced. Nor is it known yet whether Trump will be attending any services or giving any additional eulogies for his friend.