What We Don't See Behind The Scenes Of 90 Day Fiancé: Pillow Talk - Exclusive
After their love story appeared on 90 Day Fiancé, David Toborowsky and Annie Suwan quickly became fan favorites in the franchise. So it came as no surprise that the season 5 lovebirds were asked to join one of the show's many spin-offs, Pillow Talk, where they are filmed in bed watching — and giving their raw commentary on — the current season of the original series. "We love the show. We like to talk crap about everybody, including ourselves," David quipped.
So did you ever wonder how those scenes are filmed and if it is, in fact, their actual bedroom they are filming from? To get a behind-the-scenes look, The List sat down with David and Annie, who didn't hold back when it came to dishing on what viewers can't see. Although it can seem intrusive to have cameras invade your personal space, the dynamic duo has no plans of stepping away from the franchise that made them household names in reality television. 
In fact, when asked if they plan on eventually closing the door on the televised chapter of their lives, David said, "No, we love it. We love sharing our life." He also feels fortunate to be a member of the 90 Day extended family, which includes not only their fellow cast members and adoring fans, but all the TV producers they welcome into their home to work their magic. "It's an honor and a privilege to be part of this," he said. As for his partner in crime, she feels the very same way, and wants to remain an integral part of this close-knit community alongside her hubby. "To me, as long as I have all the fans' support, I won't let them down," Annie said.
They film with an entire camera crew in their actual bedroom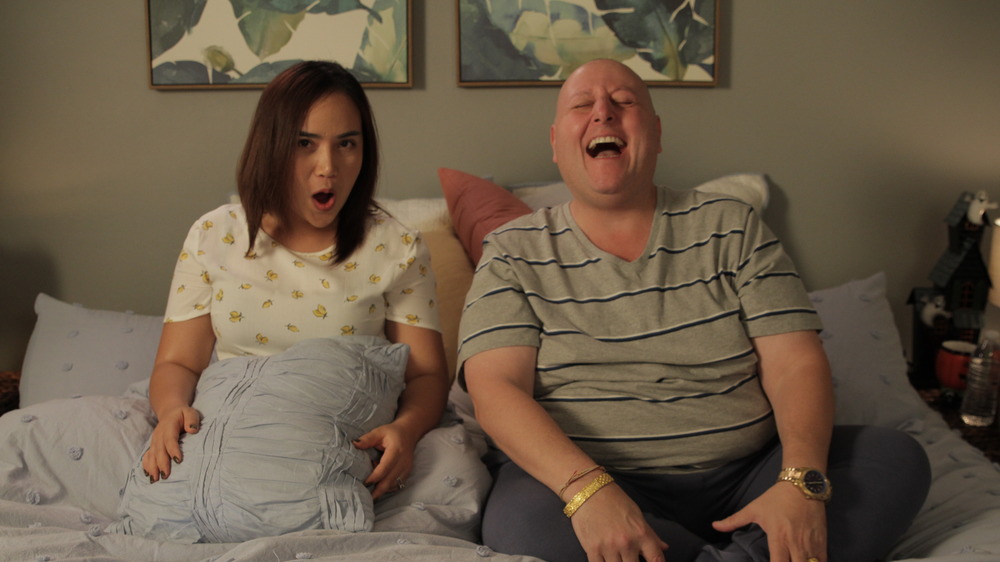 TLC
What you may not realize when you watch David and Annie give their takes on the 90 Day Fiancé newcomers and their bumpy roads to the altar is that there is actually a whole bunch of people behind the cameras. "Especially pre-pandemic, we had full crews; it was a lot of people," David said. "It's... a lot of work goes into that."
And if you were wondering if the room they are weighing in from is actually theirs, think no further, because the couple literally opens their home to viewers. "It's filmed in our bedroom. That is our house," David revealed. So what goes into making the space look so camera ready? "It might have some set-up, like to make it look good," Annie disclosed. 
And as for the taping of their cooking show, Spice it Up, the couple let us in on a little secret. The kitchen where they are whipping up specialties from Annie's native Thailand is not actually theirs. "Because our stove is in the corner, it's not an island. It's easier to film cooking segments when there's an island with a stove on it," David divulged. That show, where the lovable pair cook dishes such as fried rice and spring rolls while engaging in witty banter, is also done with a full crew. "It was a lot of fun because that's how we are. I don't really cook well, but she is a leader in the kitchen," David explained.
You can watch the happy couple on 90 Day Diaries and 90 Day Journey, both available to stream on discovery+. Plus they're part of Love Games, also now streaming on discovery+.