How To Tell If Someone Is 'Fauci-Ing' You?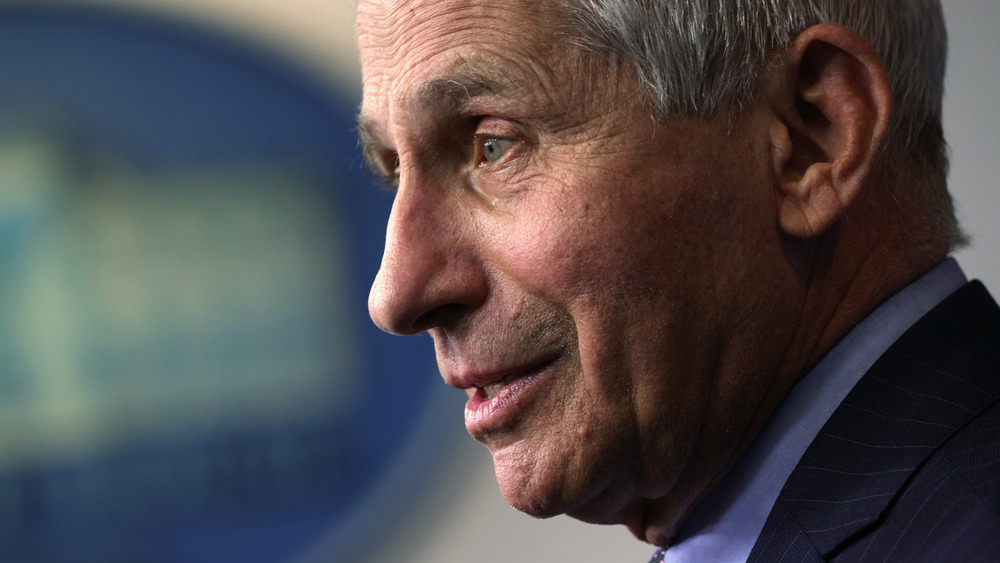 Alex Wong/Getty Images
Who could have ever predicted that Dr. Anthony Fauci would end up being one of the trendiest figures of the past year? From Kelly Ripa sporting her infamous "Fauci" sweatshirt (via InStyle) to Fauci bobbleheads being for sale, it's fair to say that the 80-year-old scientist has taken over pop culture by force. No one could have predicted that the medical professional would have been so popular, especially with younger generations. Fauci appears to have a "Bernie Sanders-esque" appeal, à la idolizing an older political figure in a sort of fangirling manner (via Forbes).
"Dr. Fauci is the total package," says Twitter user @FauciFan, a self-proclaimed member of the "Dr. Anthony Fauci Fan Club." They list his appeal with check marks, writing, "Intelligent. Kind. Handsome. Literally so good looking oh my god." Indeed, in the many interesting and unexpected pop-culture spaces that Fauci has made an appearance includes one that no one could have predicted: the online dating scene.
Fauci has had an incredibly unexpected effect on online dating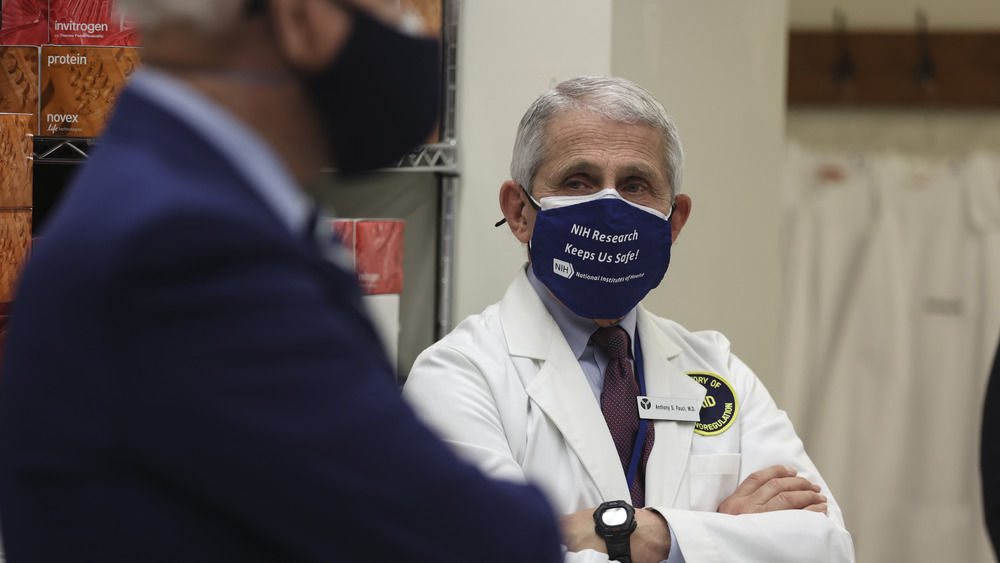 Bloomberg/Getty Images
Plenty of Fish, an online dating app, has recently taken credit for coining a phrase that was inspired with Dr. Fauci in mind. The term is "fauci-ing," and according to Urban Dictionary, is defined as, "Declining to date someone because you don't feel they're taking COVID-19 seriously enough." For example, if someone you're interested in dating doesn't take part in important health measures, such as social distancing or wearing a mask, and you decide as a result, you're not interested in them, you'd be "fauci-ing" them.
And if you're wondering if Fauci, himself, is familiar with the term? He absolutely wasn't — until a reporter took the time to define it for the doctor in an interview. Axios reporter Margaret Talev asked, "You might not have a lot of time to read the Urban Dictionary since you're trying to cure a pandemic and all. But there is actually a term in dating now called 'Fauci-ing' someone. Do you know what that means?" Fauci responded that he didn't, upon which Talev defined it for him. He laughed, and joked, "I'm gonna Fauci you!" (via the Deseret News).