Why Joe Biden's Brother's Latest Appearance Is Raising Eyebrows
Alex Wong/Getty Images
President Joe Biden's brother, Frank Biden, has already caused a few hiccups for the new administration. According to CNN, Frank Biden began creating ethics concerns for the Biden White House at the beginning of February. The problem is that Frank Biden was previously hired as an advisor for the Boca Raton-based law firm Berman Law Group. The firm has been only too happy to show off the Biden family connections on their own website and even in ads for the firm itself. Frank Biden's participation in such displays has presented a conflict of interest that the White House has yet to effectively address or solve.
However, Frank Biden really took things up a notch this weekend when he was photographed attending a party without a face mask. Page Six reports that Frank Biden was a guest at Floyd Mayweather's birthday party in Fort Lauderdale, Florida. And despite President Biden's pleas that all Americans "mask up, folks" (via Twitter) to help lower the spread of coronavirus, Frank didn't appear to have a mask anywhere near his face.
Frank Biden wasn't the only person without a face mask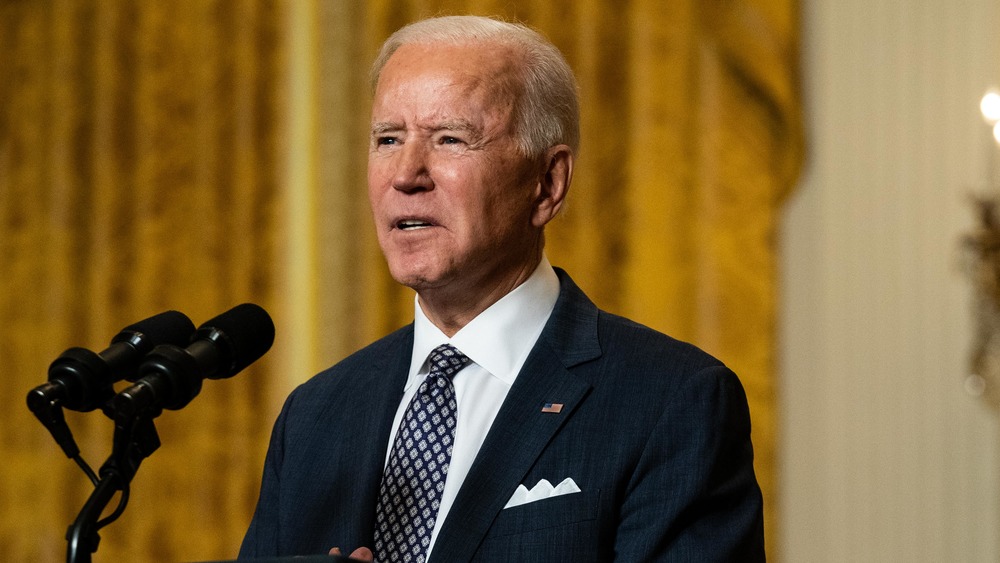 Pool/Getty Images
Page Six describes a scene that sounds fun... but also like it's not particularly coronavirus-cautious. The outlet alleged that "Francis 'Frank' Biden showed little concern for social distancing as he stopped to pose for photos at the soirée with the boxing legend and a pair of other partygoers, Jas 'Limitless' Mathur and former US Ambassador to Singapore Kirk Wagar." It added that "Frank looked relaxed alongside his A-list pals."
However, the publication also reports that a source close to Frank Biden has said that "Frank is fully vaccinated and wore a mask the entire time except for taking photos." The source also explained why many guests didn't wear masks while at the event: "Individually, there were COVID-19 checks for each person ahead of time. People that were traveling were asked to be tested and travel safely. People were also handed 'TMT' branded masks upon entry to the event." Even so, it's probably not a good look for Frank's brother, the president.