Prince Harry's Opinion Of The Crown May Surprise You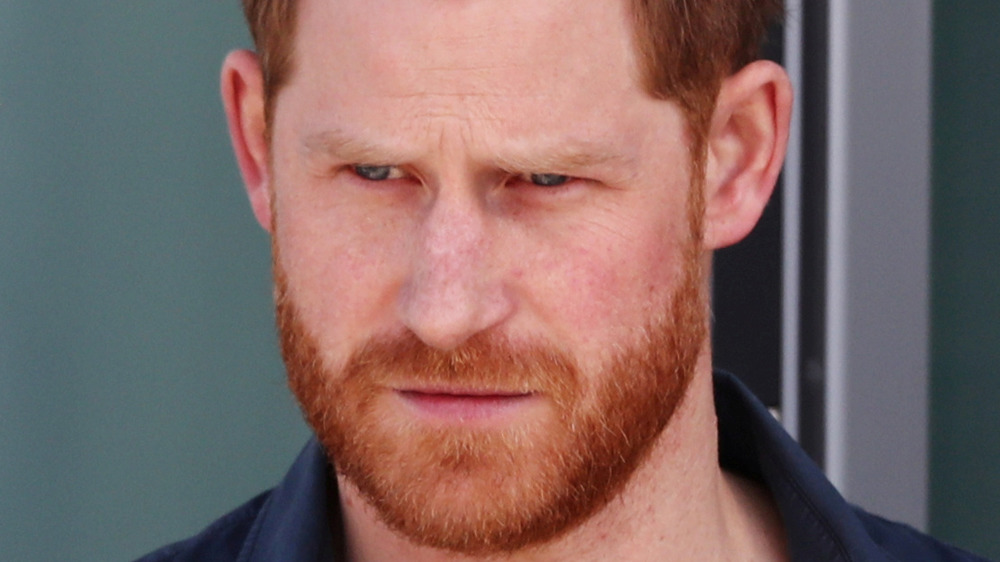 Wpa Pool/Getty Images
So what has Prince Harry been up to lately? While he may not be under the royal microscope anymore, there's no way he is ever not going to be a person of interest to royal watchers around the world. Luckily, Harry grew up in the spotlight, and he's not exactly shunning it now, seeing as how marrying a TV star is another way to not stay out of the public eye. Most recently, our favorite Prince Formerly Known as HRH let it all hang out (or as much as a former royal is apt to do) with fellow ex-pat Brit, James Corden, for The Late Late Show (via YouTube).
During the interview, Harry dishes about little Archie (tops on his Christmas wish list was a waffle iron, how cute is that?), about Meghan (who made an appearance herself via video call), and about their life in California, and even tackles an obstacle course. The absolute highlight of the interview had to have been when Harry (sort of) sings the theme from The Fresh Prince of Bel-Air (should have kept his day job), before going up to the actual house where the '90s sitcom was filmed and asking to use the bathroom. Less entertaining, but still very eye-opening, is the part where Harry tells Corden how he really feels about the Netflix series based on his family.
Harry prefers the fictionized version of his life to the fake news one
While Harry characterizes The Crown as "just "loosely based on the truth," he thinks this is a good thing. Since the show is a drama with all characters portrayed by actors, this lends a distance to it that the more biased reports on royal scandals lack. Although the show, Harry says, is "not strictly accurate," he told Corden (and by extension all Late Late Show viewers) that he found some accuracy in how the show deals with "the pressures of putting duty and service above family" (via YouTube) — something that might give Crown fans an idea of why he and his wife chose to step away from such a life.
Overall, Harry says he's "way more comfortable with The Crown than I am seeing the stories written about my family or my wife or myself" (via YouTube). The crucial difference, he explains, lies in the fact that the former is presented as fiction, whereas the latter "is being reported on as fact because you are supposedly news," admitting "I have a real issue with that" (via YouTube). Oh, and in case you've been wondering who Harry would like to see playing him now that it looks as if the series won't wrap up with Season Five, he told Corden that his pick would be British actor Damian Lewis. Corden characterized this choice as "a great shout" before proposing that he, himself, be cast in the role of William (via YouTube). Now THAT would be must-see TV!