Inside The Relationship Of Temptation Island's Erin And Corey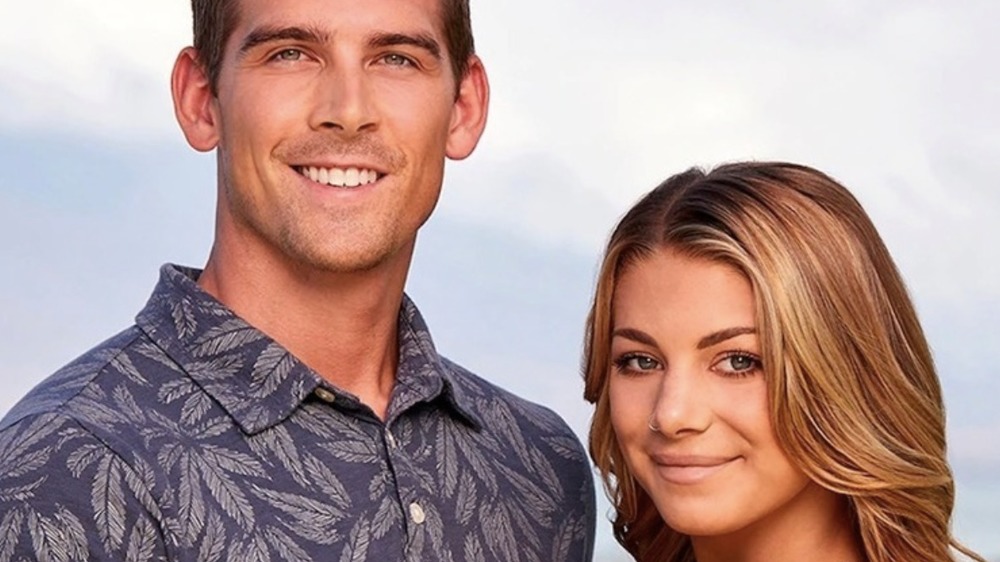 Patrick Ecclesine/USA Network
USA Network's Temptation Island is seriously heating up and it feels like there has been more tea, drama, and tears this season than those that have gone by. One couple that caught the attention of viewers from the beginning was Erin Smith and Corey Sobczyk, who had been dating for more than 1 ½ years. When they joined the show, they admitted that they had some things they wanted to work through. Reality Tea outlined that the pair thought they were pretty different from one another but that that might not actually be such a bad thing.
In the Temptation Island trailer, Erin explained that she had a habit of comparing all her partners and crushes to her ex, 2018 Super Bowl champ Kamu Grugier-Hill (per The Sun Newspapers). Corey said that this often left him feeling "underappreciated" by Erin, like he comes second. He said he wants to prove that he's a "better man" than Erin's exes.
Deadline notes filming for Temptation Island's third season began in August 2020 and continued into the fall months. Did Erin and Corey's relationship survive the show?
They're on the show to 'become more independent'
In their opening interview, Erin and Corey said that they had joined the show for a number of reasons. They said they knew how to get on each other's nerves and after nearly two years together, they had some stuff to work through. Erin admitted, "I like to be shady. If I don't want to answer you, you're going to know it."
In earlier episodes, as the couple went their separate ways, Corey said, "I know I need to be happy with myself before we can be happy as a couple. You are the best thing that has ever happened to me. I would hate to lose you" (via TV Shows Ace).
Meaww, meanwhile, reported that Erin and Corey joined the show for different reasons. The publication said that while Erin hoped that Temptation Island would show her if there were any missing pieces in their relationship, Corey hoped to get some needed quality time together.
Are Erin and Corey still together?
Bustle reported that for fans who are curious as to whether Corey and Erin are still together, things may not be so clear. Outside of the show, Erin has shared a ton of bikini selfies and football pictures but none of herself with Corey on Instagram. He's kept his feed similarly ambiguous as he has pictures with family but none with Erin.
However, Meaww pointed out that the couples on Temptation Island have to keep their relationship status a secret during the show to build tension. The pair still follow each other on Instagram but there are few signifiers outside of that.
USA Network describes Temptation Island as a "social experiment [where] four couples at a crossroads in their relationships put their love to the test by giving 'single life' a try." While season 3's couples keep their relationship status under wraps for now, it seems the only way to get the true intel on what's going on with Erin and Corey is by watching the show on Tuesdays.