The Truth About Meghan And Harry's Relationship With The Royal Family Now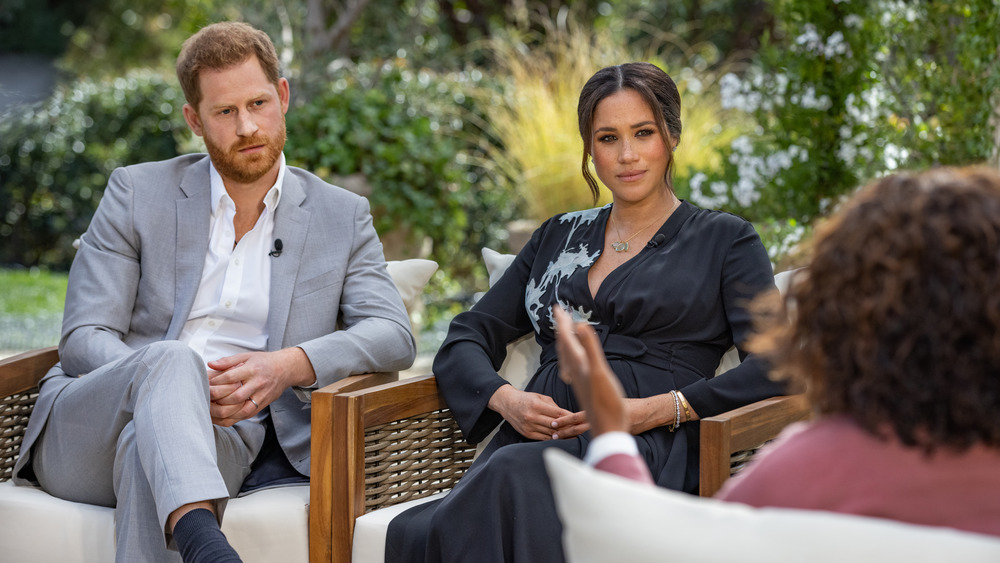 Handout/Getty Images
Let's recap some of the things we've learned so far, thanks to Meghan and Harry's interview with Oprah. Meghan never intended to leave the royal family. In fact, The Duchess of Sussex wrote letters to members of the royal family promising that she was committed to becoming a working royal. Then, she stayed up late at night, googling things (like the British National anthem) to "make them proud." Harry, meanwhile, assured Oprah that "we did everything we could to make it work."
It didn't work. That's in large part because the British monarchy broke a major promise that it'd made to Meghan when she came onboard. It silenced her. In return, The Firm promised to protect her. It did the opposite. More than that, the British royal family decided against giving Archie the title of "prince" when he was born and thereby denied him security. Why? Meghan suspects it was because of "concerns and conversations about how dark his skin might be."
And so Meghan and Harry left. When they did, Harry told Oprah, "We just everything we could to protect them." What did they do? The royal family cut Harry off financially at the beginning of 2020. It also removed his security detail, despite death threats, and subsequent letters from Meghan, supplicating The Firm to protect her husband, even if it wouldn't do the same for Archie or herself.
All caught up? This is the truth about Meghan and Harry's relationship with the royal family now.
Harry describes "a lot of hurt that happened" within his family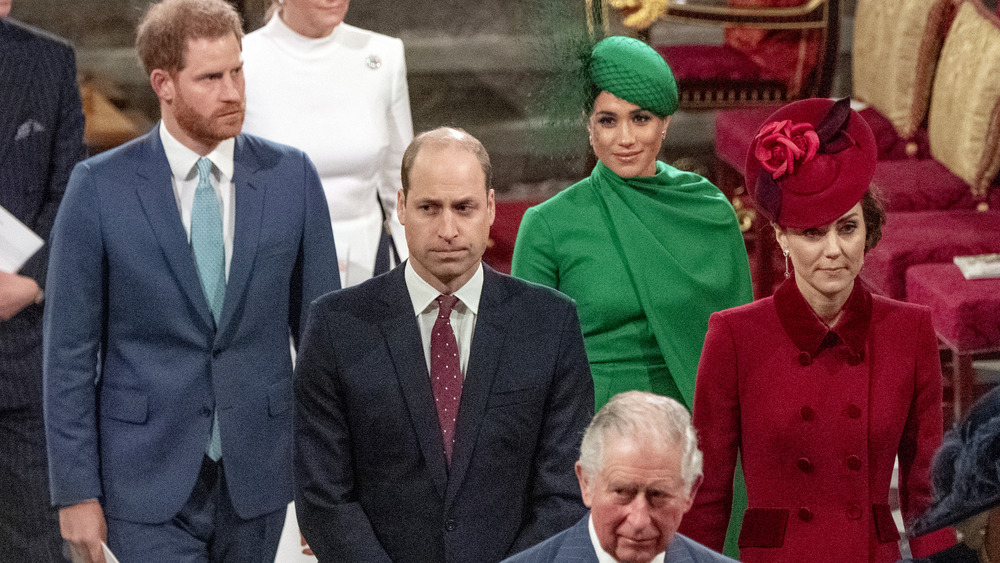 Wpa Pool/Getty Images
It's not just Archie that the Queen has been face-timing with (via US Weekly). Meghan told Oprah that when she found out that Prince Philip was in the hospital, she called The Queen to see how she was doing. (As it turns out, not being a working royal frees you up to do things, without double-thinking protocol.) Harry's relationship with his grandmother is pretty much solid. "I have spoken more to my grandmother in the last year than I have in many, many years," Harry admitted, professing his enduring respect for Her Majesty.
But while his father, Prince Charles, is still taking Harry's calls, things between them are harder. "I feel really let down because he's been through something similar," Harry told Oprah, "He knows what the pain feels like, and Archie's his grandson. Of course, I will always love him, but there's a lot of hurt that happened." The Duke of Sussex nevertheless promised to "continue to make it one of my priorities to try to heal that relationship."
As for his brother, Prince William? "I love William to bits, he's my brother, we've been through hell together ... but we're on different paths," Harry explained. He considers himself lucky to be on the path he is today. Because, before Harry met Meghan he described himself as "trapped," adding, "I didn't see a way out." He said that's true of his father and brother. "They don't get to leave, and I have huge compassion for that," Harry empathized.