Donald Trump Just Made A Big Move Against The GOP
Chip Somodevilla/Getty Images
Former president Donald Trump has been out of the White House for less than two months, but that hasn't stopped him from making quite a splash in the political pool — and he doesn't seem to be slowing down anytime soon. The one-term president made an appearance at the Conservative Political Action Conference (CPAC) on Feb. 28, giving a long-winded speech riddled with ongoing claims about election fraud and other falsehoods (via CNN). The reality television star also recently blasted Lisa Murkowski, the Republican senator of Alaska and one of seven Republicans who voted to convict Trump in his impeachment trial for his role in inciting the Jan. 6 Capitol Riots, calling her "disloyal" amid her bid for reelection in 2022.
Now, the 74-year-old Republican is getting catty with his own party, and just a few days after his appearance at the CPAC in Orlando, Florida, Trump's lawyers sent cease-and-desist letters to three of the largest fundraising groups in the GOP.
On March 5, Trump's lawyers asked three GOP fundraising groups to stop using his name 'and likeness' to raise money for the party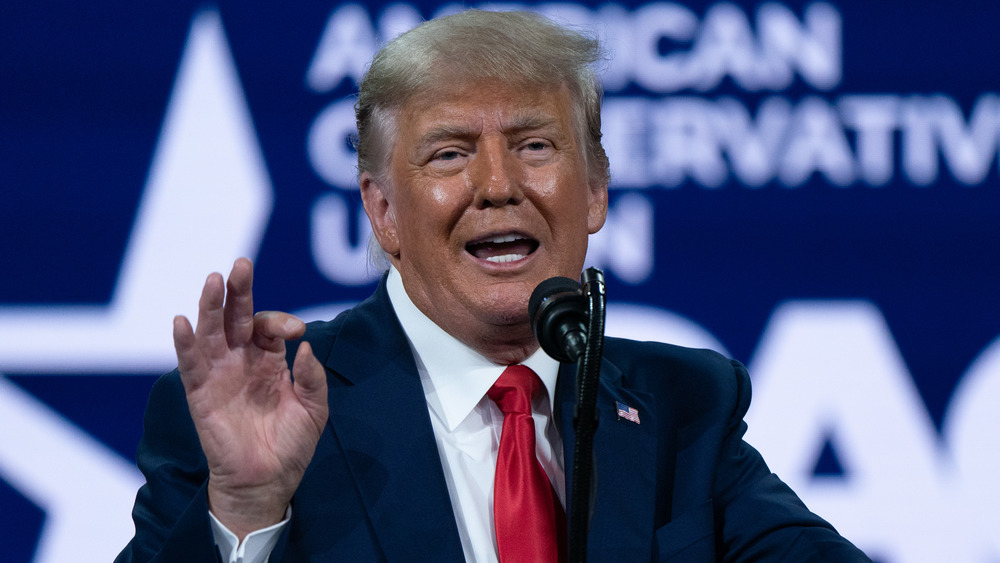 Bloomberg/Getty Images
Cease-and-desist letters were sent to the Republican National Committee (RNC), the National Republican Congressional Committee (NRCC) and the National Republican Senatorial Committee (NRSC), a Trump advisor confirmed (via CNBC). The orgs were reportedly asking people to donate as a way to "thank" Trump for his presidential and political service, and the RNC reportedly sent out multiple emails that read: "President Trump will ALWAYS stand up for the American People, and I just thought of the perfect way for you to show that you support him! As one of President Trump's MOST LOYAL supporters, I think that YOU, deserve the great honor of adding your name to the Official Trump 'Thank You' Card" (via Politico).
In the cease-and-desist letter, the organizations were asked to "immediately cease and desist the unauthorized use of President Donald J. Trump's name, image, and/or likeness in all fundraising, persuasion, and/or issue speech" (via Politico).
On March 8, the Republican National Committee responded to the letter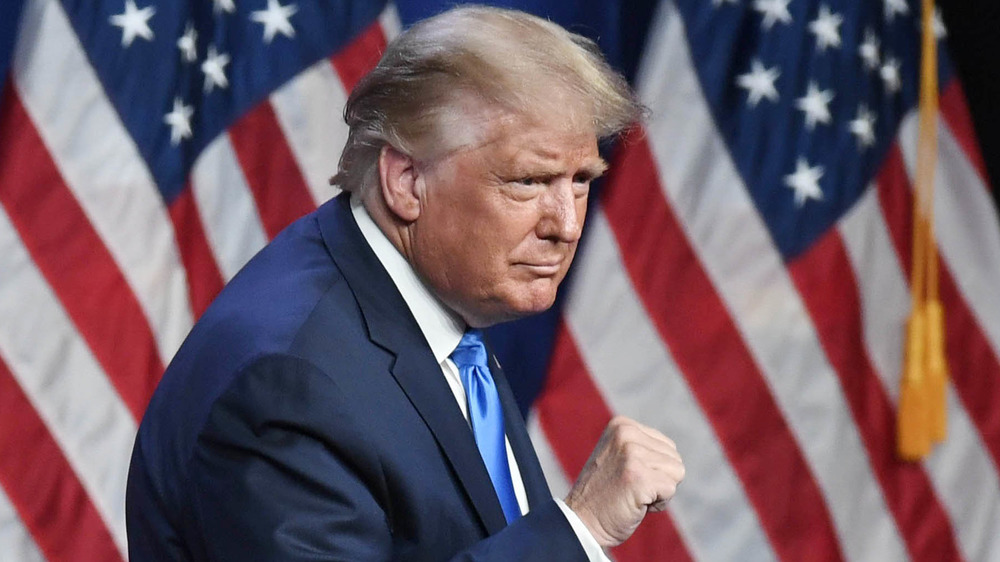 Pool/Getty Images
The RNC alleged that the organization "has every right to refer to public figures as it engages in core, First Amendment-protected political speech" (via CBS News). RNC chief counsel Justin Reimer also fired back at Trump's lawyers, writing that Trump approved of the RNC using his name for promotional and fundraising tools. "[Donald Trump and RNC Chairman Ronna McDaniel] enjoy a close relationship, and we understand that President Trump reaffirmed to her over the weekend that he approves of the RNC's current use of his name in fundraising and other materials, including for our upcoming donor retreat event at Palm Beach at which we look forward to him participating," the letter reads (via Politico).
Regardless of the seemingly never-ending drama between Trump and fellow conservatives, his camp says he remains committed to the Republican Party — but won't back down on his move against the GOP. "President Trump remains committed to the Republican Party and electing America First conservatives, but that doesn't give anyone — friend or foe — permission to use his likeness without explicit approval," a Trump advisor said.