Joe Biden Just Reversed This Decision By Donald Trump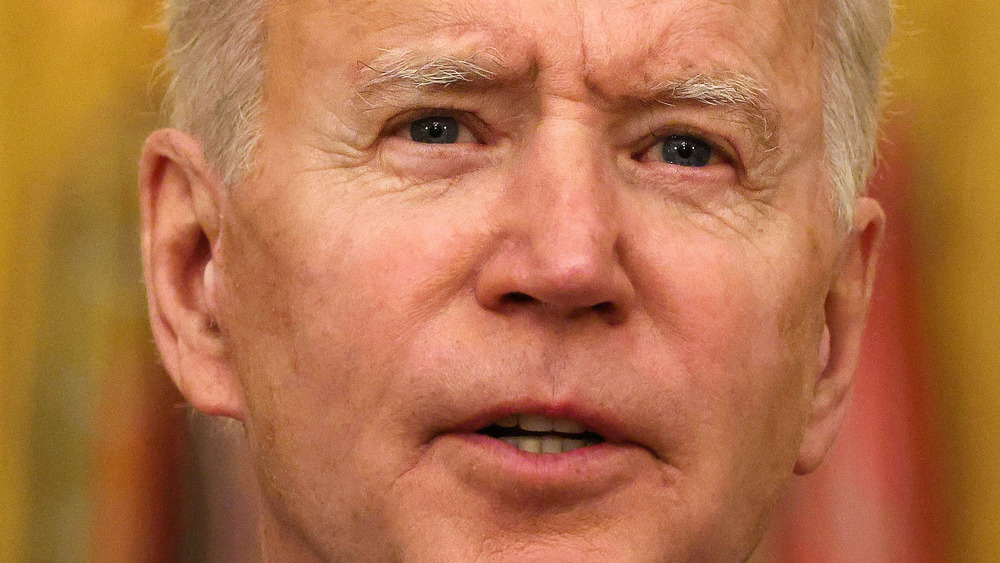 Alex Wong/Getty Images
When President Biden stepped into office, he immediately started signing executive orders, some of which overturned Former President Donald Trump's policies (via Reuters). He told his staff that this administration would be judged on how it "restores the integrity and competency in this government" (via CNN).
Another part of this shift has included redecorating in the White House. As reported by NPR, the new presidential family moves in and the old one moves out on Jan. 20, in a process that takes about five hours.
When it comes to a very notable room, the Oval Office, the Deputy Director of Oval Office Operations, Ashley Williams, told The Washington Post that the administration wanted an office that "looked like America". Therefore, it includes artwork that depicts past presidents and other people who have helped positively shape the history of the nation, such as Martin Luther King Jr., Eleanor Roosevelt, and Rosa Parks.
It's tradition to prominently display portraits of recent presidents in the White House
One of President Biden's decor changes in the White House, in particular, has to do with official presidential portraits. When Trump was in office, he moved the portraits of Bill Clinton and George W. Bush to the Old Family Dining Room, which is not used very often. He replaced them with portraits of Theodore Roosevelt and William McKinley, according to CNN.
Now, though, the White House Office of the Curator has brought Clinton's and Bush's portraits back, displaying them in the Cross Hall. As stated by People, this hall connects the Grand Foyer with the State Dining Room and the East Room and is used for events such as state dinners and ceremonies.
It is tradition to have the artwork of recent presidents prominently shown off in the White House (via Business Insider), and this is just one example of the work President Biden is doing, since he was inaugurated on Jan. 20, 2021.