Kody Brown Reveals The Status Of His Relationship With His Wife Meri - Exclusive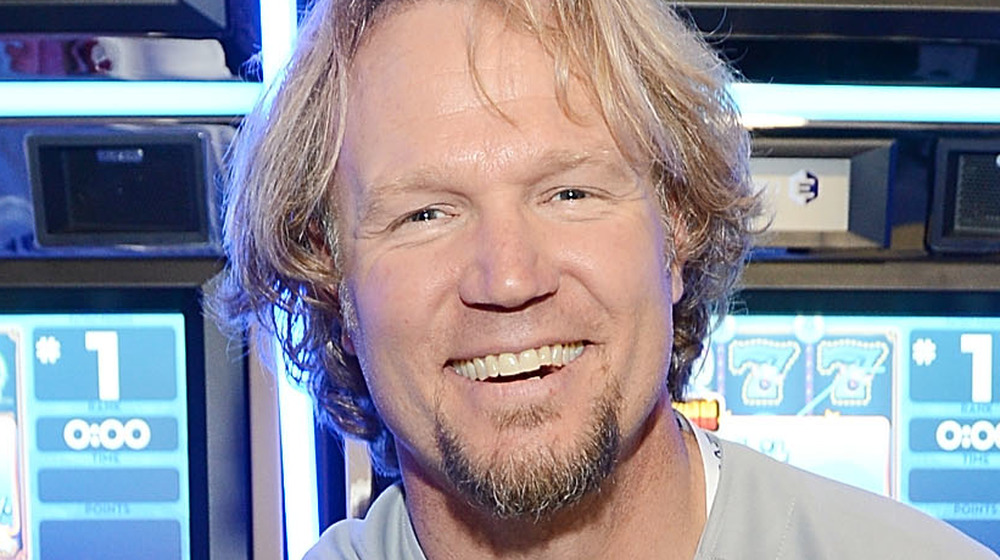 Denise Truscello/Getty Images
TLC's hit show Sister Wives attracts viewers for all kinds of reasons. The unscripted reality element of the show is enticing as it is entertaining, the personalities of Kody Brown and all four of his wives are dynamic and make for great television, and the window that the show provides into a plural marriage is intriguing. Each relationship that Kody has with his wives is, of course, different. But what about his relationship with his wife Meri specifically? After 30 years of marriage, marital additions, children, scandal, what does their marriage look like? 
As Sister Wives airs its tenth season, we're eagerly watching as things unfold between Meri and Kody. Will their marriage survive? Are they headed for separation, or are they going to see it through? These were the questions that we were dying to know, so we went straight to the source and asked Kody himself. 
In an exclusive sit down with The List, Kody talked about the show, his dynamic with his wives, and revealed the status of his marriage with Meri. So sit tight and get ready to have some questions answered, because Kody Brown revealed the status of his relationship with his wife, Meri, to The List.
Kody revealed that his relationship with Meri has improved since living in Las Vegas
Things between Kody and Meri Brown started to go south in 2015 after she was involved in an online catfishing scandal (via People). Thinking that she was talking to a man online, Meri found out that the person she had been engaging with was actually a woman, and the dynamic between her and Kody went into free fall. The two started to attend therapy sessions to help with their relationship, but things between them never really seemed to fully heal. 
We asked Kody about the status of his relationship with Meri during an exclusive sit down, and he revealed that the relationship is "actually better" than it was when the Brown family was living in Las Vegas. But that doesn't mean that it's all roses and rainbows between them. "I can only say it this way. [The relationship] is not where Meri was hoping it would be," Kody shared. "We discuss a lot of our struggles that we've had, and the two of us aren't really on the same page about our relationship." 
What does Meri think about the dynamic between her and her husband? She took to social media in December 2020 to share her thoughts on her marriage and her commitment to Kody. "Sure we've had ups and downs through the years," she wrote, "But here's my truth. I love him. I love my family. I'm committed."
What is Kody's future with Meri going to look like?
Marriages are tough to maintain, there's no doubt about that. And for Kody Brown, he has four marriages to focus on, each presenting their own difficulties, dynamics, and intricate details. But as far as his relationship with his wife Meri is concerned, Kody told The List that not a lot between them is going to change. 
Kody has revealed in the past that his marriage with Meri had hit several roadblocks, the biggest being Meri's catfishing incident and its subsequent fallout. In 2018, he said during a TLC tell-all that he didn't have the desire to have an intimate relationship with Meri (via People). While their relationship has gotten smoother over time, not a ton between them is going to change. 
"I actually got to admit that I don't believe anything's going to change between me and Meri. I think we're going to continue on with an amicable relationship into the future," Kody told The List. "There's no spoiler in the idea that there's nothing to be spoiled. It's a matter of just understanding." Kody went on to share that he and Meri have an understanding with each other, and both of them know that their relationship is going to "take some time" to heal. Time will tell if they fully reconcile.
Sister Wives airs Sunday nights at 10 p.m. ET/PT on TLC.