Melania Trump's Birthday Message For Barron Has The Internet Divided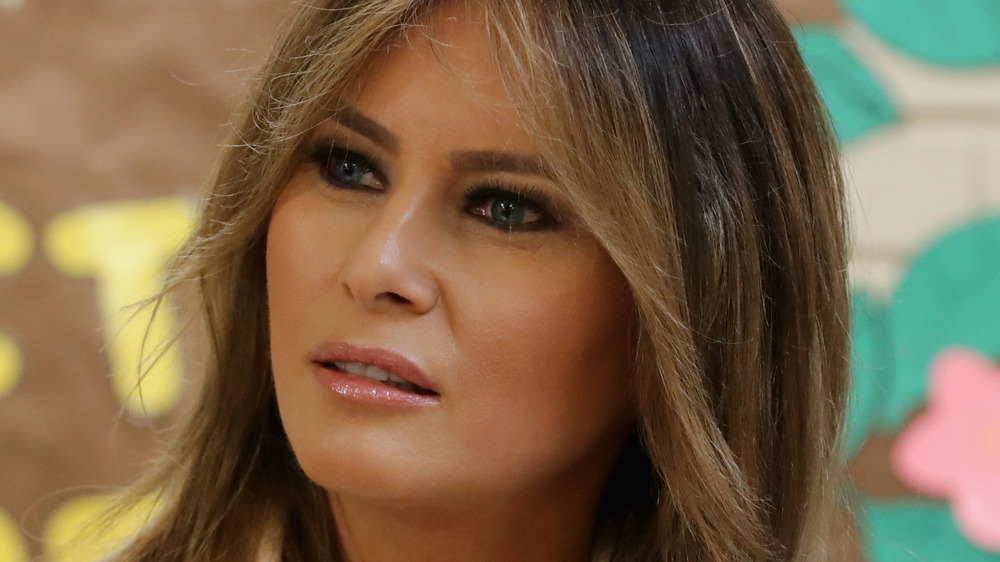 Chip Somodevilla/Getty Images
Melania Trump doesn't have the best track record when it comes to celebrating special events online. Last month, her personalized Valentine's Day message on Twitter notably omitted husband Donald altogether, leading social media to have a field day. It was dedicated to the "brave & inspirational children at @TheChildrensInn @NIH where I visited the past few years," FYI. Now, the former first lady is coming under fire once more for a somewhat strange attempt at marking another special moment. This time, however, Melania Trump included the requisite person. 
Her son, Barron Trump, spent his 15th birthday at Mar-A-Lago, presumably in the company of his parents, according to Daily Mail. Meanwhile, Barron's half-sister, Tiffany, celebrated his special day by posting on The Gram: a throwback photo of the two of them together, accompanied by an "I love you." But when the former first lady took to Twitter to wish her son, Barron a happy 15th birthday, Melania's congratulations were a little bit more unusual. 
"Happy birthday BWT," the young man's mother wrote alongside three heart emojis. Melania Trump posted a shot of some large "15" balloons, done in dripping black lettering, alongside the birthday message. Her message is nearly identical to the tweet she sent out in celebration of her son's 14th birthday. Last year, she posted a picture of silver, "14" balloons (via Twitter). Unsurprisingly, although several users took the opportunity to echo Melania's sentiments and congratulate Barron Trump on his 15 years on this planet, many others roasted the former first lady for the odd message.
Melania Trump can't seem to catch a break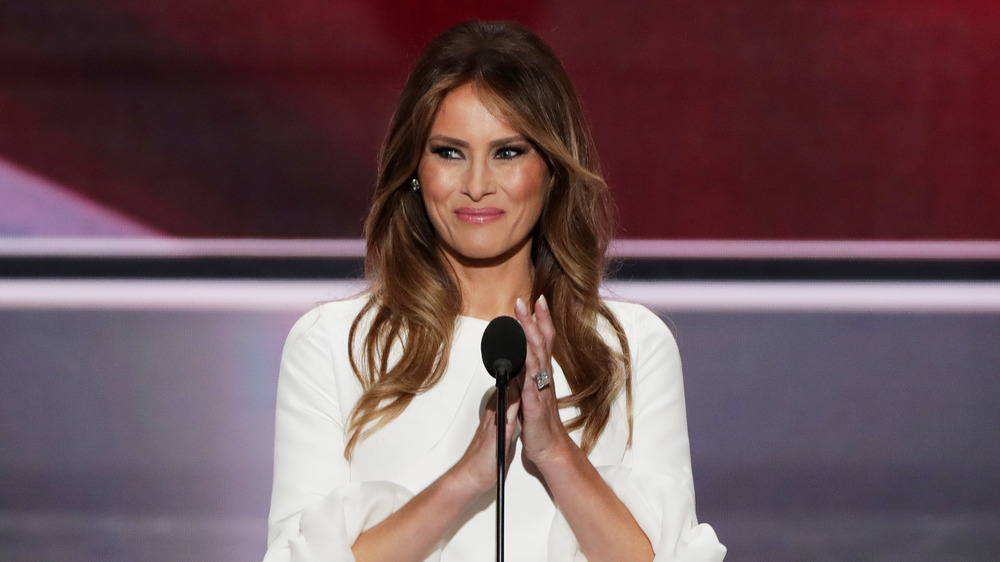 Alex Wong/Getty Images
On Twitter, thousands of responses flooded in, emphasizing how the country continues to be split down the middle when it comes to the beleaguered former White House residents. Several Twitter users called for kindness and understanding, reasoning that this is simply a mother celebrating her son's birthday. But many couldn't pass up the opportunity to pull apart Melania Trump's birthday message.
Last year, Twitter trolls criticized the then-first lady's virtual birthday card to her son on the basis that she hadn't bothered to spell out Barron's name in full (Via International Business Times). This year, while Melania continued to refer to her son using initials, critics turned against her choice of graphics. Unfortunately, the display closely resembles Melania Trump's infamous "creepy" Christmas display, which featured a forest of blood-red trees. In response to that holiday post, The Guardian wrote an article questioning the symbolism behind the first lady's "post-bucolic hellscape."
While no longer living at the White House, this time around, Melania's Twitter trolls were no more forgiving than during Christmas 2018. "You could have found a more cheerful pic," one user tweeted, noting, "This looks quite morbid." Another pointed to the black numbers being a bit off-putting, tweeting, "How festive! Nothing quite says Happy Birthday to a 15-year-old quite like a black balloon that appears to be dripping blood." A third Twitter user wrote, "Damn ... this is the most horrific happy birthday I've ever seen! Looks evil AF. LOL!!!"
Why no one else in Barron's family published birthday wishes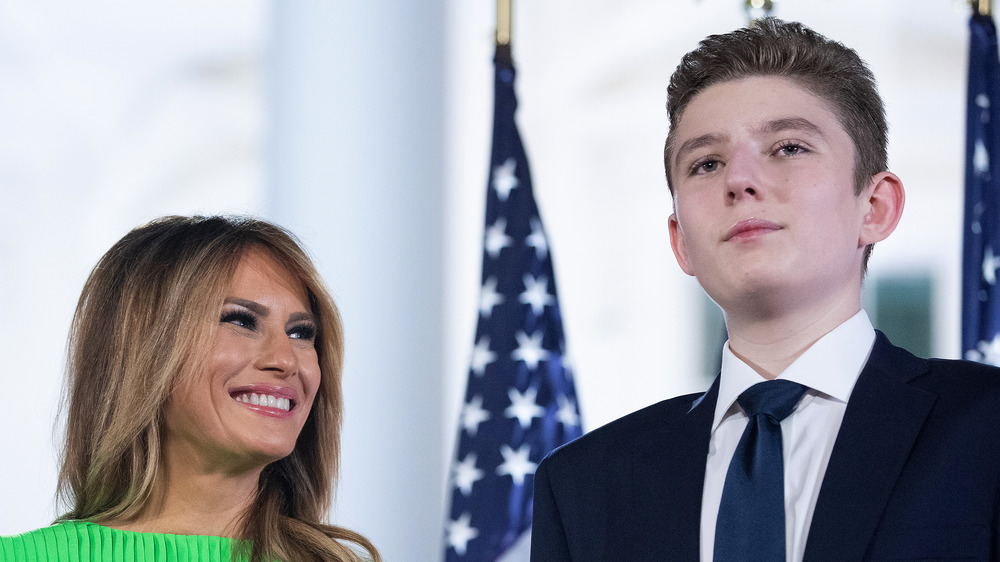 Chip Somodevilla/Getty Images
Since the Trumps vacated the White House, the former first lady has pivoted to focus on raising Barron, with People reporting, through a source, that he's "the most important thing in Melania's life." Perhaps she was simply wishing her son a happy birthday in her own special way.
In any case, it is perhaps more noteworthy that, apart from Tiffany Trump's Instagram post, Melania was the only Trump to publicly congratulate Barron on his big day. Ivanka's Twitter and Instagram feeds have gone quiet since her father left office. As active as he is on social media, Donald Trump Jr. seems to be too busy criticizing the Biden administration to virtually reach out to Barron. Eric Trump also abstained from celebrating his half-brother's birthday, at least through his Twitter and Instagram feeds. Finally, perhaps his father would have tweeted his congratulations, had he not been banned. CNN, however, reports that the former president is creating his own social media network. Within a few months, Donald Trump could plausibly post belated birthday wishes to his son.
Not that it would matter much if he did. Barron Trump, himself, isn't on social media. And, if you believe his mother, that's not because she and Donald have forbidden him from creating an account. Despite TikTok campaigns which, per Forbes, have been undertaken to #savebarron, Donald Trump's youngest isn't interested in interacting virtually. Barron likes sports too much to tweet, according to Melania (via International Business Times).