Donald Trump Offers A Big Hint About His Plans For 2024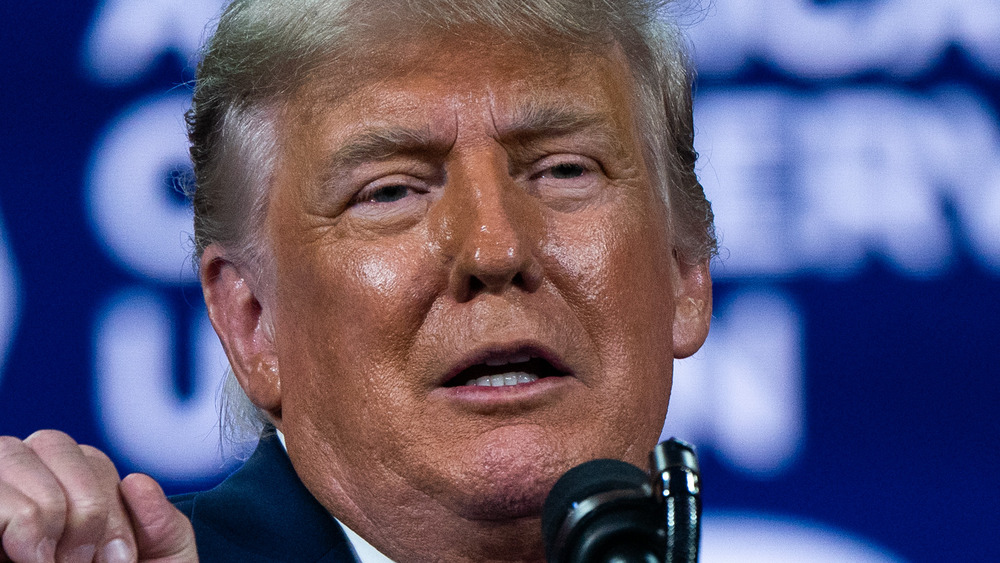 Bloomberg/Getty Images
It would appear that a lack of a Twitter account isn't preventing Donald Trump from reaching out to his supporters, after all. The former president recently sat down with daughter-in-law Lara Trump as a guest on her podcast, The Right View, a guest she claimed her listeners were "dying to hear from." The 18-minute interview covers topics from social media censorship, China, Joe Biden, the alleged "stolen election," and more (via Rumble). Lara also discussed the former president's thoughts on the possibility of a third run. 
"The other question people all want to know — and I know you're not ready to answer it yet — but do we have hope that there's a possibility to see Donald Trump run again in 2024?" she asked. Reports claim that many Republicans have strongly pushed for a nomination for Trump as the party's 2024 candidate, via a Harvard-Harris poll conducted in February. "You do have hope, that I can tell you," Donald Trump responded. "You do have hope. We love our country — this country. We all owe a lot to our country but now we have to help our country" (via Newsweek).
Don't expect a Donald Trump-Mike Pence ticket in 2024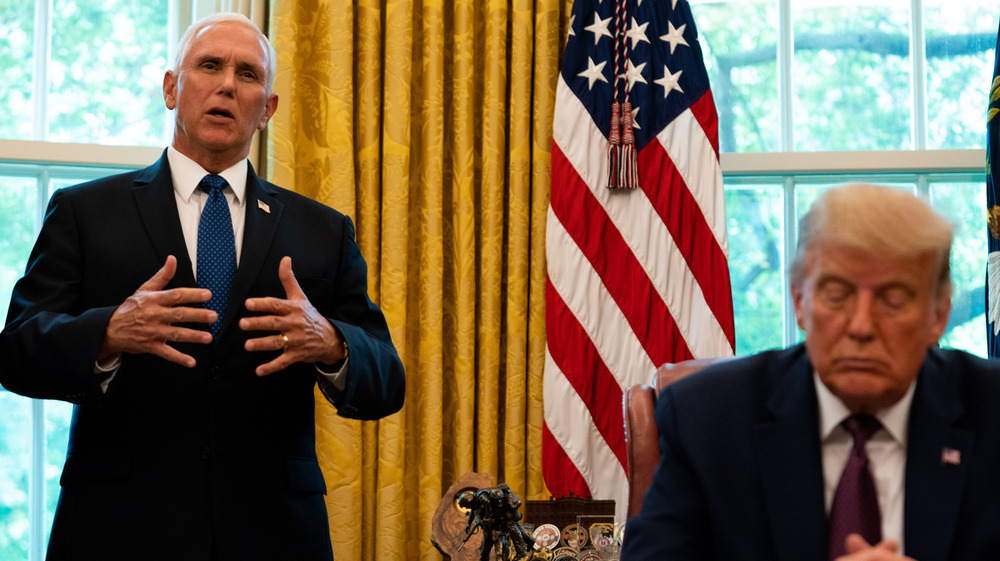 Bloomberg/Getty Images
So what would a 2024 run for Donald Trump look like? Well, it's hard to say, as he didn't give any details or plans into a potential future campaign. Sources believe it wouldn't be likely for him to go into much more detail at all any earlier than summer of 2023, according to Bloomberg.
However, sources speculate that whatever the campaign might look like, it won't include former Vice President Mike Pence. Trump and Pence's relationship took a tumultuous turn as a result of the Capitol riots and Trump's inaction to support Pence despite threats against his life (via USA Today). Many of the rioters who swarmed the Capitol entered with weapons wielded, chanting "hang Mike Pence" — and yet Trump refused to denounce these rioters (via Business Insider).
Continuing in response to Lara Trump's questions about his future third run, Trump responded by rattling off his supposed accomplishments during his term as president. "And we were there. We were so good. What we did with Iran, what we did with China," Trump said. "We were all set to do some great things. And then you see what's going on right now."
"So we may see a Trump run again in 2024," Lara Trump reiterated. "Stay tuned, ladies and gentlemen."