Mia Farrow Addresses Rumors Swirling About The Deaths Of Three Of Her Children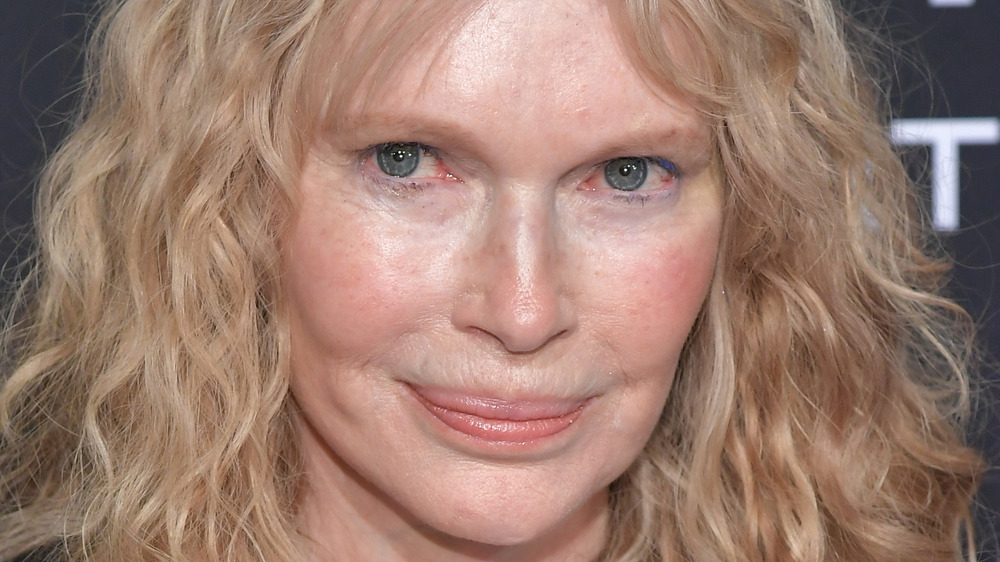 Neilson Barnard/Getty Images
The release of the explosive HBO documentary series Allen v. Farrow, which charts the highly-publicized allegations of sexual abuse against filmmaker Woody Allen by his adopted daughter, Dylan Farrow, has brought new attention to the fractured family. Allen has always strongly denied Dylan's claims, and is taking this opportunity to once again attack his former partner's veracity. Allen maintains Dylan was coached by her mother, Mia Farrow, to lie and destroy his reputation following their messy split. Connecticut state's attorney Frank Maco, who served as a prosecutor in Farrow's case, doesn't buy those claims. "I believe her," Maco told People, pointing to a home video of Dylan talking to Mia about the abuse. "These are not words of a child that is manipulated or is being controlled by the mother." 
During a recent, rare interview on CBS Sunday Morning, Allen nevertheless reiterated his position, insisting that the accusations against him didn't "require any investigation, even." Allen argued:"It's so preposterous, and yet the smear has remained." He further complained that society continues to doubt him. "They still prefer to cling to if not the notion that I molested Dylan, the possibility that I molested her. Nothing that I ever did with Dylan in my life could be misconstrued as that" (via Deadline).
Amid the many accusations being thrown back and forth, damning allegations about the other children from the former couple's son, Moses, who has defended Allen in recent years, have come to the fore once again. Mia Farrow has come forth to set the record straight once and for all. 
Mia Farrow is asking for understanding amidst unthinkable tragedy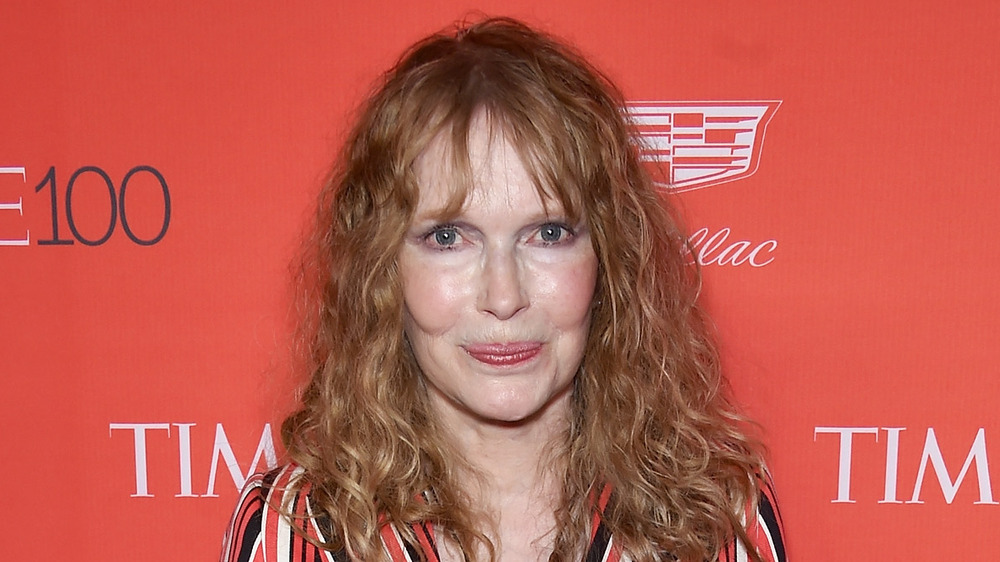 Dimitrios Kambouris/Getty Images
As EW notes, rumors started spreading online about the deaths of Farrow's children Tam, Lark, and Thaddeus, partly because there was absolutely no mention of them in Allen v. Farrow. Likewise, Moses' 2018 blog post began recirculating, in which he claimed, among other things, that his mother was responsible for Tam's death, arguing she didn't get her daughter the necessary help for her debilitating depression.
Dylan Farrow previously shot down the accusations, advising, "My brother is a troubled person. I'm so sorry he's doing this."  But Mia, by all accounts, has tried to keep as quiet as possible in the face of rampant media speculation. She once explained her silence to Elle: "For me, it's the sleeping dog that you don't want to rouse." Meanwhile, Allen vs. Farrow producer, Amy Herdy, told People that it "took several months to convince Mia to do an interview." 
But now that the disturbing stories have re-emerged, Mia Farrow has taken to social media to give her version of events. In a lengthy statement posted to Twitter, the Rosemary's Baby star acknowledged, "Few families are perfect, and any parent who has suffered the loss of a child knows that pain is merciless and ceaseless." Although the actress and activist reiterated she rarely speaks publicly about private issues, she felt compelled to contradict the "vicious rumors" that were circulating. She did so, "To honor their memory, their children, and every family that has dealt with the death of a child."
Farrow breaks her silence about her children's deaths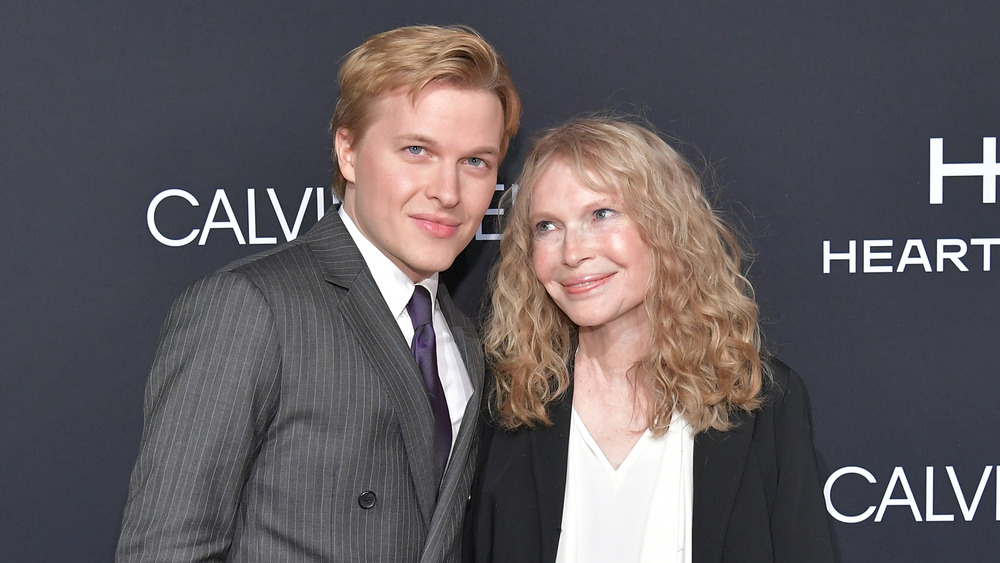 Neilson Barnard/Getty Images
Mia Farrow lost her daughter Tam in 2000, her daughter Lark in 2008, and her son, Thaddeus in 2016 (via Los Angeles Times). In the wake of renewed social media buzz surrounding her children, she explained their deaths via Tweet. "As a mother of 14 children, my family means everything to me," Farrow wrote. She further confirmed how Tam had passed away due to an accidental overdose "related to agonizing migraines she suffered, and a heart ailment", while Lark died due to complications from HIV/AIDS. Thaddeus died by suicide following the breakdown of a relationship. "These are unspeakable tragedies," Farrow mourned, "Any other speculation about their deaths is to dishonor their lives and the lives of their children and loved ones." 
Farrow's statement has been met with an outburst of unusual compassion from the Twitterverse. Her daughter Dylan has tweeted her love for her mother. A friend of Thaddeus reached out on Twitter, writing that Mia's son had been "full of light and joy and jokes despite so many challenges" and that "he was such an example to me of appreciation and perspective. He loved you and his whole family so much." The youngest child of Martin Luther King, Bernice Albertine King also voiced her support for Farrow, writing a message that most of us can get behind.  "I'm so sorry you had to address this, Mia," King (herself a minister) tweeted, "Often, humans are very inhumane. Love and peace to you."
If you or someone you know is considering suicide, please contact the National Suicide Prevention Lifeline at 1-800-273-TALK (8255), text "STRENGTH" to the Crisis Text Line at 741-741 or go to suicidepreventionlifeline.org.
If you, or anyone you know, is struggling with addiction issues, help is available. Visit the Substance Abuse and Mental Health Services Administration (SAMHSA) website or contact SAMHSA's National Helpline at 1-800-662-HELP (4357).

If you, or anyone you know, have been a victim of sexual assault, help is available. Visit the Rape, Abuse & Incest National Network (RAINN) website or contact RAINN's National Helpline at 1-800-656-HOPE (4673).