What Robyn And Kody Brown Did That Rubbed The Sister Wives The Wrong Way
Sister Wives is the long-running TLC reality show chronicling the increasingly complicated lives of the Brown clan. Led by patriarch Kody, the proud polygamists prove that family comes in many forms. Alongside wives Meri, Janelle, Christine, and Robyn, with whom he shares a total 18 children, Kody showcases an unconventional lifestyle most of America couldn't even imagine partaking in and all the associated drama that comes with juggling four separate households simultaneously. 
As People noted, Robyn is the most recent addition to the Brown family, having met Kody at a church event in 2009 and "spiritually" marrying him in 2010. They made it legal four years later — after Kody divorced Meri — to ensure Robyn's three children from a previous marriage could be adopted and would be protected under the family insurance plan. Kody and Robyn have two of their own children too. Their courtship, however, didn't go down well with another sister wife. 
The couple broke a cardinal rule during their courtship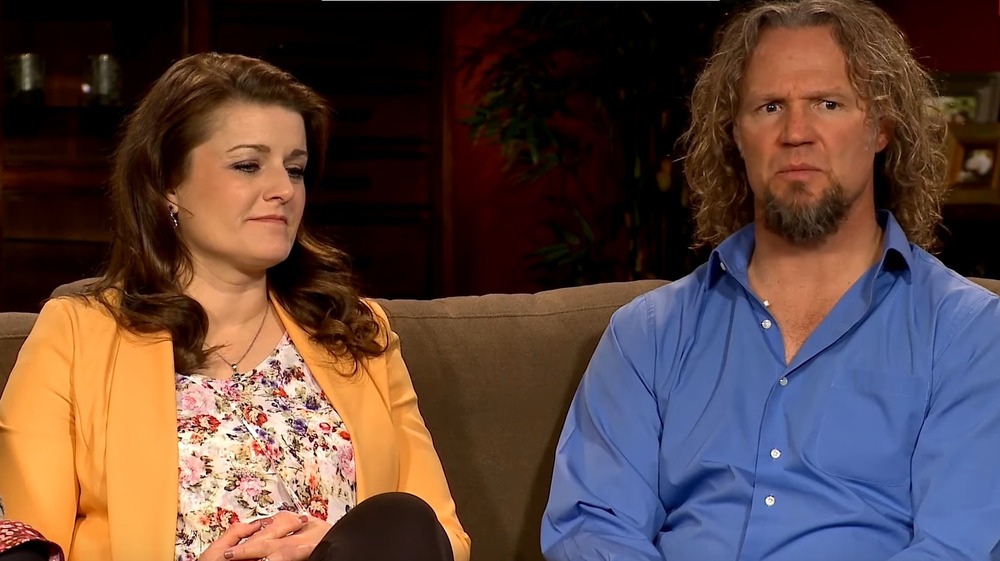 YouTube
As OK! magazine reported, Christine, in particular, wasn't happy when she learned Kody and Robyn had kissed prior to tying the knot. "It was devastating," she admitted, explaining, "We didn't kiss until over the altar because I didn't feel right about kissing a married man." According to Soap Dirt, the Sister Wives patriarch planted one on his soon-to-be bride immediately after she accepted his proposal. Christine considered it a major no-no, even within the bounds of plural marriage. However, Kody claimed that it was Christine's idea for him to kiss Robyn in the first place. According to Kody, Christine had previously admitted to him she regretted not kissing Kody sooner herself and had encouraged her husband not to hold back in future.
Robyn was heartbroken over her alleged betrayal of Christine. But if Christine was indeed the one who suggested the kiss in the first place, it would appear the newest Sister Wives star was set up. Robyn, for her part, hates that what should have been a special moment with her then-fiancé now has a negative tinge to it.