How Aaron Rodgers Really Feels About Guest Hosting Jeopardy!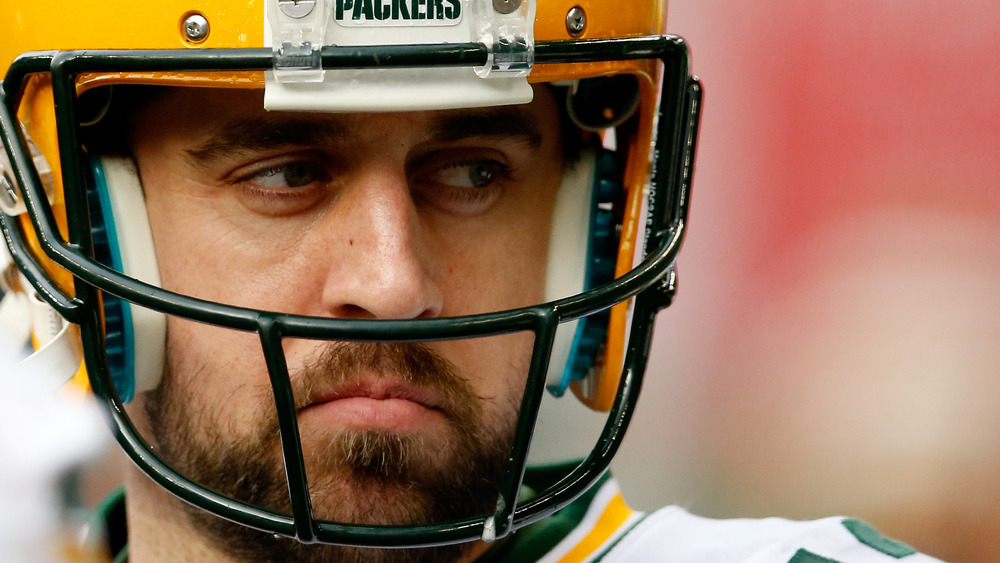 Christian Petersen/Getty Images
It's been a big year for Aaron Rodgers. No, the Green Bay Packers quarterback did not lead his team to the Super Bowl. But, he did get engaged to actress Shailene Woodley. And now, the football legend is set to step into another huge arena — the Jeopardy! set. Rodgers is among the many celebrity guest hosts who are temporarily filling in after the tragic death of beloved quiz master Alex Trebek.
Rodgers will join the likes of Katie Couric and Mayim Bialik when he hosts the iconic game show. And lest you wonder what qualifications the football player has to fill Trebek's giant shoes, remember, he won Celebrity Jeopardy! back in 2015 against Kevin O'Leary and Mark Kelly (via Bleacher Report).
In a promotional clip for his appearance posted to Instagram, which will air from April 6 to 15th per People, Rodgers noted he is a "lifelong fan of Jeopardy!" and called the opportunity to guest host an "honor."
Aaron Rodgers was clearly a huge admirer of Alex Trebek
In the promo, Rodgers went on to say that when he appeared as a contestant on the show, sharing the stage with Trebek, whom he called a "legend," was an amazing opportunity. He also called the departed host a "gentleman," as well as "smart" and "precise." The NFL star noted he will "never forget" the experience. Rodgers said he "was in awe" of Trebek, and added his goal as guest host will be to honor the man he so admired.
Meanwhile, according to People, Rodgers will be raising money for small business via his guest hosting gig. 
Over on Twitter, fans shared their excitement for his appearance, with one noting, "Looking forward to watching him host!" Another joked, "Jeopardy's ratings are going to score a touchdown in ratings this week! @Jeopardy #AaronRodgers Hosting Jeopardy!"
Rodgers himself is clearly pumped for the shows he hosted to air, tweeting out several reminders to fans to tune in.