The Shocking Number Of Times The Police Have Been Called To Meghan And Harry's Home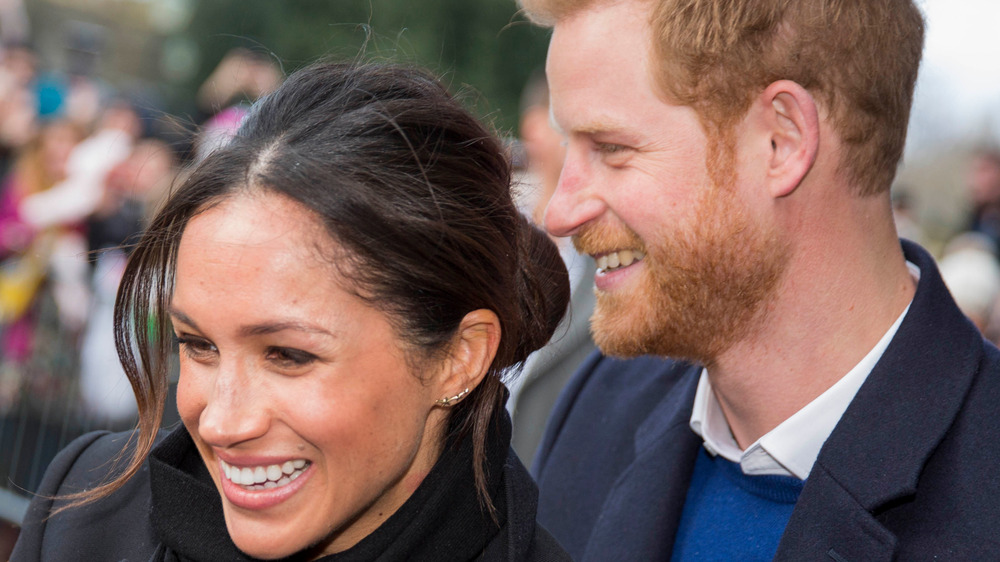 Shutterstock
When Meghan and Harry fled the U.K., they were looking for some space away from the royal family, who had reportedly stifled them for years, and the tabloid press, who treated the Duchess of Sussex appallingly during her time with the monarchy. Once safely across the pond, the Sussexes first took refuge at Tyler Perry's house in southern California where the family lived for three months with the help of Perry's private security detail (via CBS). They soon settled into their own mansion in fashionable Montecito, California, counting the likes of Oprah Winfrey and Ellen DeGeneres as neighbors (via USA Today). After Former President Donald Trump tweeted that he would not be responsible for the couple's protection, Meghan and Harry confirmed that they'd made "privately funded" arrangements (via The Guardian). It must have felt like a fresh start for their little family. 
However, last month, reports surfaced that Meghan and Harry were forced to call the police to their home over the Christmas break due to an intruder on the property.  As TMZ noted, after being let off with a warning, the trespasser, who traveled across the country from Ohio, was apprehended a second time on Meghan and Harry's property within a two-day period. It was unclear what the man wanted with the famous couple, but the experience understandably shocked them. Sadly, it seems these holiday trespassing incidents weren't the only security breaches at Meghan and Harry's home, and the Sussexes have had to call the police several times. 
Meghan Markle and Harry are experiencing ongoing security issues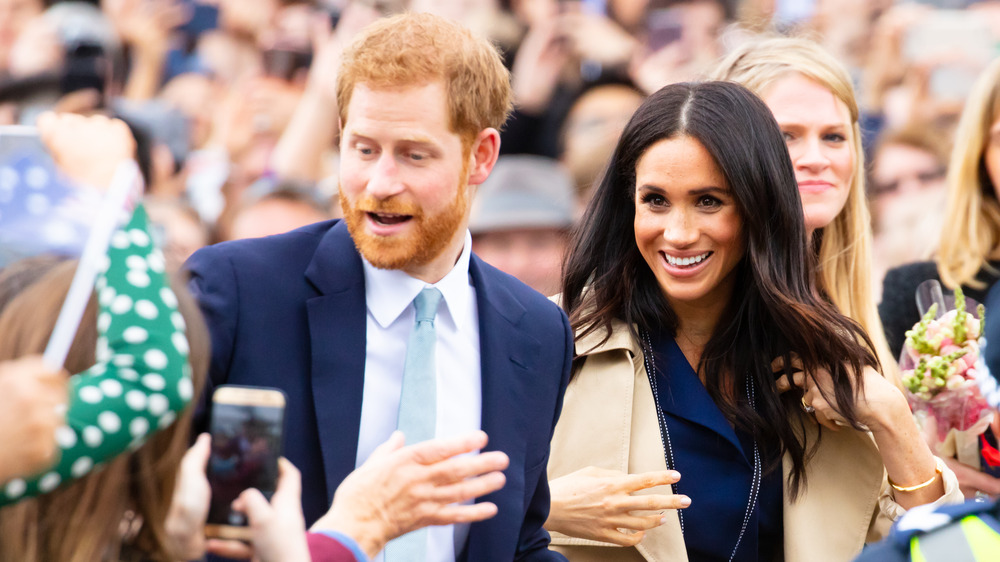 Shutterstock
As Sky News reports, data released under the Freedom of Information laws reveals the police have been called to the famous couple's home nine times since they moved in, in July of 2020, for "phone requests, alarm activations and property crimes," all of which occurred early in the morning. The most recent call, an alarm activation, was logged at 2:21 a.m. on February 16. Meghan and Harry opened up about their security concerns in the explosive interview with Oprah that's still dominating news cycles weeks after the fact. Among other shocking revelations, the couple admitted that the royal family was unsympathetic to their concerns about security when stripping Harry, in particular, of his privileges. Although Meghan informed higher-ups that they'd been receiving death threats, their security detail was removed once they vacated their duties. 
"I was born into this position. I inherited the risk. So that was a shock to me," Harry opined. Likewise, as The Independent notes, the fact that the Sussexes' young son Archie wasn't going to receive the requisite protection contributed to their decision to step back from official duties. It also kick-started a conversation about inherent racism in the royal family. The Duke of Sussex pointed out how, thanks to the tabloid media, everybody knew where they were living, leaving the whole family in danger. That ultimately led them to Montecito, where they hoped that more privacy was available. Sadly, it seems that hasn't been the case for the couple.
The astronomical amount Meghan and Harry pay for security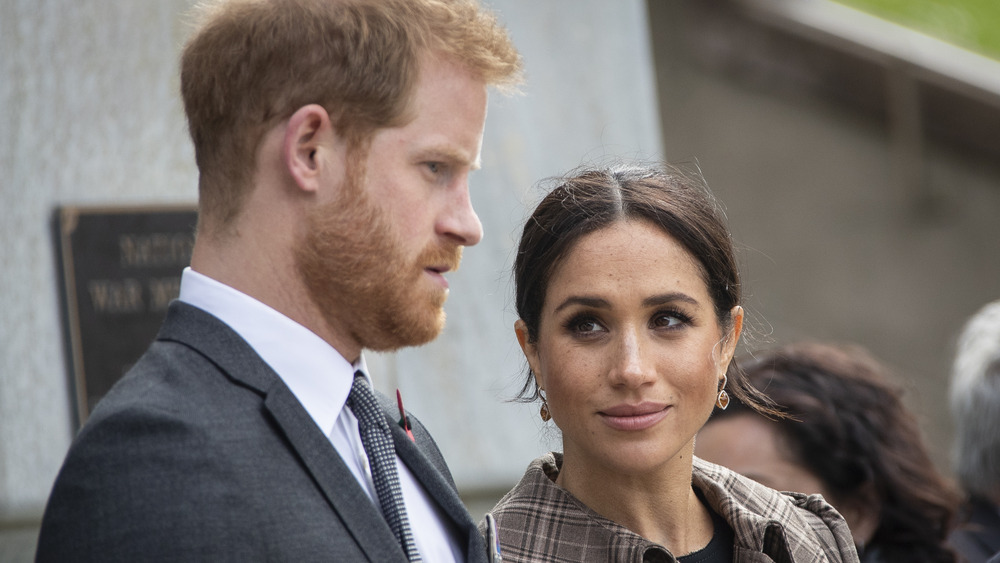 Pool/Getty Images
The Telegraph estimates that the British police force spends upwards of $480,000 a day to protect royals and other VIPS. And, while they're almost certainly not spending half a million a day for security services, Harry and Meghan are still likely dishing out more than many of us will see in a lifetime, annually. 
After the Oprah interview broke, Forbes spoke to security experts who estimated that Harry and Meghan may well be paying $2 to $3 million a year for 24-hour protection: a combination of guards and electronic security systems. Forbes has further speculated that the royal couple's security team will be professionally trained to monitor social media, maintain contact with law enforcement, and scout out public destinations before the couple travels. The Conversation had formerly set Harry and Meghan's annual security expenditures as low as $1.3 million and as high as $23 million a  year. If they had a panic room installed in their Montecito home, the installation alone would cost between $40,000 and $400,000. And, a year ago, Daily Mail reported that the couple was dishing out over $9,500 dollars a day on a security team handpicked by Ronald Reagan's former security chief. 
The exact figures that Meghan and Harry dished out for their (much-needed) protection remain to be divulged. But, for what it's worth, $2 million dollars is a low estimate. As per The Hollywood Reporter, Facebook paid over $10 million to protect Mark Zuckerberg and his family in 2019.